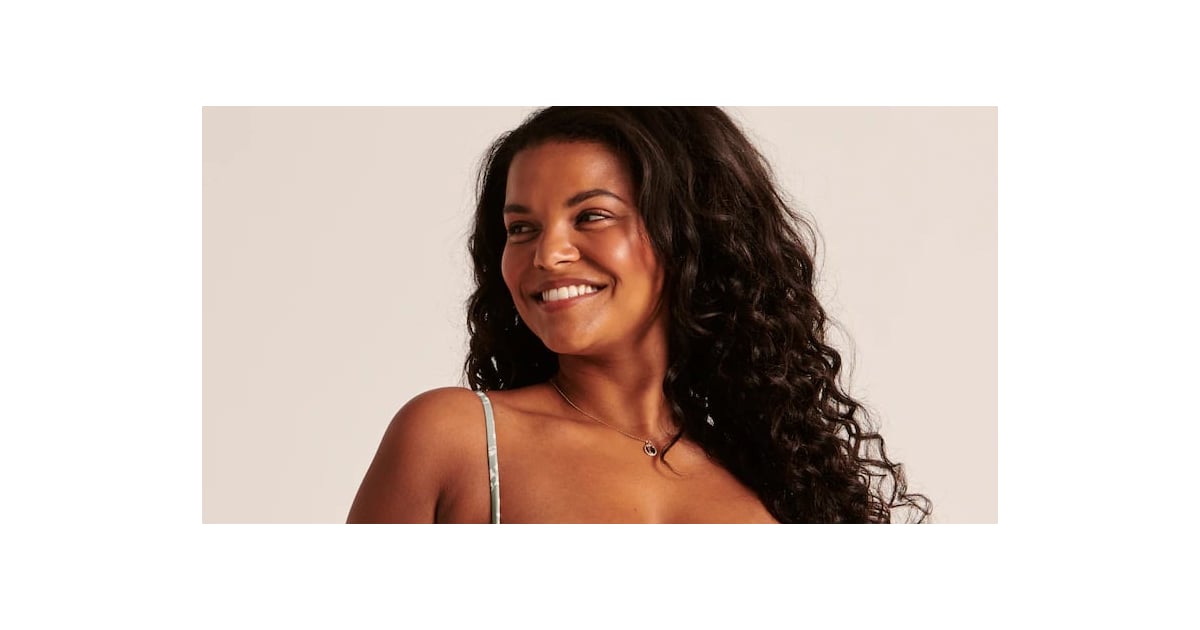 In a funny generational twist, millennial-favorite brand turned problematic fave Abercrombie & Fitch is trending on TikTok via influencers, curve models (we see you, Remi Bader!), and everyday shoppers. The hashtag #abercrombie currently has 61.7 million views (and counting). As a millennial myself (and a self-proclaimed shopaholic, no less), I was intrigued, to say the least.
I'll be honest, the last time I had even thought about ye olde A&F was in high school, when I could barely afford anything the store had to offer. That, coupled with the fact that I never felt like I was the right shape or size for its clothing, meant Abercrombie was hardly a go-to for my wardrobe. Heck, I barely set foot in the place. But my mind is changing.
As it turns out, I wasn't wrong for having mixed feelings about Abercrombie. The brand found itself in hot water a few years ago when former CEO Mike Jeffries made some pretty deplorable body-shaming comments. The company is under new leadership now, though — its new CEO Fran Horowitz hails from sister store Hollister — and is making a marked attempt to turn its reputation around with new, inclusive product offerings. Revisiting the website recently (because, you know, it's still a pandemic and I'm not ready to head to the mall quite yet), it was instantly apparent that the brand is taking itself in a fresh direction that's long overdue.
When I scoped out Abercrombie & Fitch, I didn't find the high-school-targeted retailer that made clothes for one (objectively small) body type. Instead, I found a very stylish collection of items that a millennial woman such as myself could turn to for casual, business, and semiformal occasions, all in a wide range of sizes. These clothes are not just for "skinny" people as the ex-CEO once claimed (I actually shuddered writing this) — they're clothes for all body types, and in sizes that actually reflect that.
"This is a new age for Abercrombie, and there's so much more to come."
Over the past year, I've tested out a variety of A&F's offerings, both during the cold- and warm-weather seasons. Overall, I'm impressed by the quality: the sweaters are thick and warm, the dresses are well-tailored, and the paper-bag shorts are hands down the best shorts I have ever worn — true story.
"Inclusivity isn't just about representation in front of the camera for a campaign," Corey Robinson, SVP and head of design and merchandising at Abercrombie & Fitch, exclusively told POPSUGAR. "It's about listening to our customer to get the details right — designing jeans to limit a waist gap, sourcing fabrics that flatter all bodies, creating gender-inclusive product lines, and constructing a pair of shorts to appreciate multiple forms and sizes."
A&F's SVP and Head of Marketing Carey Collins Krug echoed Robinson's sentiment, reiterating that the brand is making inclusiveness and equity the cornerstones of all that it does. "We've doubled down on the fit, comfort, quality, size inclusivity, and style of our products," Krug said. "Our website, social media, campaigns, and the Abercrombie team are all more representative of the world around us. This is a new age for Abercrombie, and there's so much more to come."
While a brand's reputation certainly can't be mended overnight, and there's definitely a lot of work to be done when it comes to righting the wrongs, I'm hopeful for Abercrombie's future. Honestly, the proof is in the pudding — er, clothes. Keep scrolling to see Abercrombie's comeback on TikTok and shop some of my favorite pieces for yourself.
You can view the original article HERE.