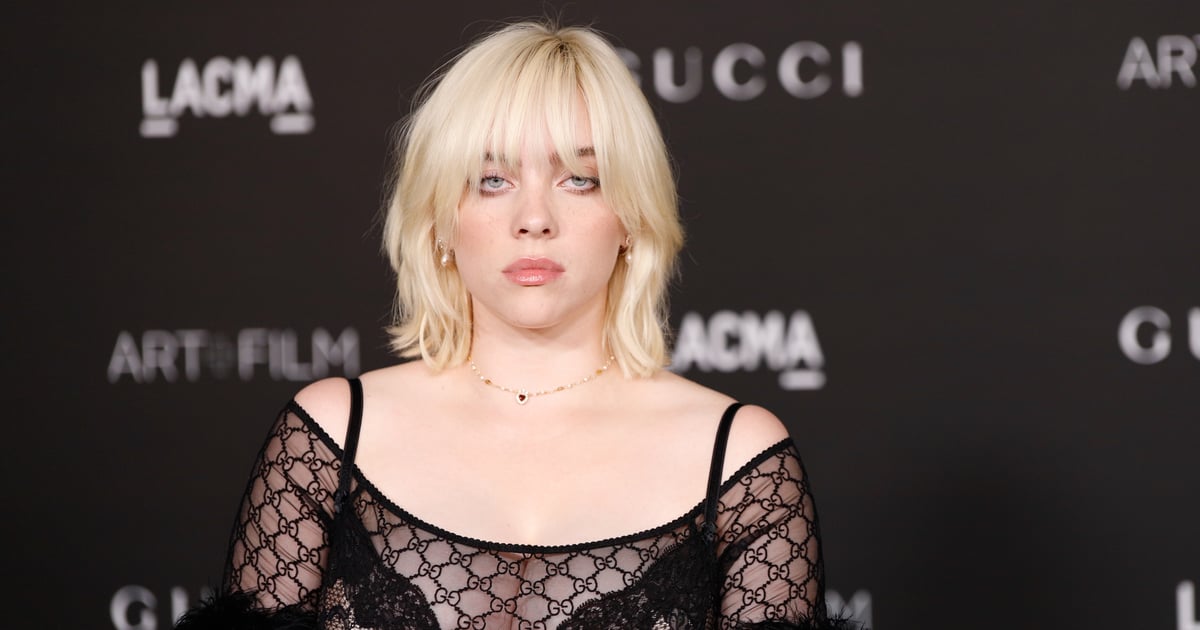 Image Source: Glen Luchford
Billie Eilish just released a new fragrance, aptly titled Eilish No. 2, teasing the sultry woody floral scent on Instagram on Thursday, Nov. 17. In sync with her latest '90s fashion renaissance, she wore an outfit that was also sultry in nature but still felt very dark and '90s, as is her sartorial signature. Leaning on one hand, both legs tucked beneath her, she sat in a puddle amid a downpour, hair wet along the sides of her face. On her body was a black mesh long-sleeved minidress crocheted full of holes.
Eilish announced Eilish No. 2 ($72) on Thursday night on her personal Instagram, writing, "guess WHAAAAAAAAAT!!!!?!!?! Eilish No. 2 will be available tomorrow at 9am PT in the US!!!!!!!!!!," adding, "i couldn't be happier with every piece of this. i'm beyond excited for you to have it."
The black dress was designed by knitter Elaine Lip and layered atop a similar crop top by Ren Haixi. The look was styled by Dena Giannini, style director of British Vogue and longtime Eilish personal stylist. Glen Luchford photographed the campaign. According to the press release, the fragrance bottle's shape is inspired by Eilish's favorite parts of the body — the chest, neck, and collarbone — so it makes sense that her campaign look highlights those same features.
Whether dressed up or down, Eilish famously turns to the '90s decade for inspiration. She made an appearance in a logo-covered Gucci slip dress alongside boyfriend Jesse Rutherford at the LACMA Art + Film Gala. And while on tour, she paired a graphic printed top with a '90s-era wardrobe staple that's back in style: baggy cargo pants.
Scroll up to get a better look at Eilish's sheer dress, and check out a video of her fragrance campaign below.
You can view the original article HERE.