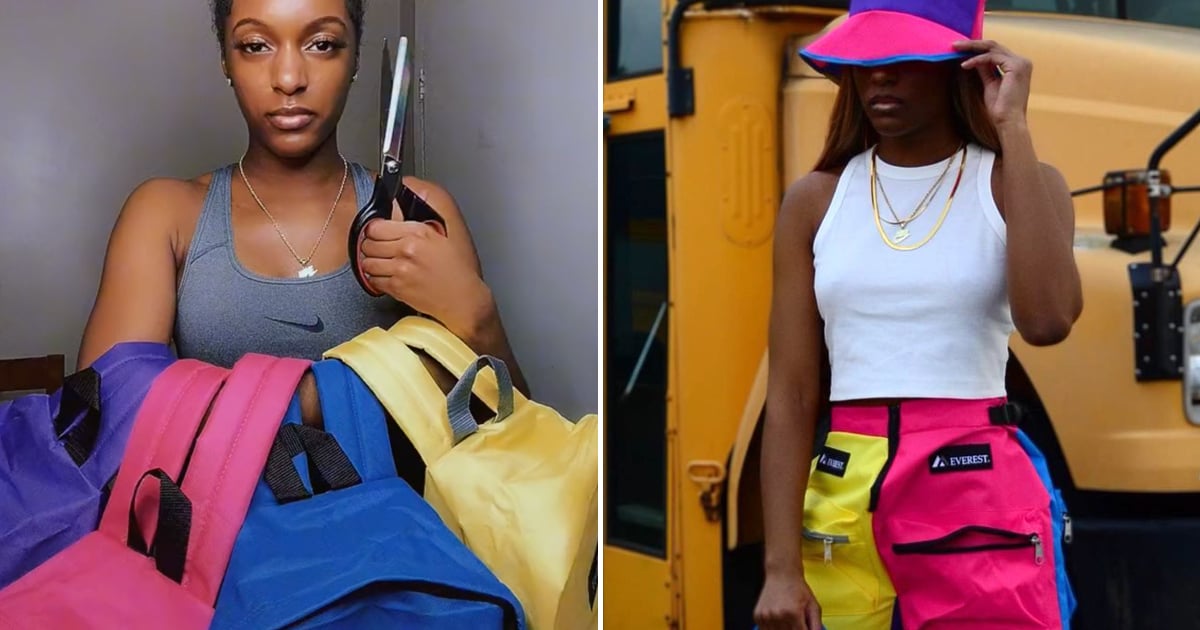 For Nydia Twitty, backpacks aren't just for toting books and belongings — they're blank canvases waiting to be deconstructed and redesigned into full-fledged fashion statements. A 25-year-old designer and model, Nydia has garnered well-deserved hype on social media for transforming unexpected items, such as socks, backpacks, lanyards, and even basketballs, into stylish pieces of clothing. Her tagline is "could never afford designer so I became one," and if that doesn't inspire you to go out and chase your dreams, we're not quite sure what will.
The fun outfits on childhood shows like That's So Raven and Lizzie McGuire piqued Nydia's interest in fashion design at a young age, but it wasn't until four years ago that she finally taught herself how to sew by trial and error. Since then, she's whipped up countless one-of-a-kind pieces — shorts made of Everest backpacks, dresses made of Nike socks, two-piece sets made of Adidas tracksuits — and garnered more than 600,000 dedicated TikTok followers along the way. "The positive feedback makes me feel empowered and appreciative of the motivation," she said of her growing social media fanbase.
Nydia enjoys using random household items and materials instead of regular ol' yards of fabric as the starting point for her designs to deliver that "shock factor" to her audience, she told POPSUGAR. Once TikTokers get over that initial surprise of, "Oh wow, this girl somehow reworked an ugly collared shirt into a super cute dress," their next thought is usually, "Wait, but I need this in my closet." Nydia's videos are constantly flooded with comments demanding that she sell her designs — and pretty soon, she's giving the people what they want. On Black Friday, Nydia is launching her own website where fans can purchase her famous backpack shorts, sock dresses, and more. And yes, she's currently consulting with lawyers to learn how to best protect her work against the clutches of the fast fashion industry.
IN MY FKNG BAG! #SaveIt4TheEndZone #TargetHalloween #MakeADogsDay #myfinALLYmoment #everest #sewingtiktok #bookbag #backpackchallenge
♬ original sound – Salice Rose
"People reach out to me, letting me know how much I encouraged them to purchase their first sewing machine or dust their old sewing machine off.
In addition to supportive requests to purchase her pieces and suggestions to be wary of big-name online retailers stealing her ideas, Nydia said she receives some pretty touching messages on social media from time to time. "People reach out to me, letting me know how much I encouraged them to purchase their first sewing machine or dust their old sewing machine off," she said, describing it as a "rewarding and humbling experience." She's using that encouragement as fuel to work toward her goals, which include one day designing for celebrities like Machine Gun Kelly and Teyana Taylor.
If you're looking for a new small fashion business to support, look no further — be sure to hit Nydia with a follow on Instagram (@theofficialslimreaper) and TikTok (@slimreaperofficial), and stay tuned for more info about her website once it's live. In the meantime, see her unmatched talent in action by browsing through some of her impressive wearable masterpieces ahead.
You can view the original article HERE.