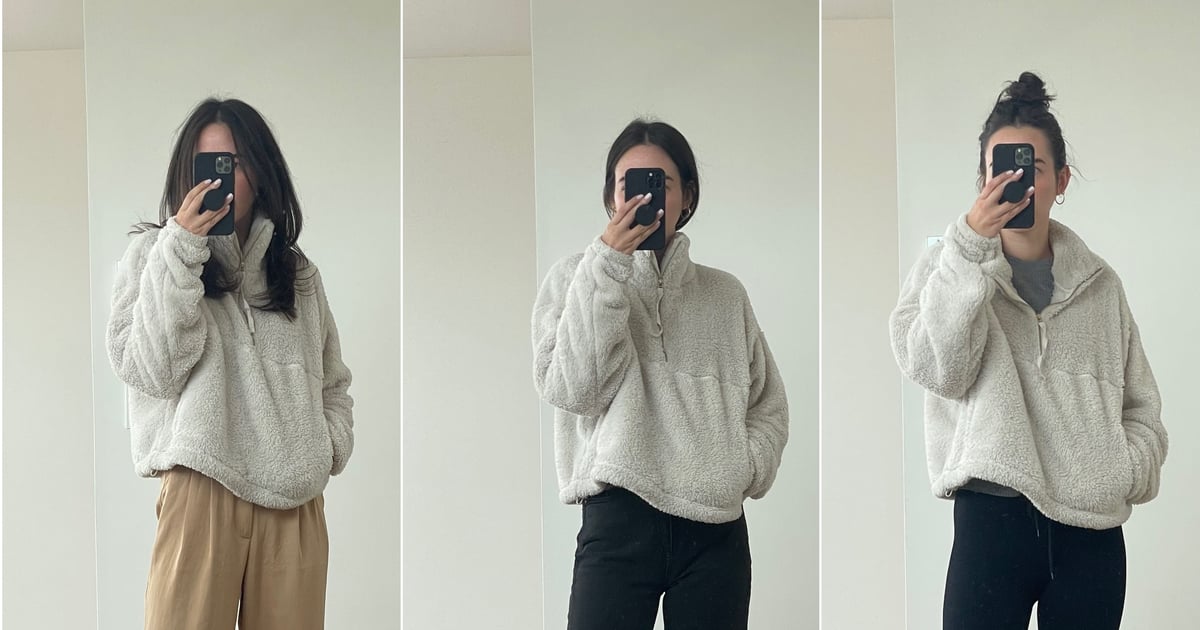 Back in October, I saw a photo of Hailey Bieber wearing a super cute half zip fleece sweater and I immediately fell in love. After searching for the sweater online and realizing it would cost me a whopping $98 (before tax!), I decided to continue my search for a more affordable version. Lucky for me (and you), I found a more affordable version that's even cuter than the one I was considering purchasing. If you've ever dreamed about wearing a sweater that feels exactly like cuddling up under the softest blanket imaginable, feast your eyes upon Old Navy's High-Neck Half-Zip Sherpa Sweatshirt ($50).
When I first received this sweatshirt in the mail, I couldn't wait to get it out of the packaging. Immediately after taking it out of the bag—I was blown away. It was softer than the softest blanket in my house and as soon as I put it on I felt like I was wearing a cloud. The sweatshirt is soft on the inside and the outside, which is probably my favorite feature. I've purchased quite a few sweaters that look super cozy and fluffy based on the exterior, but the inside is scratchy and uncomfortable. It's a half zip with a high neck, which I love. I can zip it all the way up and keep myself super warm no matter how chilly the San Francisco nights get. There's also a hidden front kangaroo pocket which is also lined with sherpa, and it makes the perfect spot for my hands when they need a little extra warmth.
I've been wearing this sweater with everything from leggings and workout sets to denim and trousers. It honestly goes with everything. It's been my go-to practically every single time I leave my house. I took a size small, which fits perfectly. It hits me right below my hips, but it also has an elastic drawstring which can be tightened if I'm going for more of a cropped look when I'm wearing a high-waisted bottom. (I'm 5'6 for reference.) Not to mention, this is probably the warmest sweater I own, which is crazy because of how lightweight it is. This sweater did shed quite a bit immediately after I took it out of the bag, but I washed it right after I got it and the shedding stopped immediately. The even better news? Even after a few washes, this sweater hasn't lost any of its softness. This has easily become one of my new favorite additions to my wardrobe, and I'll be wearing it all winter long.
Image Source: POPSUGAR Photography / Renee Rodriguez
High-Neck Half-Zip Sherpa Sweatshirt
You can view the original article HERE.