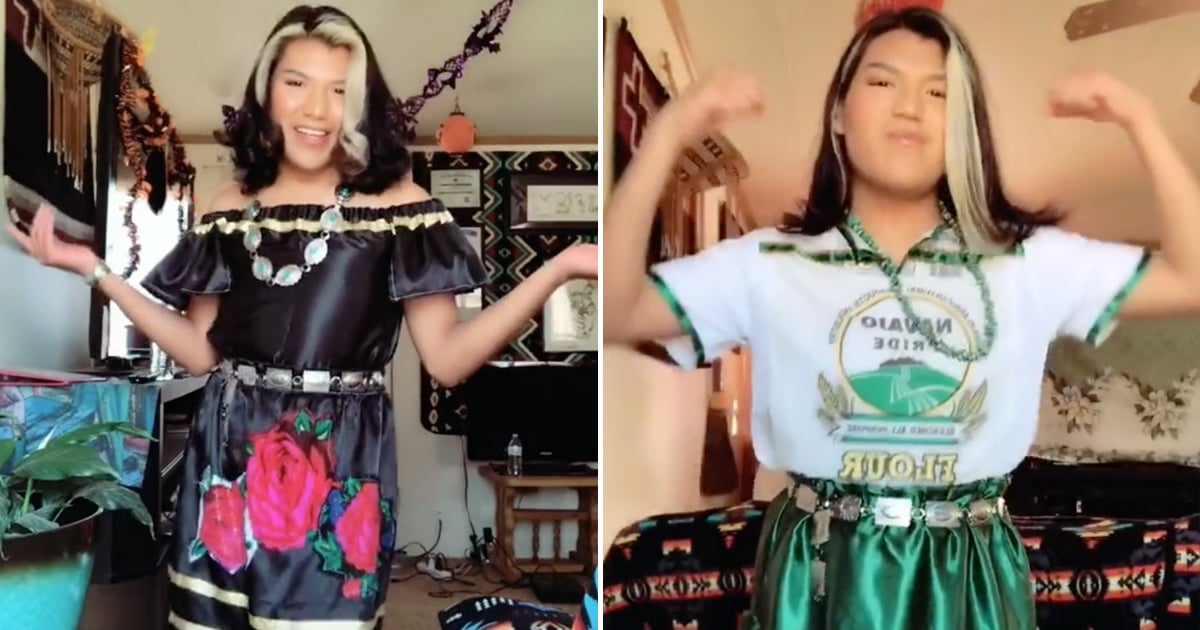 In the face of an industry that has historically ignored multiple aspects of his identity, two-spirit fashion designer Geronimo Louie, aka @geronimo.warrior on TikTok, is using his talent for design to celebrate his culture and call for better representation of the LGBTQ+ and Indigenous communities in the fashion sphere and beyond.
An Indigenous person from the Chiricahua Apache band and the Navajo Nation, Geronimo identifies as both "Indigenous queer" and "two-spirit," an umbrella term that encompasses various identities on the Navajo gender spectrum, including feminine woman, masculine woman, feminine man, and masculine man. Historically, two-spirit people have held important roles within their tribes as medicine women, medicine men, childcare givers, teachers, lawyers, and more. For Geronimo, his pronouns include he/him/his but a two-spirit individual's pronouns can vary from person to person. In his design work, Geronimo takes inspiration from the traditional ribbonwork of the Ojibwe people in Canada, incorporating colorful designs into his pieces to showcase the beauty and importance of his identity in what he wears.
"We as Indigenous queer people and two-spirit people have always been here."
"I wanted to embrace more of my two-spirit identity and one of the ways that we do that is going back to our cultural teachings and understandings as two-spirit individuals, because we as Indigenous queer people and two-spirit people have always been here," Geronimo told POPSUGAR of his style choices. "It really made me feel scared at first. I was like, 'Oh my god, there's going to be this man walking around wearing women's traditional clothes,' [about myself]. As I started to understand my identity more and my place within my community, teaching my values, how sacred I am as a queer individual within my community — just as sacred as anybody — I started to feel more comfortable."
Image Source: TikTok
On TikTok, Geronimo details the importance of his journey overcoming internalized homophobia and toxic masculinity in dismantling the gender binary, encouraging others to do the same. "All in all, it comes down to your self-worth, your self-love, and your self-understanding," he said. "Whatever other people have to say, that's their opinion. And at the end of the day, you can listen to them or [not]."
Reflecting on his favorite outfit, which he made in September as part of a personal challenge to create a new design every month in 2020, Geronimo pulled up a picture of a black dress with off-the-shoulder ruffle sleeves and a semi-sheer skirt adorned with glittery gold ribbon and large floral cutouts. "[The dress], basically, is a realistic version of how I picture myself as feminine as well as masculine," he said, adding that he reused scraps from masks he made for the rose design on the skirt. "I really enjoy wearing it because it makes me feel very feminine. But at the same time, I feel very strong and empowering . . . It was very touching [to create] because of the journey that it went through — the time that it took to collect all those roses and putting them on that piece."
"Whether it's a piece of jewelry, a headband, earrings, something that's as small as turquoise, you need to know what that represents."
From classy to grunge, Geronimo's style varies with his moods, but he always makes a point of incorporating traditional Indigenous pieces into his outfits, including ribbon skirts, velvet tops, turquoise jewelry, and silver embellishments, each of which hold a special significance within Navajo culture. After digging into the meaning behind different designs and fabrics himself, specifically for traditional womenswear, Geronimo began encouraging people of all backgrounds to educate themselves on the history behind fashion trends before adapting them into their own style. "Whether it's a piece of jewelry, a headband, earrings, something that's as small as turquoise, you need to know what that represents; you need to know why you're wearing it," he explained. "You don't just wear these to look pretty. These actually have teachings, historical meanings to us, and that's why we wear them."
Outside of his videos, Geronimo also works closely with Diné Pride, an organization created with the purpose of providing resources for Indigenous LGBTQ+ people and demonstrating that "we as Indigenous queer people are still here." "Diné Pride is an organization that's based here on the reservation of the Navajo people, and we coordinate [events] for our own queer Indigenous people, that identify as two-spirit, gay, lesbian, straight, et cetera, and we offer them support in terms of scholarship, in terms of having a voice," he said.
For those who were asking, here is my September outfit. ????
As a youth leader for Diné Pride, Geronimo seeks to provide a safe space for Indigenous members of the LGBTQ+ community. "There's a lot of cultural misunderstanding that leads to misrepresentation overall in the LGBT community," he said. "There is so much systemic racism, discrimination, and homophobia that is lashed [out] onto people of color who identify as queer. So me being a part of this organization is a way of combating that situation and saying, 'No, we're going to be here. We're taking up space.'"
"I really hope that people understand that we [as Indigenous people] are not just here to exist anymore."
In creating this space for Indigenous and LGBTQ+ people, Geronimo also hopes to see people of color getting the recognition they deserve for their contributions to the fashion industry. "A lot of the time people of color are [thrown] under the bus about what they create and what they give to the fashion industry," he said. "The fashion industry likes to take elements [of their designs] and claim them as what they created. But a lot of them are appropriated or adopted or sometimes influenced by drag, people of color, Indigenous peoples." Moving forward he hopes to see more Indigenous and LGBTQ+ fashion designers featured in the media and given the spotlight they deserve. Some of his personal favorite Indigenous-owned designers and brands include Winston Paul, Scott Wabano, Lauren Good Day, Jamie Okuma, Hashké, Lotus & Layne Lather Goods, and Antelope Women Designs.
Beyond TikTok, Geronimo hopes to expand his design portfolio to include pieces that non-Indigenous people can wear and create sustainable outfits that push other designers and brands to consider the negative impacts of fashion on climate change. Geronimo added, "I really hope that people understand that we [as Indigenous people] are not just here to exist anymore. I think, a lot of the time, it's very hard for people to understand that we're still here because there are people that grew up learning that the genocide of Indigenous people had started and ended. But in reality, we're still here as individuals . . . We're here to actually begin and finish what our ancestors were here for, which is essentially just living life and protecting mother Earth."
Check out some of Geronimo's most stunning designs and most informative videos ahead.
You can view the original article HERE.