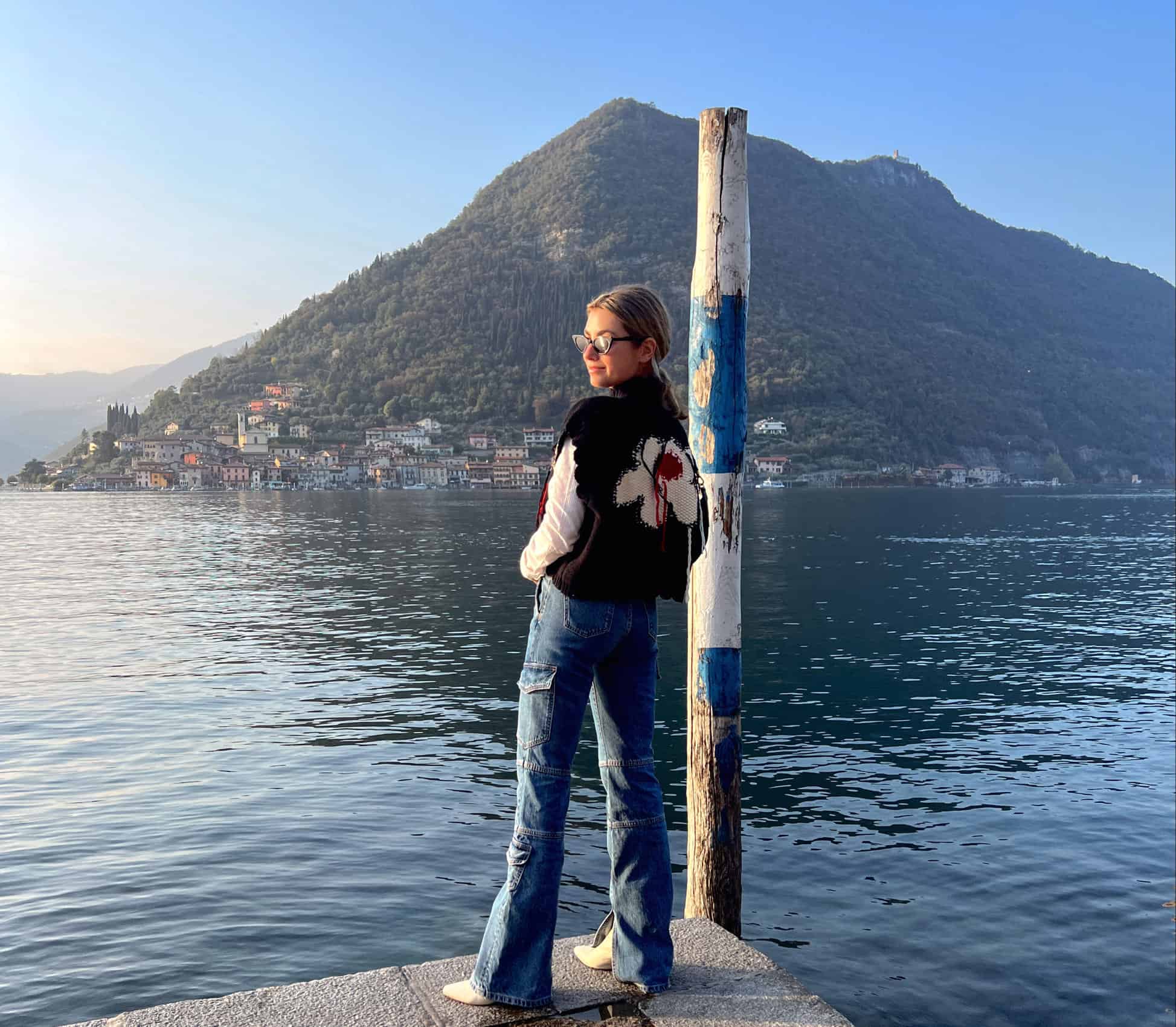 Charlotte Bickley here—editor at large for The Daily! 
I recently had the pleasure of visiting northern Italy's Franciacorta region. We started our journey at JFK, where we boarded a flight operated by the most luxurious airline, Emirates. I enjoyed every minute of the nine+ hour flight to Milan, and once we were there, we drove for about an hour through the gorgeous countryside until we arrived in the Lombardy Region of Italy and checked into the chicest hotel, Iseo Lago Hotel, right in the heart of everything.
From winery visits, where we learned about the many different wines of the region, to a bike tour around Lake Iseo in all its glory, and dining in style on delicious Italian food with every meal being paired with Franciacorta wines, I had the best time and I'm here to give you the #approvedbychar guide to Franciacorta!
Day One
After arriving at Lake Iseo Hotel in the late afternoon, I had a chance to check out my room and quickly freshen up and change into my 'fit for the evening activities. To start the four-day experience that awaited us, we met our driver for the trip, Giuseppe, and we were off to our first winery. Overlooking the region, sits Majolini, a family- run winery passed down through generations. In addition to insane view of the region, the winery also houses a very particular art and sculpture collection expressing the owners' unique taste. Being a fan of the novel Moby-Dick when I was young, the sculpture that resonated with me was the giant whale tail made entirely of chicken wire. The tail was commissioned due to the owners' love of the sculpture's meaning: a representation of all the impossible dreams people have in their life. We also learned the winery owners' personal goal…to produce the 'perfect wine.' Simone Majolini, the vision behind the Majolini Winery, greeted us and we began the tour.
We entered the winery, which reminded me of a chic horse barn made of limestone, which happens to be the main mineral in the region. Immediately we go into the 'essence room,' which highlights the 'essence' of the Franciacorta region. Within minutes of the tour I knew how rare it was to visit a winery, not only focusing on wines, but also the attention to self-expression through art. In direct vision, framed by the natural limestone, we saw sculptures of what appeared to be the same woman in 11 different poses. The poses were all very intricate, expressing emotion and feeling through positions of the body. Alongside these sculptures was a map of the Franciacorta region, which Simone dived into, explaining all the regions,
After the 'essence room', and all of its exotic imagery, we entered my favorite room of the winery. Simone referred to the room as the 'room of dreams,' which showcased the Majolini wine bottles, quite literally, dressed up in variety of different materials. These materials consisted of ostrich and stingray, to name a few. Some of the wine bottles were even in dresses made to size that could be a Met Gala worthy outfits…it truly was such an interesting way to display the Majolini wines and a testament to Simone's very creative mind. The pieces in the 'room of dreams' are intended to be auctioned for charity soon, which made them all the more special.
We finished the winery tour and entered the tasting room to see a table displayed with four different Majolini wine bottles and—to my excitement!—bread, cheese, and meats. As I soon learned, Franciacorta as a region is known for sparkling wine. My favorite wine tasted at Majolini was the Brut Rosé Pinot Nero—being someone who often visits the Hamptons, I've become very accustomed to rosé wine, aka the area's so-called 'summer water.' The Majolini Rose, due to its light airy bubbles, was such a refreshing twist to the usual rosé I sip on Out East. As quoted from the Majolini winery "this wine very refined but doesn't hide its big personality" and I would confirm this statement to be true! Good to the last drop!
Our time at the Majolini winery came to a close and we said our goodbyes to sweet Simone, and eagerly promised her we'd be back soon to see some new additions to the winery. For any travel goers who plan to visit the region, the additions will be ready for use by Spring 2023.
Next stop on the itinerary was dinner at Ristorante Bella Iseo. With wine being the theme of the trip, the team had prepared a set menu of food and wine pairings for the dinner. As the meal concluded, my jet lag began to hit and I couldn't wait to get back to my room and hit the hay. Although I have been to Italy before, the Lombardy region was unlike any place I've been to and I couldn't wait to wake up and begin day two of exploring and adventures!
Day Two
The agenda for day two was all about getting to know the region, starting with a guided walking tour of the city Brescia. Brescia, with a population of upwards of 200,000 people, is the fourth largest city in northern Italy and is very rich in history and authenticity. The city sits at the foot of the Alps, which makes it super different from the more typical tourist destinations like Rome and Florence. As we began walking around the city, it's evident that Brescia prides itself on keeping structures from its past Roman history while also trying to maintain and modernize the city. A fun fact about the city I learned is that Brescia is home to the Mille Miglia classic car race. When planning an itinerary for the region, the city is definitely a must-see!
After walking the city, we most certainly worked up an appetite for some more Italian food and Franciacorta wine. Our lunch was at a trendy restaurant named Laboratorio Lanzani, just 10 minutes drive from the city of Brescia. You enter Laboratorio and find this adorable courtyard filled with seating. Walking inside the restaurant, there's a very unique interior which has industrial finishings juxtaposed with antique rugs. The stylish interiors matched the crowd that was occupying the restaurant—I felt like Laboratorio Lanzani could be a contemporary spot you'd find in Williamsburg! Not to mention, everyone was beautiful which was not shocking as I was in Italy after all! The meal was truly wonderful and as a recommendation for ordering, opt for the simpler the better, as my spaghetti tomato sauce pasta was some of the best I've had.
Now to my favorite part of the entire trip: a guided bike tour of the stunning Lake Iseo via Iseo Bike. To be perfectly honest, when I heard we were going to be doing a bike tour of the lake I was incredibly skeptical and not that excited, because biking has never been my thing! Once everyone was ready and situated with our electric bikes, we all began to pedal in a line behind our guide, and were on our way. For about a mile we rode alongside the road and after a few twists and turns we finally arrived on the shores of lake Iseo to enjoy the gorgeous ride along the lake. Being that it was late October, we got incredibly lucky with the perfect weather, with bright sun, cool breeze, and moderate temperatures. This perfect day allowed us to experience the lake and all its beauty. Had it been a summer month, there is also a variety of activities you could do in the lake such as boat tours, canoeing, wake surfing, and visiting islands within the lake. Our guide from Iseo Bike was so amazing—he made sure everyone first and foremost felt safe while also giving us a proper tour of the lake, pointing out all points of interest. In addition, he made sure we hit every picture opp—a man after my own heart! Having toured many cities in my life, I never thought of a bike tour being an option but honestly I now think a bike tour is a fantastic way to see the sights and sounds of the landscape of any given city or region. Highly recommend and of course check out Iseo Bike if you ever find yourself in that region.
Dinner on day two was at our hotel, Iseo Lago Hotel, and the meal was superb. At L'Alzavola Restaurant you have the choice to either do a tasting menu or order a la carte. We did a tasting menu, which was delicious. Once again, our meal was paired with Franciacorta wines which  were impeccable! Although we ate from the tasting menu, there are so many pasta options on the main menu that are worth testing too. Bellies full, off we went to bed.
Day Three
Italy is obviously known as a top tourist destination in the summer months, but I must say how crazy amazing Italy is in the fall! The colors…the temperatures…everything about it is ideal for visiting and may even be a little more affordable than in the summer months. We had such perfect weather everyday; bright sun with temps hitting a high of 70. Heading down to the hotel lobby, we were greeted by Giuseppe our trip driver and we headed to Ca' del Bosco. Pulling up the driveway to the winery you could tell you were entering a very special spot. At Ca' del Bosco, you can't help but be mesmerized as you walk through the vibrant pink-walled hallway.
The highlight of my time as Ca' Del Bosco was the tasting and dining area they use to entertain guests of the winery. Leading up to the dining room, there were reoccurring vibrant pink walls with four trunks lined up, one of the trunks being an archive Louis Vuitton piece. I think one thing so incredible about touring these wineries in the Franciacorta region was noticing how much of an intersection there is between wine, art, and fashion. Each winery we saw was more than just a winery, which made them all the more beautiful and special.
The highlight of the lunch we had at the winery was the spaghetti pasta with clams in a tomato sauce. There is no other way to describe this plate as anything other than divine. With this meal we, of course, tried Ca' del Bosco wines. Although I am much more a white wine gal, red was served with this meal. We sampled the vintage collection brut, which is said to be George Clooney's favorite red. This big claim was backed by an interview with Clooney confirming his love for the bottle. I think its safe to say, if it works for George… it works for us too!
Returning to the hotel before dinner, we were becoming sentimental acknowledging it was our last night. Since every meal thus far on my trip had been so incredible, I didn't think it was possible to have better food… but somehow, to my surprise, our last meal was one of the best meals of my life!
If I haven't sold you on the perfect trip to Italy yet, this restaurant, Vivilo Restaurant, is reason enough to come visit the region. We began our meal at Vivilo with a bread basket for the table with what looked and tasted like the most insane muffin I've ever had in my life. The bread was one of the highlights, but the Casoncelli pasta filled with bacon and almonds sent me to absolute paradise. The pasta was finished by a meat and then we ended with dessert, it all just made me melt; I truly am dreaming of when I can next return to Vivilo!
Having one last coffee at Lake Iseo Hotel on the morning of our departure, I was reflecting on how truly sad I was to leave this beautiful place. I really had such a special few days with Franciacorta. From being treated so well by everyone we met to tasting all of exquisite Franciacorta wines, the trip was unforgettable.
Having seen Franciacorta's home, it is unlike many other wine brands for a variety of different reasons. At each winery we went to, the people were so passionate and proud of the products they produce. Today on the labels we read "Franciacorta: a single term to define territory, method and wine." Not to mention the sustainability element of the brand, "with over 62%  organic vineyards, Franciacorta is internationally one of the first denominations for the share of organic viticulture" a rep for Franciacorta relays. This trend is constantly increasing, together with the sensitivity of the producers and their desire to protect the future of the territory. Besides the wine, this region is rich with culture, art, and beauty and is most definitely an area to plan a trip around and explore. There is something so incredible about how untouched it feels and I can't wait to return! Franciacorta, thank you for all the memories.
Subscribe to our newsletter and follow us on Facebook and Instagram to stay up to date on all the latest fashion news and juicy industry gossip.
You can view the original article HERE.