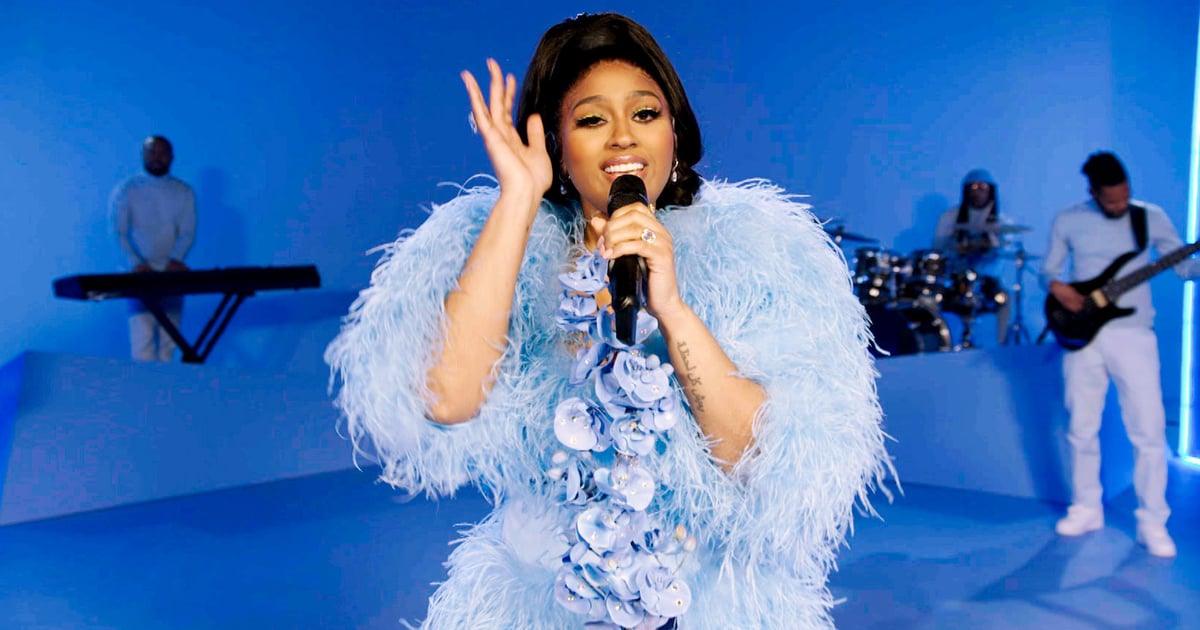 If you didn't think NAACP Image Awards nominee Jazmine Sullivan was going to pull out all the stops for her virtual performance of "Pick Up Your Feelings," clearly, you don't know Jazmine. (She impressed us all in her white Area pantsuit and crystal headpiece that paid tribute to Whitney Houston at the Super Bowl LV in February, lest you forget.) But Jazmine turned to the '60s for inspiration this award season, opting for a baby-blue feathered minidress, patent-leather leggings (which she may or may not have ripped once during rehearsal), and platform boots.
The 33-year-old singer-songwriter and her team put together a behind-the-scenes 12-minute mini documentary for BET, where she explained how excited she was to sing on her incredible set. "When I first saw the blue scenery, I thought it was beautiful. I thought it was really just a step up from everything that I've done in the past," Jazmine said, deeming the whole vibe "Jazmine on another level."
Jazmine's look matched perfectly to her flower-adorned microphone stand, and she wore a glamorous high ponytail to show off her diamond jewels. "I love the '60s sound, I love the '60s style. I could have lived in the '60s and got my life — like the hairstyle, the outfits — they're all very flattering to me. I want to continue dabbling in that style," Jazmine said. Scroll through to watch Jazmine rehearse for this retro moment in time.
You can view the original article HERE.