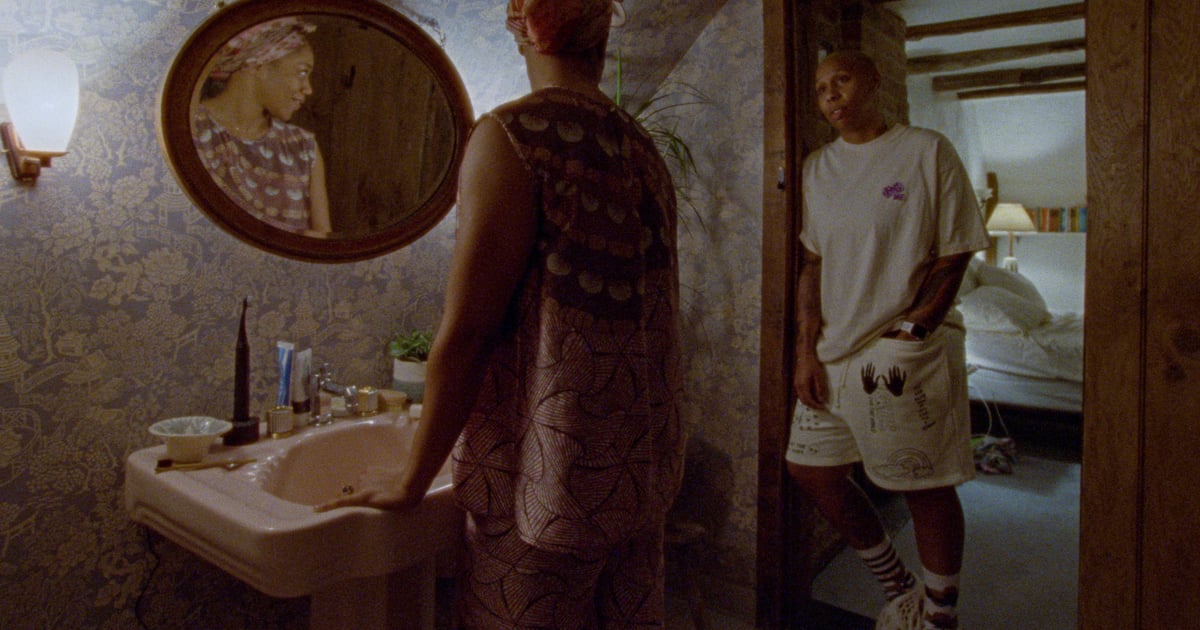 The third season of Master of None opens with Lena Waithe's Air Jordan 1s prominently displayed, and her footwear remains front and center for the duration of the narrative. Apart from her vast sneaker collection, the Emmy Award-winning actress, who plays the lesbian author Denise in the hit Netflix series, sports Gucci slides and the much-ballyhooed Yeezy Foam Runners — dubbed Yeezy "Crocs" due to their uncanny resemblance to the ubiquitous rubber clog — throughout the five episodes.
Denise and her partner, Alicia (Naomi Ackie) are the stars of the show this go-around, which takes place in a bucolic country home in upstate New York. Though miles away from city life, each character has her own distinct, carefully curated style: Denise channels classic hip-hop, while Alicia is more eclectic and experimental.
Here, Master of None costume designer Kate Forbes discusses collaborating with Lena Waithe, sourcing LGBTQ+ designers, and the Yeezys.
POPSUGAR: Denise and Alicia have very different aesthetics. Was that intentional?
Kate Forbes: Denise has a classic hip-hop style going on — she's all about comfort, simplicity, and serious bling, but her look is still super considered and thought through: the colors, the textures, the combinations . . . there's an attention to detail in her look that's really subtle but never overlooked. Alicia has an eclectic, bohemian style — knowing her love of antiques and how in touch she is with her cultural heritage gave license to combine so many elements from so many eras and sources. She is a character who loves clothes and expressing herself through how she dresses — she's passionate about finding unique pieces and putting them together!
PS: How much did Lena and Naomi's personal style impact their characters' respective looks?
KF: Lena has strong personal style, and I loved how her hip-hop influences contrasted so strongly with Denise and Alicia's antique-filled, characterful country pad. I played more with colors, textures, and subtle style choices to build her character's progression over the season. Naomi was totally open to my ideas and really enthusiastic about finding an original style for Alicia that embraced all her character's traits and culture; her sense of fun, loyalty, and love of arts and antiques. It was also important to build in some of her African heritage, as Naomi wears head wraps in her personal life. We embraced that and worked a lot with wraps and turbans, both vintage and in great African prints.
PS: Lena's socks-and-sandals look is very apropos for COVID times. Did pandemic dressing influence the wardrobe?
KF: Obviously it does affect your day-to-day on set and in fittings, and given the series of lockdowns it limited how we could shop, but so far as Lena's socks and slides go, it was really just part of her homie look and an element that I really enjoyed finishing her outfits with!
"Lena used her personal wardrobe on occasions where she felt it was right for the outfit."
PS: Which designers did you look to?
KF: Lena suggested several younger brands that she was keen to give exposure to, many of which cater to the LGBTQ+ community, like Stuzo, Pyer Moss, Melody Ehsani, and TomboyX. Nike and Gucci also provided us with some product for Denise's wardrobe. The rest was a real mix from high street and boutiques: Wax London, Reiss, Stüssy, Dickies, and Carhartt. We used a lot of Zara menswear for [Denise's] staples and repeated her looks several times, too. For Naomi, I began with vintage pieces — many from a rental company in London called Contemporary Wardrobe — and others picked up in boutiques and markets in London. Then I supplemented with some great African-designed pieces from Ace Hackney and Samson Soboye, some high-street essentials, stylish print pajamas from Desmond & Dempsey, and a luxury silk set from Liberty London for the final episode.
PS: Do you have a favorite look from the season?
KF: It has to be Alicia's "bad bitch" look in the scene with Dr. Perkins — the Samson Soboye African print jumpsuit. I'm sad that you don't get to see more of it. It's super comfortable, effortless, and megastylish all at once. She felt like a bad bitch wearing it and everyone who saw it on her just loved it!
PS: Were there any pieces included from Lena or Naomi's own closets?
KF: Lena used her personal wardrobe on occasions where she felt it was right for the outfit. The Yeezy trainers wouldn't have been my first choice, but she got them in there! Naomi's sequin bodysuit used in the failed seduction scene was a piece she owned — she was super happy to wear it because she never had before, and it was just perfect for that moment. Naomi actually kept most of her costumes after we wrapped. She had really fallen in love with a lot of the pieces and didn't want to say goodbye.
Keep scrolling to see some standout stills from Master of None season 3, now streaming on Netflix.
This interview has been edited and condensed for clarity.
You can view the original article HERE.