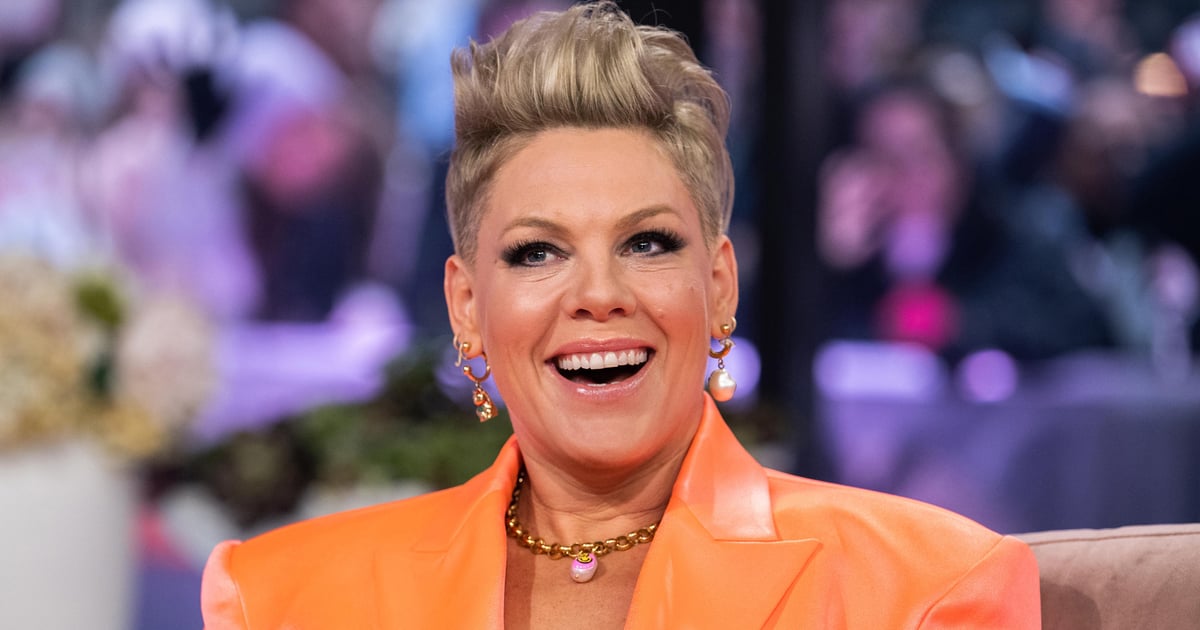 Image Source: Getty / Nathan Congleton / NBC
Pink gave the sheer trend a seasonal twist when she posted Instagram photos of herself in a completely see-through banana bikini on May 30. "Lake weekends and a new ridiculous bathing suit," she captioned a picture of herself soaking up the sun during her lakeside vacation with her husband, Carey Hart. In the comments section, Hart complimented his wife's look with a string of drooling face emoji that spoke for themselves.
"If you haven't showered outdoors while your husband tries to scare you every five minutes you haven't lived!"
Pink's mesh bandeau top came from Brazilian luxury swimwear brand Adriana Degreas. While transparent in the front, the piece featured an emerald-green band that wrapped around her back and showed off her visible tan lines, as well as her expansive tattoo collection. The most unique part of the top, though, was the embroidered fruit design, which included two bunches of spotted bananas carefully arranged across the chest.
The playful piece isn't the only one of its kind. In fact, the designer has several fruit-inspired pieces, including bikinis modeled after strawberries and cherries, as well as banana skirts and dresses with 3D banana sleeves. In terms of transparent options, the brand also offers see-through bandeau tops adorned with hands, sheer bottoms that resemble clamshells, and tulle designs that create the illusion of stripes painted across the body.
In a second photo, Pink shared a glimpse of herself using an outdoor shower attached to their camper van. Getting creative, she used star-shaped and heart-shaped art to blur out her upper and lower half. "If you haven't showered outdoors while your husband tries to scare you every five minutes you haven't lived!!!!!!" she joked. Under the caption, she also had fun with the tags, writing, "#embarassingmoms #eyerollsfordays #bananaboobies #imfun #readyfortour."
While #BananaBoobies might take a minute to catch on, Pink's daring vacation wardrobe has definitely inspired us to experiment more with our swimwear options this season — thongkini, anyone? Shop more of our favorite swimsuits ahead of summer here.
You can view the original article HERE.