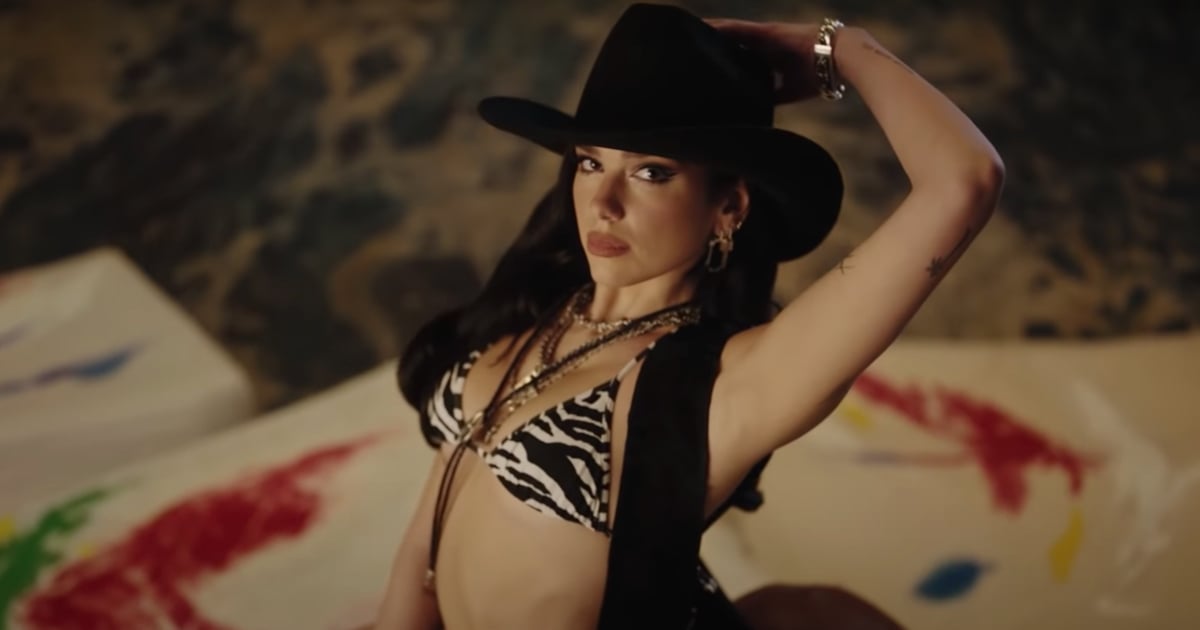 Dim the lights and let the tumbleweeds roll because Dua Lipa just deemed this the summer of the cowgirl. Like Megan Thee Stallion's whole 2020 vibe or Halsey in the "You Should Be Sad" video, Dua channeled her inner cowgirl and coordinated her outfits with matching Stetsons, all while dancing at an empty rodeo arena and levitating on the saddle of a mechanical bull. "Thank you to my gang for always pullin through!" Dua captioned an Instagram post featuring a clip of the music video. "We shot this video in the midst of our Brits rehearsals and prep. Learned the choreo in 45 mins, kept adding outfits mid-shoot but we did the damn thaaaang!!"
Every one of these outfits is going directly on my Pinterest board and deserves a grand prize for bringing the most style points to the rodeo. From a zebra-print bikini top paired with a black Stetson to a badass red denim jacket from Levi's x Miu Miu and an outfit that glows in the dark from head-to-toe, Dua brought her fashion game and she's earned a perfect 10/10. Personally, I have my eye on that lavender hat, but take a closer look at all of Dua's "Love Again" outfits here and watch the full video to sneak a peek at her hot pink cowgirl boots.
You can view the original article HERE.