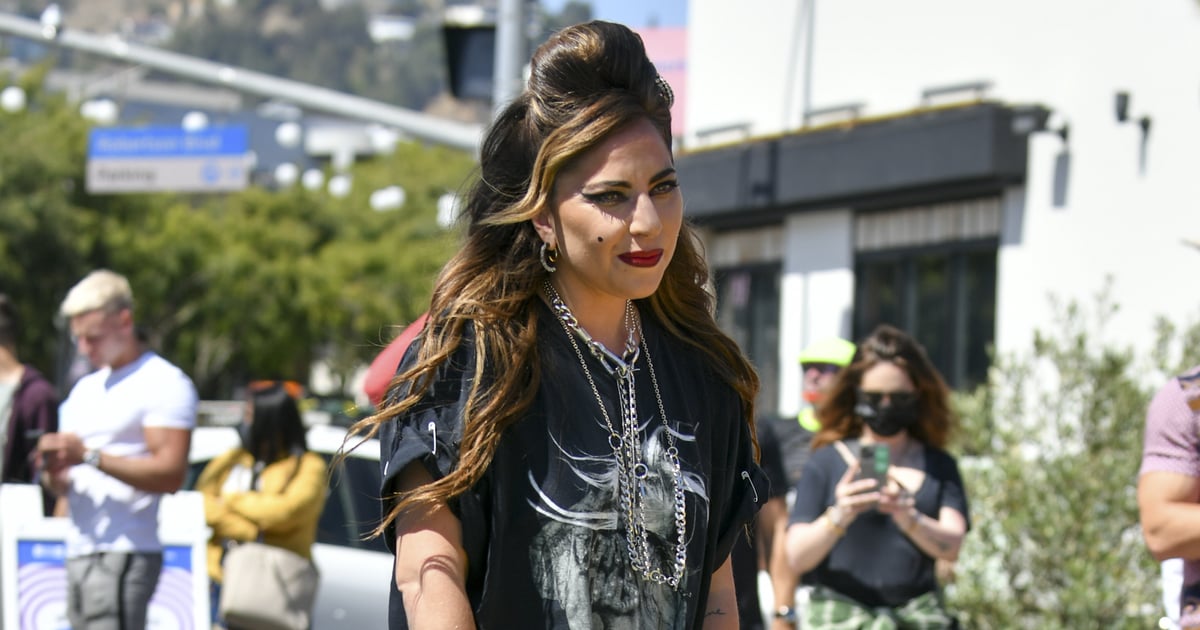 One can only dream of possessing the strength of Lady Gaga's ankles. The talented multihyphenate put said strength on display for the umpteenth time on Sunday while wearing a pair of purple platform boots that made me wobbly after just one glance. The nearly knee-high boots were custom-made by Demonia, a well-known "alternative footwear" brand. She chose the daring shoes for quite the special occasion — to celebrate the 10th anniversary of her Born This Way album, the mayor of West Hollywood awarded her the key to the city, declared May 23 "Born This Way Day," and unveiled a massive painted street mural. How rad is that?
Of course, Gaga didn't solely sport her attention-grabbing boots for the Los Angeles event. She also rocked an oversize graphic T-shirt from her own merch collection at Urban Outfitters (iconic!), torn fishnet tights, chunky silver chain jewelry, mismatched earrings, and a crystal bow hair clip. What. A. Look.
Life-long Gaga fans know this is hardly the first time Mother Monster has demonstrated her undying dedication to the platform shoe cause. I mean, who could possibly forget the duo of sky-high lace-up heels she wore to the 2020 MTV VMAs? Or her bedazzled boots at the 2019 Met Gala? Oh, and I'd be remiss not to mention her infamous meat-covered shoes at the 2010 MTV VMAs. Read ahead to admire Lady Gaga's latest conversation-provoking boots moment, and if you need me, you can find me practicing these ankle-strengthening exercises in her honor.
You can view the original article HERE.