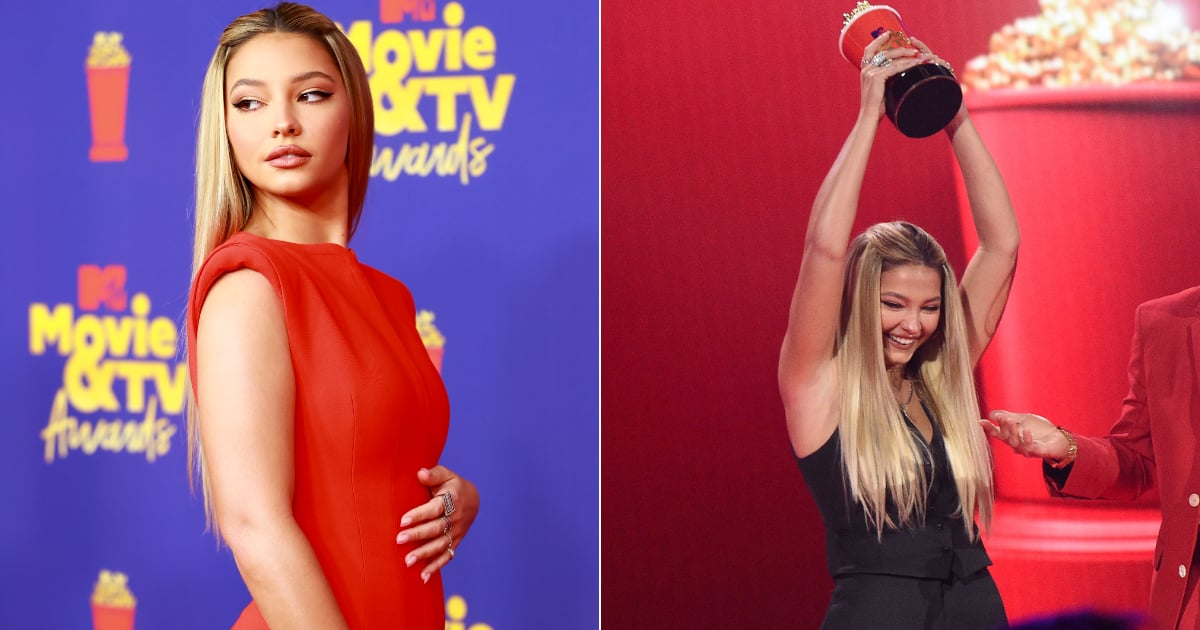 Madelyn Cline and Chase Stokes certainly made waves for winning best kiss at the 2021 MTV Movie & TV Awards. Seeing as the couple (who play John B and Sarah Cameron, respectively, in their show Outer Banks) are dating in real life, they celebrated on stage with a romantic smooch. Some compared the moment to the time Ryan Gosling and Rachel McAdams took home the same trophy for their chemistry in The Notebook in 2005. But we found Madelyn's subtle outfit change and admirable coordination with Chase particularly noteworthy.
While she started the evening posing among her costars in a red Versace minidress with sculpted shoulders and Swarovski-crystal-encrusted sandals — a perfect match to Chase's Fendi suit — sometime before the show, she managed to hit the changing room. For their big kiss, Madelyn matched her SO in a sophisticated suit, hers black and his that same cherry red. She kept on her fistful of silver diamond rings but added a drop choker to play up the neckline of her suit vest, and swapped those Versace sandals for glitzy pointed pumps. Regardless of whether they were on the carpet or on stage in front of the crowd, it's safe to say this was just as much a fashion moment for them as it was a relationship milestone.
You can view the original article HERE.