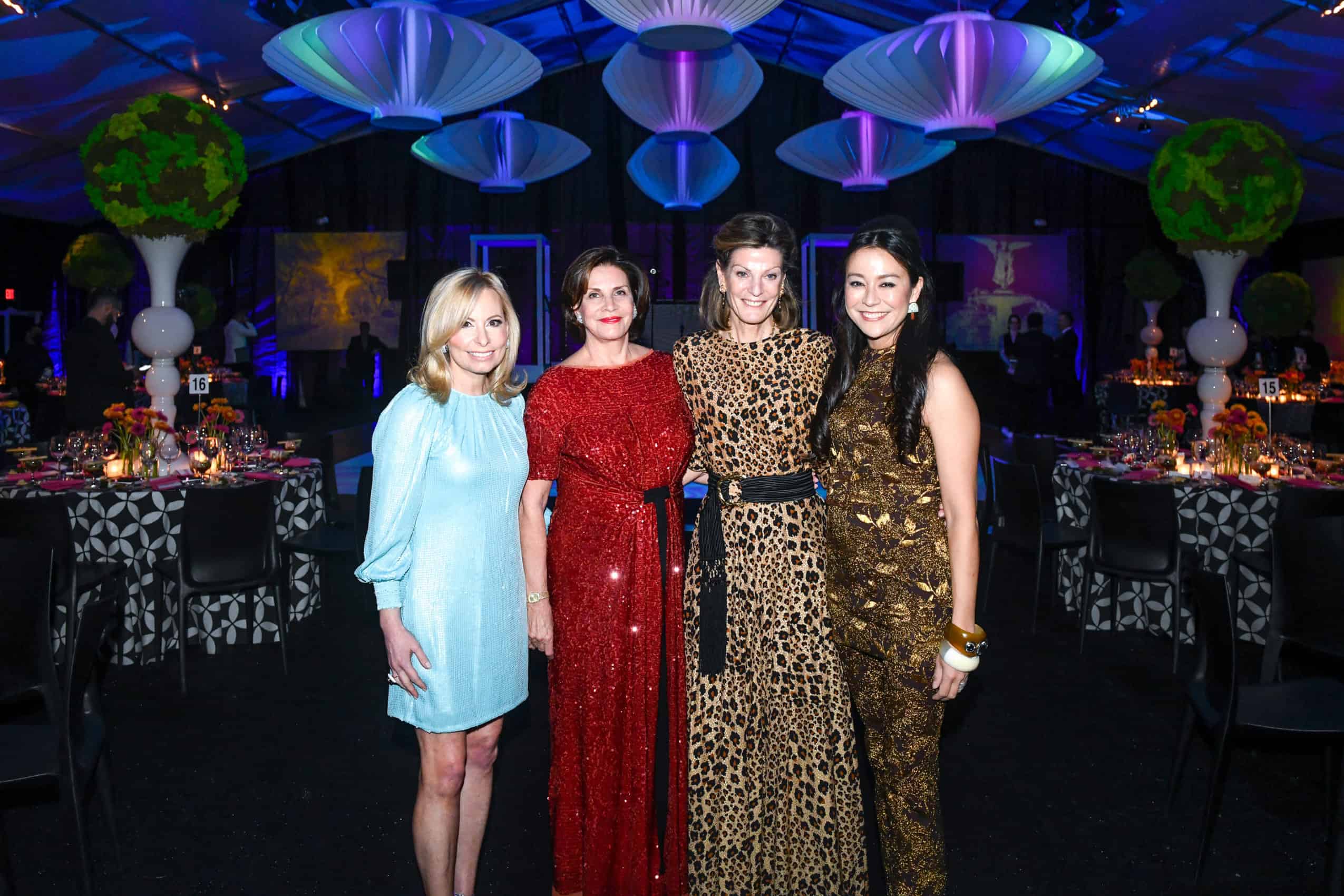 There isn't a New Yorker who doesn't smile when they think of the city's crown jewel, Central Park, and their memories associated with it. And that pride and joy was majorly evident last nightat the annual Central Park Conservancy Gala, held right in the heart of things at Rumsey Playfield. With a 1960s-inspired MOD theme on the agenda, the glamorous event also raised $1.4 million on the night.
The event, presented by Harry Winston—which kicks off a year-long partnership between the jeweler and the park—drew over 400 well-heeled guests who dusted down their Swinging Sixties finest for cocktails and dinner. Joining later in the evening, over 200 Young Associates came by for dessert and dancing to music by On The Move Entertainment. (And if you ask us, all galas should have chic go go dancers in retro outfits from now on to ensure the dance floor remains full all night…)
The evening's co-chairs were Chai Vasarhelyi and Jimmy Chin, Amanda and Glenn Fuhrman, Jill and Barry Lafer, and Gillian and Sylvester Miniter, who were joined by president and CEO of the Central Park Conservancy Betsy Smith, as well as trustees and donors. Notable guests included Martha Stewart, Mayor Eric Adams, Federica Boido, Suzanne and Bob Cochran, Rick Cotton, Kate and Andrew Davis, NYC Parks Commissioner Sue Donoghue, Fe Fendi, Wes Edens, Charlotte Groenveld, Dayssi and Paul Kanavos, Kitty and Tom Kempner, Alexia Leuschen, Amy Miller Madry, Susan Magrino, Katherine Murdoch, Margo Nederlander, Elyse Newhouse, Yesim and Dusty Philip, Jenny Price, Indre Rockefeller, Laureen Seeger, A.G. Sulzberger and Molly Messick, Harry Taylor and Mo Sakurai, Anna and William Zeckendorf, Dayssi Olarte de Kanavos, and Jeremy Batoff and Eric Goldie.
Caroline Meade, Charlotte Snyder and Kat Dines
Thanks to this year's Young Associates co-chairs Zachary Weiss and Isabella Massenet, the party continued 'til late. Among the well-heeled crowd were Prince Achileas-Andreas of Greece and Denmark, Alessia Fendi—in a dress from her grandma's enviable closet—Serena Miniter, Molly and Sam Moorkamp, Stephanie Nass, Beverly Nguyen, Madeline O'Malley, Sophie Sumner, Charly Sturm, Rachel Tashjian, and more. Once the tent winded down to signal the end of the gala, guests headed off via trolley to the breathtaking Nubeluz rooftop bar at The Ritz Carlton New York, NoMad. There, revelers enjoyed after party cocktails by William Grant and a disco playlist curated by Massenet; the perfect dancefloor-approved soundtrack to compliment all the Pucci, sequins, opera gloves, and beehives in the room.
Funds raised from the event will support the Conservancy's ongoing work to maintain the beloved landmark and sanctuary as a much-needed respite from the pace and pressures of city life for all New Yorkers and visitors. Until next year!
Peek inside the evening, below:
Gillian Miniter, Jill Lafer, Betsy Smith, Elizabeth Chai Vasarhelyi
Alessia Fendi, Mercedes de Guardiola, Joelle El Sawalhi, Charly Sturm, Savannah Engel


Eric Goldie, Zach Weiss, Jeremy Batoff
Charlotte Groeneveld, Christina Sethi


Martha Stewart
Betsy Smith, Mayor Eric Adams


Angelica Body-Lawson, Kimberly Cyrus, Savannah Stevens, Kia Winter
Amy Madry, Jill Lafer


Betsy Smith, Rick Cotton
Claudia Overstrom, Leslie Brille, Yesim Philip


Elyse Newhouse, Fe Fendi
Gillian Miniter, Jenny Price


Harry Taylor, Mo Sakurai
Isabella Massenet, Zach Weiss


Jill Lafer, Barry Lafer
Gillian Miniter and Margo Nederlander


Jimmy Chin, Elizabeth Chai Vasarhelyi
Nancy Paduano, Dan Paduano


Serena Miniter
Gillian Miniter, Sylvester Miniter


Pritika Swarup
Stephanie Nass


William Zeckendorf, Anna Bender-Zeckendorf
Elizabeth Chai Vasarhelyi and Indre Rockefeller


Dayssi Olarte de Kanavos
Sophie Sumner and Ian Malone


Tom Kempner and Jill Lafer
Laureen Seeger, Andrew Berger, Gracie Seeger and Erin Klatskin


Jon Allen, Heather Hilgers, Nicholas D'Angelo and Edward Lando
Charlotte Snyder, Kat Dines, Heather McAuliffe, Christina Sethi, bottow row, Charlotte Groeneveld, Caroline Meade, Cheyne Beys


Images: BFA/Getty
Subscribe to our newsletter and follow us on Facebook and Instagram to stay up to date on all the latest fashion news and juicy industry gossip.
You can view the original article HERE.