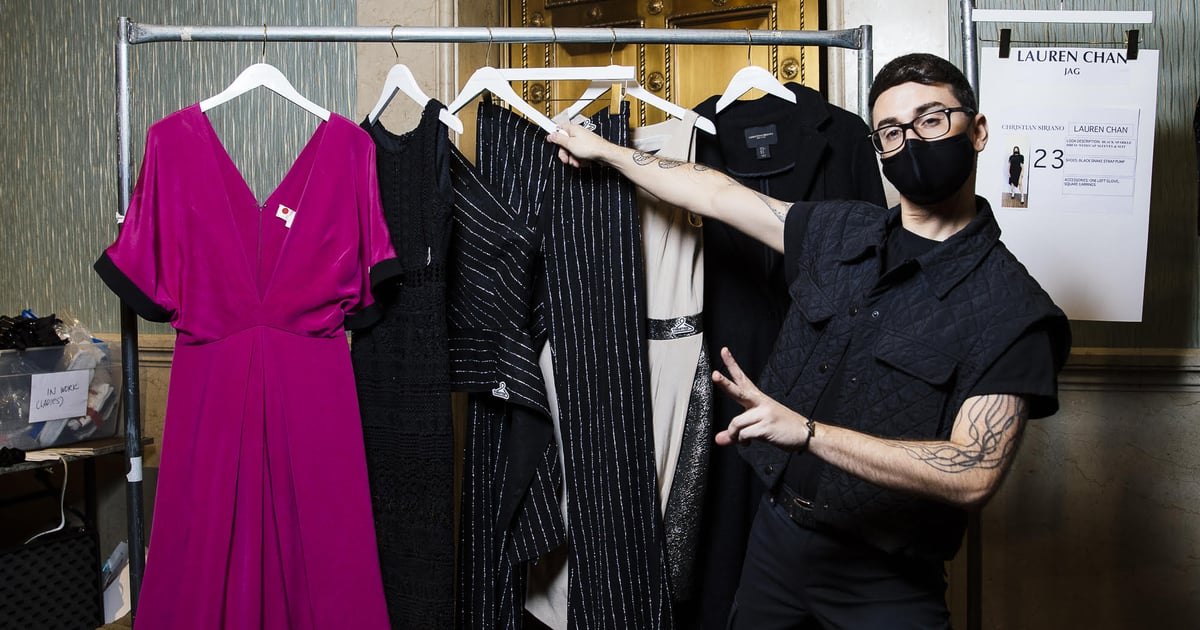 For Christian Siriano's fall 2021 collection, the designer and philanthropist decided to include secondhand items on the runway. Siriano went back to his roots, selecting a fringed wool coat he designed seven years ago — "I was pleasantly surprised at how well the coat has held up. It still looks new, and the shape feels both modern and timeless," he told POPSUGAR — as well as a pink cocktail dress that spoke to his dreamlike color palette. (Pink is also one of the leading trends for fall 2021 — see how fashion repeats itself?)
"Reuse and sustainability became a natural part of my vision for this collection, because I believe reuse will define the future of fashion."
By making this choice, Siriano was just doing what he does best — weaving sustainability and positive brand values through his presentation, as they're present in everything he does. The designer recently partnered with ThredUp to create the world's first thrifted logo, because we should all be proud to reduce our carbon footprint by shopping vintage. Siriano then incorporated that patch onto his runway — of course it fit proudly onto the sleeves of the pink dress and black wool coat — so his fans could see how he envisions the future of fashion. "I placed the Thrift Logo patches on the garments where it would be clearly visible in photos and to my show's attendees. There's no better way to wear sustainability on your sleeve than to do so literally!" he said.
ThredUp is now reselling both items for less than $100, and all proceeds go to the company's Circular Fashion Fund, which is a nonprofit dedicated to combatting textile waste. "Incorporating thrift was a key part of my inspiration for this collection. I started by imagining a dream world and thought about what fashion would look like in this fantasy of mine. Reuse and sustainability became a natural part of my vision for this collection, because I believe reuse will define the future of fashion. I hope the thrifted runway looks and my fall collection as a whole get people excited about what fashion will look like in the years to come and show other designers that they can embrace reuse, too," Siriano said.
Ahead, see the secondhand pieces on the fall/winter 2021 runway, then be the first to shop. Our guess is the dress and coat will go quickly. After all, who wouldn't want to be a part of this moment in fashion history where a great designer like Siriano takes the first step in encouraging the industry to rethink the "newness" and foundation of a fashion show?
You can view the original article HERE.