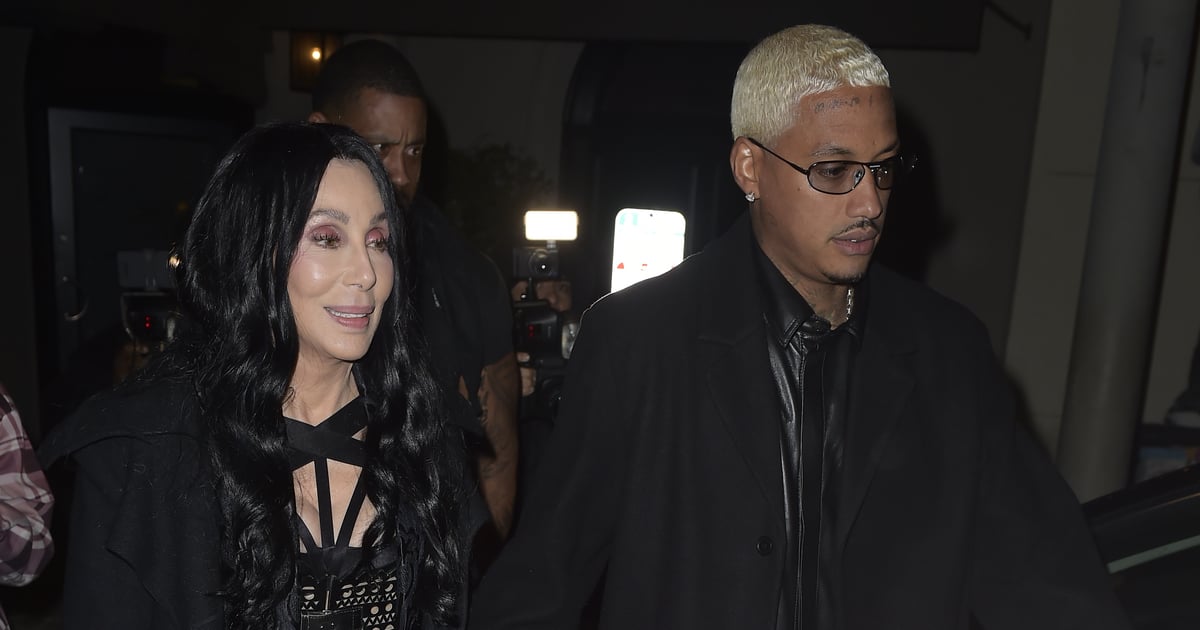 Cher has a new beau in her life, but she knows not everyone understands their relationship. In November, the 76-year-old legendary pop star confirmed that she's dating 36-year-old music executive and rapper Alexander Edwards. The age gap led some of the "Believe" singer's fans to worry she could be taken advantage of — a line of thinking she quickly shut down on Twitter. Now, on a new episode of "The Kelly Clarkson Show," Cher opened up about what makes her romance with Edwards work.
"On paper, it's kind of ridiculous," Cher told the chat show host. "But in real life, we get along great. He's fabulous. And I don't give men qualities that they don't deserve."
She went on to add that Edwards is "very kind, very smart" and "very talented," as well as "funny" and "handsome." Ultimately, for Cher, the age gap isn't an issue in large part because younger men seem to understand her better.
She explained to Clarkson, "Older men just didn't like me all that much. Do you know what I mean? I have had a couple boyfriends that were hovering around my age, but they just didn't like me for some reason. And maybe younger men don't care if you're funny or outrageous and want to do stupid things and you have the strong personality. I'm not giving up my personality for anybody, OK?"
After the singer was spotted out with Edwards in November, the goddess of pop officially addressed romance rumors on her Twitter on Nov. 6. She first tweeted a close-up photo of Edwards, writing "Alexander" with a heart, then responded to subsequent tweets from curious fans. When a follower asked whether he was her "new man," Cher simply answered with an emoji featuring a smiling face and hearts. She confirmed the pair met at Paris Fashion Week and that all of her family had met him.
"I've Always Taken Chances . . . It's WHO I Am."
The iconic singer also replied to a concerned fan who said they were "suspicious of his intentions," writing, "As we All Know …I WASNT BORN YESTERDAY,& What I Know For Sure…There Are No Guarantees. Anytime you make a Choice You Take a Chance.I've Always Taken Chances…It's WHO I Am." She added that Edwards treated her "like a 👑."
On Nov. 2, Cher was seen with music producer Alexander Edwards and Tyga as they headed into star-studded eatery Craig's in Los Angeles. While a seemingly platonic dinner for three, Cher and Edwards, who also goes by AE, were later photographed holding hands and looking quite cozy outside of the restaurant. Reps for Cher and Edwards did not immediately respond to POPSUGAR's request for comment at the time.
Cher was previously linked to Tim Medvetz, a former Hells Angels biker, before they reportedly split in 2013. She was also famously married to Sonny Bono and Gregg Allman. Edwards, on the other hand, dated Amber Rose, with whom he shares 2-year-old son Slash Electric Alexander Edwards. The pair were together from 2018 to 2021. Rose accused the music producer of infidelity and cheating on her with 12 women, which Edwards later admitted to.
Ahead, see more photos of the new couple.
You can view the original article HERE.