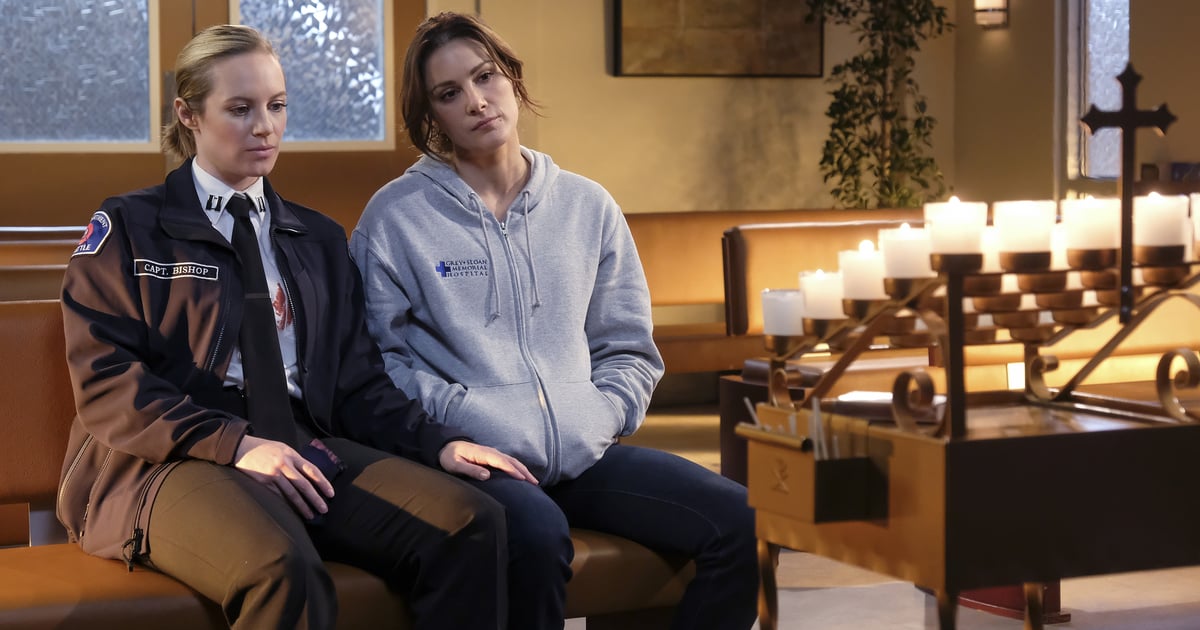 Grey's Anatomy returned for its midseason premiere on March 11 with a Station 19 crossover that ended in more tears than we ever expected. The double-hitter event dealt with the aftermath of two storylines: the child-trafficking episode from season 16's March 19 episode, "Give a Little Bit," and Station 19 rescue of two kidnapped Black girls. When we last saw Andrew DeLuca, he had just caught sight of Opal, the leader of a child-trafficking ring that he suspected but couldn't get people to listen to him because he was in a manic state. He and his sister Carina ended up following the leader by car and, in the midseason premiere, got the crew of Station 19 to help their makeshift operation to take down the ring. Opal is arrested in the end, but not before her accomplice stabbed DeLuca and left him for dead.
DeLuca is rushed to Grey Sloan, where Owen and Teddy work together to bring him back from the brink. On the other side of consciousness, DeLuca appears on Meredith's "limbo beach" where he explains that his decision to chase Opal was similar to Meredith's when she risked her license to save the little girl — even though that situation was unobjectively different because Meredith could have easily avoided fraud by shelling out her own money to pay for the girl's treatment. (Just saying!) "It's the only thing that made sense," he tells her. But it's soon revealed that the moment has cost him much more than Meredith's actions did her; in real life, DeLuca develops DIC, rendering his body unable to stop bleeding, and he's soon pronounced dead.
On the beach, DeLuca tells Meredith that although he doesn't know what happened from that moment, "I want you to know that I never felt seen the way you saw me. I never felt inspired the way you inspired me — you made me want to be not just my best self, but better." As he flatlines in the operating room in the real world, his late mother appears in the distance, waving him to her side. DeLuca bids Meredith farewell, telling her she'll be OK, before running to reunite with his mother and embracing her.
It's a bittersweet ending for a character who came in with such promise and seemed to suffer from writers not really knowing what to do with him that didn't involve romantic relationships. Much of DeLuca's development came when it felt too late, and now he's gone before we could even delve into his journey with his mental health. In an interview with Deadline, showrunner Krista Vernoff explained that the decision was "one of the first creative imaginings" she had while developing the season. "It felt powerful and important, and I don't always know why, but that was the story that came," she said.
Vernoff added that it was important to her that DeLuca be clear of his mental health crisis before his death because she didn't want fans to associate the two circumstances together. "I didn't want to risk sending the message that he died because of his mental illness. He died having come through his mental health crisis, bravely and powerfully, and he died a hero," she said. "He saved, probably, a lot of lives in the future." The showrunner also teased that DeLuca's death will affect everyone at Grey Sloan but profoundly affect one person "who has reached their saturation level and their breaking point." We're going to take a wild guess and assume that will be Richard Webber, who had taken the younger man under his wing for a point in time. Vernoff also confirmed that although DeLuca will reappear in the season, he won't be returning to the beach as that final moment was the perfect moment for the character.
Actor Giacomo Gianniotti thanked his fans on Twitter, writing, "Telling [DeLuca's] story was and will be one of the great honors of my life." On Instagram, he included his Grey's costars in that thank you, adding that, "it has been a privilege to share the screen with you all, this is where I exit stage left. But the show must go on, and I cannot wait to see what you all do next. Thank you to my @greysabc family. I will love you all forever."
Vernoff also posted a message to her Twitter page after the episode's premiere, writing, "Giacomo has brought so much talent and so much heart to the role of Andrew DeLuca. We at Grey's Anatomy are grieving the death of this character with all of you. Giacomo played him so beautifully and took him on such a powerful journey — from intern, to romantic, to a mental health crisis and back again."
"This is the story that demanded to be told," she added. "But sometimes we writers are just as grief stricken by the stories as you are. This is one of those times." Read Vernoff's full note ahead.
— Krista Vernoff (@KristaVernoff) March 12, 2021
You can view the original article HERE.