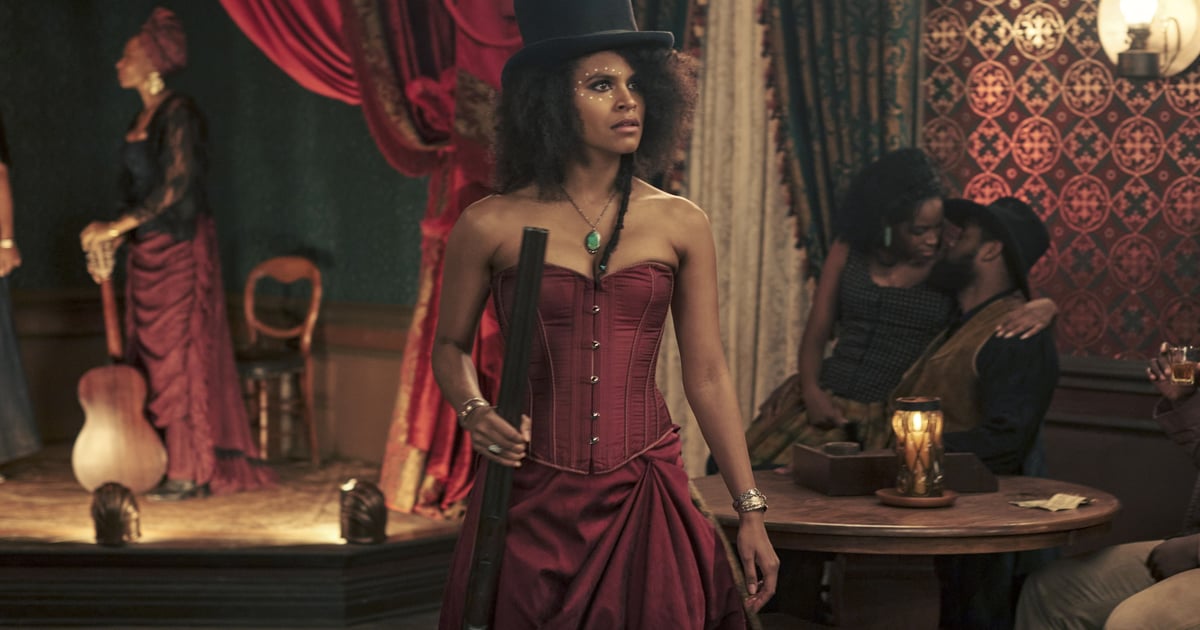 In Netflix's The Harder They Fall, the all-star cast, including Jonathan Majors, Idris Elba, Zazie Beetz, and Regina King, takes viewers back to the 19th century. The Western story starring an all-Black cast was directed by Jeymes Samuel, who has a musical background. As someone who has written, performed, and produced music, it's not surprising that he worked music heavily into this film as well. Samuel (whose brother is Seal — yeah, the Seal) wrote and produced the movie's soundtrack, and it even features the cast's own singing voices. So if you've been wondering if that's actually Zazie Beetz singing as Stagecoach Mary in the film, the answer is most likely yes!
Stagecoach Mary runs a chain of saloons and is a pivotal figure in the film (not to mention her romantic history with Nat Love). Beetz had never starred in a Western before, but she told Collider she was no stranger to musicals (The Sound of Music was her go-to). Her love for musicals probably made this role even more of a dream gig, since it involves some singing (even if only a little). Mary's first appearance in the movie sees her hit the stage at her saloon to sing "The Jim Crow Count," and yes, that's Beetz's actual singing voice, as she's credited as the performer on the movie's soundtrack for this tune. Beetz is also part of the song "Away With the Winds She Goes," which is credited to the whole cast, and which she visibly takes part in during the movie.
Though Beetz had the chance to show off her singing talents in The Harder They Fall, it isn't something she'd done much before this in a professional capacity. She's not shy about showing off her skills, though, if this old social media video of her singing on Reddit is anything to go by. She's seen singing while recording herself in the mirror, and she can definitely carry a tune.
Now that we know Beetz has some pipes on her, we're low-key hoping more directors and production studios give her a chance to show off in upcoming projects. Hearing her sing these couple songs in The Harder They Fall is just simply not enough!
You can view the original article HERE.