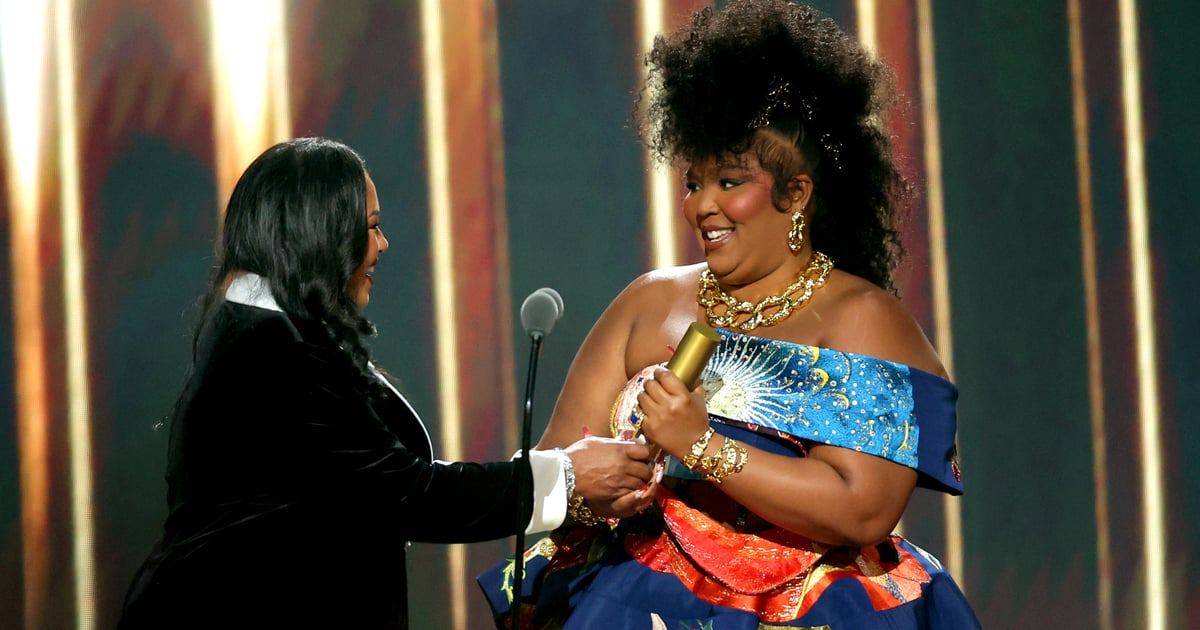 Lizzo has had an incredible 2022. Not only did she snag yet another No. 1 single with "About Damn Time," but her size-inclusive clothing line, Yitty, is absolutely popping off. As the year winds down, she's adding another accomplishment to her never-ending list. On Dec. 6, the singer was honored with the people's champion award at the People's Choice Awards, where her mother, Shari Johnson-Jefferson, presented her with the prestigious award. And FYI, they are, like, actual twins.
In a press release announcing the honor (via Variety), Cassandra Tryon, senior vice president of entertainment live events for NBCUniversal Television and Streaming, said, "[Lizzo] leads with kindness, advocates for inclusivity and champions increased diversity and equity in the industry and beyond. Her commitment to breaking barriers and empowering others to use their own voices to create change makes her a true 'People's Champion.'"
Lizzo truly embodied those words during her acceptance speech. Instead of focusing on herself, she used the entire duration of her speech to lift up 17 activist women from all different walks of life and their causes, explaining, "If I'm the people's champ, I don't need a trophy for championing people."
She spotlighted activists like Amariyanna Copeny (aka Little Miss Flint), who's been fighting for everyone in Flint, MI, and across the country to have safe drinking water; Maggie Mireles, who's fighting gun violence in schools after her schoolteacher sister, Eva Mireles, died protecting students during the Uvalde, TX, school shooting; and more.
The "Am I Ready" singer was also nominated in five additional categories at the PCAs: the competition show of 2022 for "Lizzo's Watch Out For the Big Grrrls," female artist of 2022, song of 2022 for "About Damn Time," album of 2022 for "Special," and social celebrity of 2022. The singer took home the song of 2022 honor and kept that acceptance speech short and sweet. She sang the iconic, uplifting lyrics of "About Damn Time" that go, "Oh, I've been so down and under pressure. I'm way too fine to be this stressed. Oh, I'm not the girl I was or used to be. Uh, b*tch, I might be better."
Check out Lizzo's moving speech and the 17 inspiring activists she spotlighted ahead.
You can view the original article HERE.