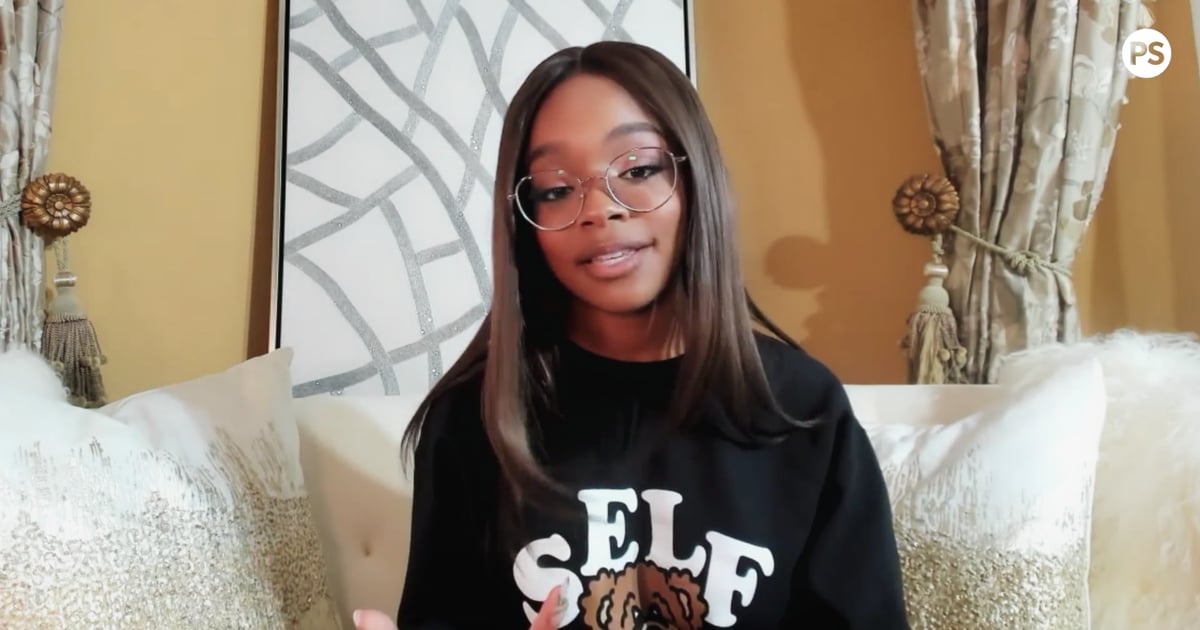 Sixteen-year-old Marsai Martin is wise beyond her years, so when she dishes life advice, we're listening. After previously inspiring us with her words in POPSUGAR's January cover story, the talented actress and youngest executive producer in Hollywood history joined us for POPSUGAR's Girl Talk: Knowledge Is Our Superpower event, featuring Michelle Obama and the Girls Opportunity Alliance. The event premiered on Thursday and is a collection of inspiring conversations with celebrity guests in support of girls' education across the world. During her segment, Marsai took a moment to share some tips for how to reclaim your power, and we're taking notes . . . literally. Ahead, read some of Marsai's tips and tricks for "stepping into your own power" every single day.
Use your voice. The first step in owning your power is believing that your thoughts and input are valuable and speaking up. As Marsai notes, "It doesn't matter how old you are or what you look like or where you come from, your experiences in this world matter and sharing your experiences and your thoughts and your opinions are worth speaking out loud for everyone to hear."
Take up space. Marsai adds that you shouldn't be afraid to let your light shine just to make other people comfortable, saying, "Stand up tall, roll your shoulders back, hold your head up high. Be proud of who you are and that you are just uniquely you."
Keep negative thoughts at bay. Marsai notes that you should "speak light and positivity" into every situation you find yourself in. If you constantly tell yourself "you can," eventually you will.
Miss Girl Talk: Knowledge Is Our Superpower? You can still watch it here and we hope you'll consider a donation to the Girls Opportunity Alliance to help adolescent girls and the grassroots leaders working to educate them.
Image Source: POPSUGAR Photography
You can view the original article HERE.