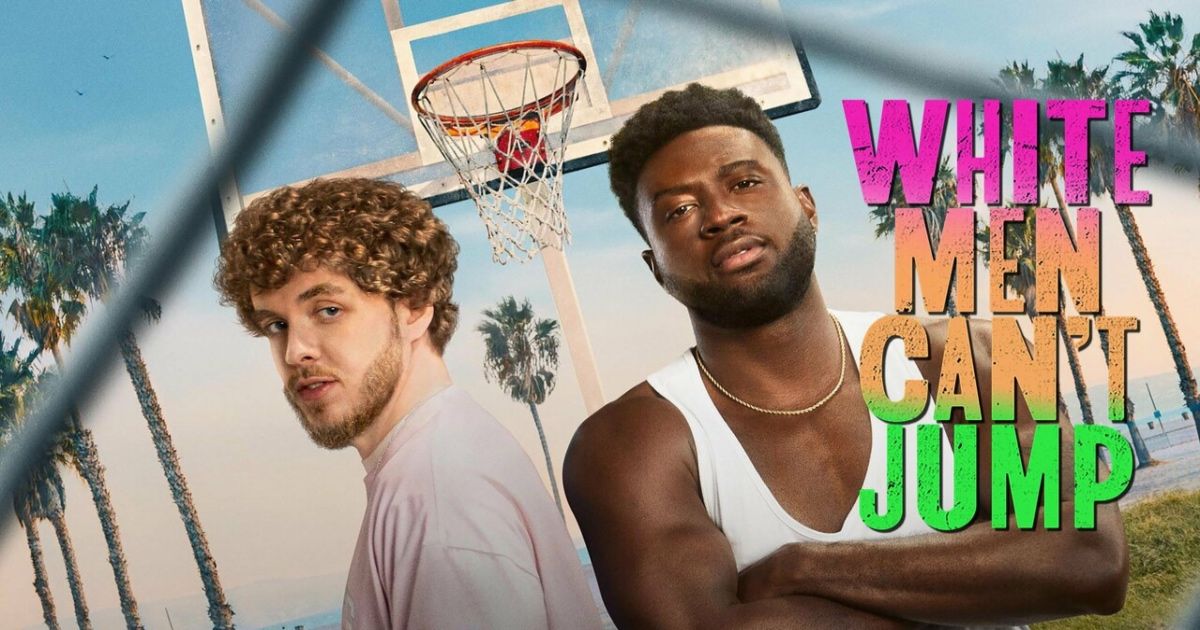 Woody Harrelson and Wesley Snipes were already established stars when White Men Can't Jump was released in 1992. Harrelson was known for starring in Cheers, Snipes from Mo' Better Blues, New Jack City, and Jungle Fever. Individually, they held a certain bravado and cocksure likability that allowed them, and in turn, White Men Can't Jump, to reach great heights. The movie was a hit, capturing the zeitgeist of early 1990s sports, competition, and the love of a game, specifically basketball.
In the 2023 version of White Men Can't Jump, director Calmatic, coming off of House Party, never quite scores as big as the original, and even if you didn't have that to compare it to, you don't walk away from the outing feeling invigorated as much as you sense the filmmakers want you to be. Sure, this White Men Can't Jump, which stars Jack Harlow and Sinqua Walls, can be enjoyable, but the original from more than 30 years ago, before the Internet and social media, always sits court side, as if watching to see if this film will make a great shot.
MOVIEWEB VIDEO OF THE DAYSCROLL TO CONTINUE WITH CONTENT
Alas, it's hard these days, isn't it? So many films and television shows are being redone in some form. Few of them truly shine — Dead Ringers, The Conners, Night Court. Others baffle: Grease: Rise of the Pink Ladies, Fatal Attraction. But here we are, in 2023, and 20th Century Studios' new comedy on Hulu delivers a modern remix of another iconic film. Let's see what it's got.
Sinqua Wills and Jack Harlow
One of the most vibrant things White Men Can't Jump has going for it is multi-platinum rap superstar Jack Harlow, who makes his big-screen debut here as Jeremy. The rapper offers a grounded performance playing a former basketball star whose injuries derailed his promising career. His creative court partner here is Sinqua Walls, who consistently turns in memorable performances in the roles he plays— see The Nanny, The Blackening, American Soul, or Friday Night Lights for reference.
Walls plays Kamal, also a once promising player whose fate took a major swerve, mostly because of his own undoing. These guys both have struggles in present day. Jeremy is financially strapped and resorted to alternative methods to find healing and inner balance after two ACL injuries — meditation, smoothies, and all those things modern culture considers "woo-woo" but really are not.
Kamal wants some reprieve, mostly from the past, but he lives in the shadow of his well-known father, played by the late Lance Reddick. Still, he finds some levity by taking the court with his buds Renzo (Myles Bullock) and Speedy (Vince Staples). Jeremy and Kamal meet on the court and Jeremy assures Kamal he can train him. With detox juices and turning inward? Please. Well, that's Kamal's take, but sure enough, the fellas team up and soon find themselves heading toward a new goal: playing together in a tournament to win $25,000 in prize money.
Shoot, Miss, Shoot, Miss
Hulu
Welcome to your new buddy comedy. About that… while it's subjective, there's only a handful of times when this movie truly felt comedic. That's the trouble with putting an established IP through a modern-day rinse cycle. Something gets watered down. One has the feeling that all of this looked good on paper, but in execution, it never truly shines. And that's a shame because you really want it to.
Related: These Are 5 of the Best Actors Who Were Once Rappers
Instead, writers Kenya Barris, Doug Hal, and Ron Shelton — the man wrote the original film and Bull Durham, so it's befuddling — update White Men Can't Jump with huge splashes of modern-day slang and scenes we've experienced before in movies before this. The sort of "what did you say to me?" heated growl. Insert: lurch toward bro, fists clenched, while friends attempt to stop the fuss. Or, say, predictable scenes that were set in place just to get two unlikely collaborators together. It's not horrible to watch. It's just not truly inventive.
Everybody Plays the Game
Hulu
No doubt running a studio is tough work. Not every product flies high, regardless of the intentions behind it, but there's something about White Men Can't Jump that feels forced rather than organic. It's as if the studio was struggling to come up with new ideas and slid a redux on the conference room table. But let's move on. There are bright spots.
The cast is solid. Teyana Taylor plays Imani, Kamal's wife. She dreams of being a successful hairdresser and Kamal wants to help. He also wants to be a good dad to his young son. Laura Harrier is Jeremy's girlfriend Tatiana, a dedicated dancer, who frets about his decision to raise money for knee surgery. Both actors elevate their characters to something beyond ordinary placeholders. Bravo to that. Then there's Lance Reddick as Kamal's father. This film was one of Reddick's last film roles, in fact. It's always been a joy to experience this actor, and while he doesn't have a ton of screen time here, he's believable throughout.
Related: Best Lance Reddick Performances, Ranked
Something to savor may be the final tournament scenes. True, they don't quite capture the art of basketball in the unique way Shelton offered in his previous outing, but they are loaded with vivid colors. The movie comes alive here, perhaps intentionally, as the players move along the outdoor court with bright and colorful hues. The end game offers some surprises, and it's best to experience that on your own.
In the meantime, it was wise for the studio to release this on Hulu, considering how the box office mood swings these days. White Men Can't Jump takes it shots, but never really scores. But when it comes to the streaming game, sometimes you just want to just chill, not overthink it, and escape. To that end, White Men Can't Jump probably deserved this place on the court.
White Men Can't Jump is streaming exclusively on Hulu in the U.S., Star+ in Latin America, and Disney+ under the Star banner in all other territories.
You can view the original article HERE.