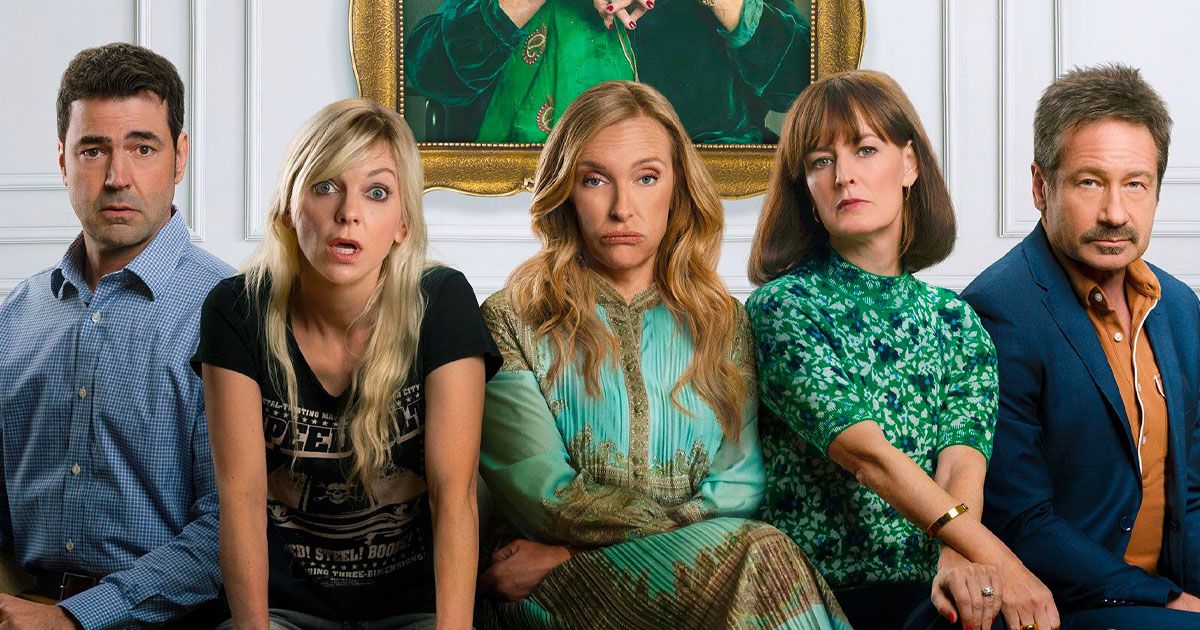 Sisters (Toni Collette, Anna Faris) battle their cousins (David Duchovny, Rosemarie DeWitt) for their mean aunt's (Kathleen Turner) fortune.
Signature Films
A pair of struggling New Orleans sisters scheme to inherit their vile aunt's fortune but face stiff competition from sleazy cousins with the same plan. The Estate is a raunchy comedy with enough swearing to make your pastor blush. A veteran ensemble of talented actors pull off the zany shenanigans with deft timing. The character interactions will have you laughing out loud as their battle for cash reaches a fever pitch. Kathleen Turner almost steals the show as the cruel Aunt Hilda. The plot's outcome is fairly predictable but not too detrimental. Sharp humor keeps you entertained when the narrative struggles.
MOVIEWEB VIDEO OF THE DAY
Twice-divorced Macey (Toni Collette) and her younger sister Savanna (Anna Faris) are on the verge of bankruptcy. Their small New Orleans café is hopelessly in debt. Their mother, Diane (Patricia French), gives them an unexpected lifeline with family news. Her horrible sister, Hilda (Turner), is terminally ill from cancer. The wealthy Hilda never married and has no children. Savanna convinces a skeptical Macey that they must inherit Hilda's fortune. How difficult could it be buttering up an old hag?
The sisters get a big surprise when they arrive at Hilda's mansion. Their despicable cousins, Richard (David Duchovny), and his older sister, Beatrice (Rosemarie DeWitt), have already swooped in like vultures. The selfish and narcissistic Beatrice has also enlisted her hapless husband (Ron Livingston). Hilda runs everyone through the ringer with her disgusting ailments and bruising personality. The race for ingratiation becomes hilariously desperate as the bickering cousins resort to sordid tactics.
The Cast of The Estate
Director/writer Dean Craig (Death at a Funeral) nails the casting. Lesser actors would have looked foolish and been extremely unlikable. The players use their considerable experience to emote depth. Collette's Macey serves as the straight woman trying to grasp the insanity. She hates exploiting Hilda but understands they have no recourse for their financial problems. Macey spent her youth in Beatrice's shadow. She was the plain girl while Beatrice got all the attention. Even worse, Richard, who now prefers to be called Dick, has an incestuous crush on her. Macey continually ducks his advances while trying to coddle Hilda with her harebrained sister.
The Estate gets downright dirty. The cousins will do anything to make Hilda happy. This includes sexual gratification before she takes a permanent dirt nap. These scenes had me rolling with laughter. What they do is so wrong but comedy gold. Again, the amazing cast takes lewd and offensive material to glory. Finding Hilda a date veers into bonkers territory.
Related: Exclusive: Toni Collette & Anna Faris Scheme Laughably in The Estate
The Estate Has Running Gags
Signature Films
The Estate has running gags that bolster the storyline. Keyla Monterroso Mejia co-stars as Ellen, the youngest half-sister of Macey and Savanna. Ellen has an obsession with Dungeons & Dragons. She spends the film in medieval costumes trying to convince everyone to play. This bit never gets old and has a major impact on the third act.
You can guess where the film is going early on. The infighting leads to comical reveals, but the overall story doesn't. This is normally an insurmountable fault. Skilled actors with great chemistry hurdle that obstacle. The Estate works because its damn funny.
The Estate is a production of Signature Films, Capstone Studios, and Pretty Matches Productions. It will be released theatrically on November 4th from Signature Entertainment.
You can view the original article HERE.