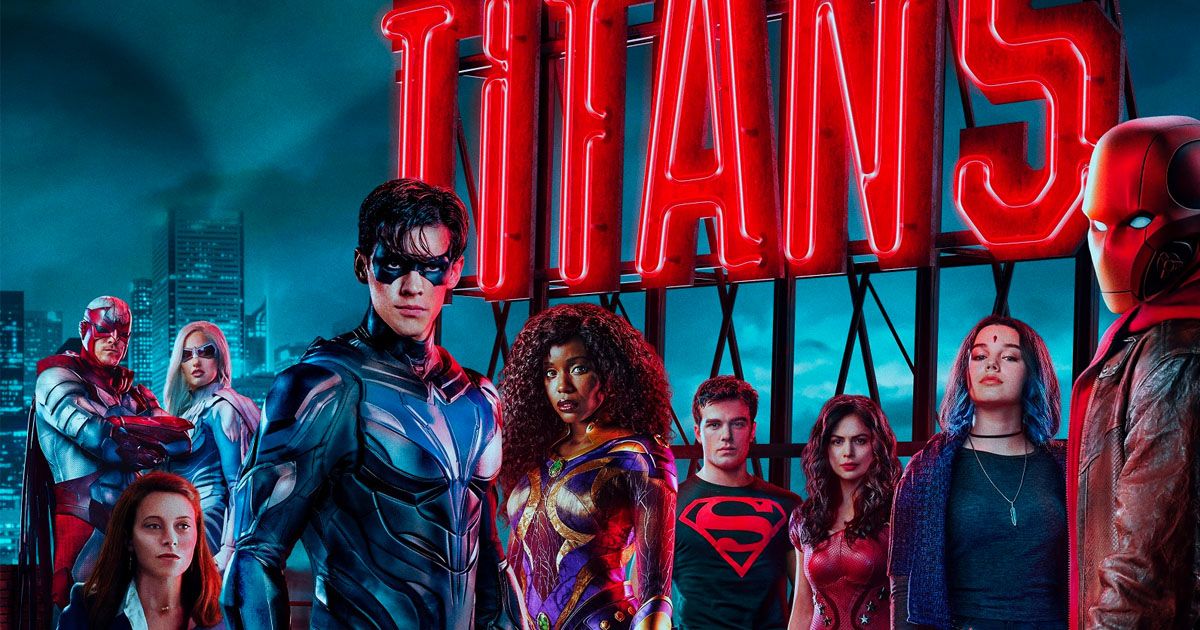 The fourth season premiere of Titans is a concrete start for this easily entertaining and watchable DC live-action series. This dark and gritty take on the iconic Teen Titans franchise follows the young heroes from across the DC Universe as they come of age and find where they belong, with plenty of violence and adult humor.
Spoiler WarningThe season premiere kicks off with Dick Grayson (Brenton Thwaites) and Kory (Anna Diop) discussing how lucky they were to make it out of events they went through in the show's previous season. Just a few days after saving Gotham City, they decide to hit the road and stop at a bowling alley for the evening. Unexpectedly, Bruce Wayne (Iain Glen) makes a phone call to Dick and tells him that has sorted out a visit to Metropolis so that Conner (Joshua Orpin) can meet his father, Clark Kent aka Superman. As the Titans head to S.T.A.R. Labs, Lex Luthor (Titus Welliver) begins another one of his sinister plans. He intends on becoming far more powerful than Superman himself.
MOVIEWEB VIDEO OF THE DAY
Welcome to Metropolis
The young team of heroes arrives in Metropolis and park their RV in front of S.T.A.R. Labs. They are met by a man named, Bernard Fitzmartin (James Scully), who oversees Special Projects. They've been expecting the Titans, but Conner and Dick are forced to hang back for a brief moment while the others are escorted deeper into the lab. Bernard delivers unfortunate news to Conner stating that Superman wasn't able to be there due to an urgent situation. Superman, however, does leave a note for Conner, apologizing and still wanting to meet him soon.
Bernard reveals a department in S.T.A.R. Labs that has been studying Superman's abilities. Giving Dick and Conner AR glasses, they are able to see Superman traveling through space in real-time, heading to a location where he intends to try and save an entire galaxy from destruction. As their visit at S.T.A.R. Labs continue, Tim (Jay Lycurgo) is given a unique bo staff created just for him. Dick tells Tim that although he has only been a Titan for "5 minutes", he will finally begin his training the following day. Before the team departs, their RV is given some incredible upgrades, including a brand-new car, courtesy of Bruce Wayne.
Related: The Sleep Experiment Review: A Hair-Raising & Shocking Adaption of the Legendary Internet Urban Legend
As the Titans are traveling on the highway making their way back to San Francisco, all the electronics in the RV suddenly go haywire. Conner is affected and feels pain inside his head just until Lex Luthor starts communicating with him. Lex tells Conner to meet him at LexCorp that very night. Dick and Kory warn Conner just how dangerous Lex Luthor can be and that he shouldn't be trusted. After their discussion on the side of the road, the Titans agree that they should turn back to Metropolis to see want Lex Luthor's true intentions are.
As Lex is enjoying his food at his dinner table, Kory shows up by herself and easily takes down all of his guards. Now being face to face with Lex Luthor, they begin to discuss what he truly wants with Conner. Kory distracts Lex and uses a mini drone built by Bruce Wayne to infiltrate his personal laptop nearby. Lex tells Kory that he wants Conner to stick around for a few months so that he can offer his guidance and hopefully have him take over LexCorp one day. The whole operation comes tumbling down as Lex is already fully aware that Dick and Tim are hiding in a nearby building, listening from afar.
Out of nowhere, a group of ninjas arrive at their location and immediately attack them. Tim hangs back while Nightwing fights off Lex's ninjas. Not long after, Dick provides the information to Conner, telling him exactly what Lex has offered. Dick tries to convince him not to go for it, but Connor decides to accept anyway. He wants answers about his true purpose and is determined to find his parents.
When Conner arrives at LexCorp, he learns that Lex is struggling and is actually dying. He has been trying to find a cure but as yet to do so. Lex created Superboy because he wanted his dream of becoming Superman to be a reality. Lex wanted a son and for him to succeed where he could not. Conner makes his choice and decides to move forward with Lex's offer.
The Death of Lex Luthor
HBO Max
Lex Luthor reveals a project that he's been working on and needs help with. A book is on the table that includes a number of strange, ancient markings and a familiar cultist mask that resembles a bird. Suddenly, Lex Luthor begins bleeding from the mouth, vomiting all over the place. Out of his mouth comes a large snake, which also tries to bite Conner.
Conner uses his powers to destroy it, while Rachel (Teagan Croft) feels the effects from afar and begins screaming. With Lex Luthor now dead, the armed guards rush in and immediately suspect Conner of murder. Conner holds his hands up and surrenders. Downstairs, Mrs. Bennett (Franka Potente), a woman whom Lex fired earlier in the episode, smiles, and retorts that "someone always has to pay".
The fourth season of Titans will consist of a total of 12 episodes, but not all at once. Titans Season 4 Part 1 will release new episodes weekly on Thursdays up until December 1st exclusively on HBO Max. With no further details at this time, Titans Season 4 Part 2 will premiere sometime in 2023.
You can view the original article HERE.