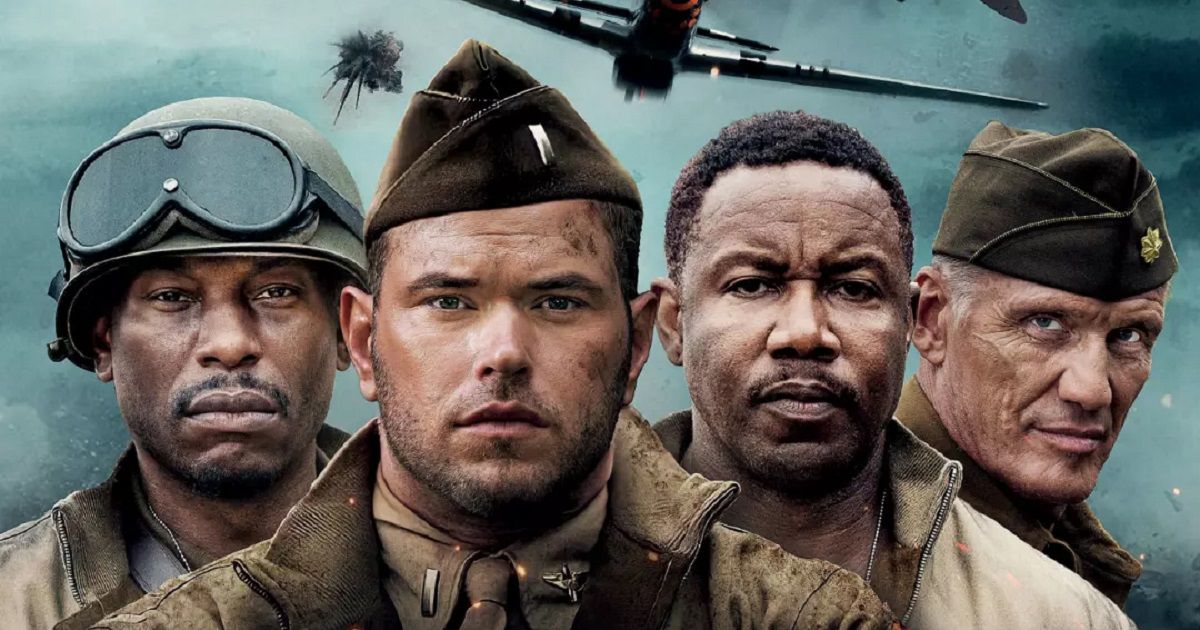 Come Out Fighting spotlights the courage and heroism of Black soldiers during World War II. The despicable racism faced at home reared its ugly head on European battlefields during the war. The film is a fictionalized account of the 761st Tank Battalion aka the Black Panthers. They join the hunt for a downed pilot and missing officer trapped behind enemy lines. Moments of genuine camaraderie are muddied by low-budget visual effects, questionable editing, and poorly defined, generic Nazi antagonists. Come Out Fighting has good intentions but struggles to be rousing and cinematic.
Lt. Frank Ross (Kellan Lutz) checks the fuel gauge on his P-51 Mustang fighter. He's almost empty. Wingman Lt. Mike Rawlings (Andrew Stecker) is in the same situation. They decide to end their recon mission when a German supply train comes into view. The pilots dutifully destroy the enemy but don't see a Messerschmitt jet racing towards them.
MOVIEWEB VIDEO OF THE DAYSCROLL TO CONTINUE WITH CONTENT
Meanwhile, on the ground nearby, Lt. Robert Hayes (Hiram A. Murray) leads a squad of Black combat engineers. Their job is to clear minefields and a path for advancing troops. Sgt. AJ 'Red' McCarron (Michael Jai White) comments they are always in the back after doing the dangerous work up front. Hayes is assured by a White officer the sector ahead has been scouted. He learns that's a lie as they're ambushed by Nazi tanks.
Falling into a German Trap
Lionsgate
Hayes leads the effort to repel the attack. He recommends Red for a battlefield commission to officer. Major Anderson (Dolph Lundgren) delivers bad news. Hayes is being blamed for falling into the German trap. He's to be immediately sent to division HQ for debriefing and possible reprimand. Red is placed in bitter command in his absence.
Hayes' journey doesn't get far. The Germans strike again and decimate the convoy. Red's men hear their radio call for help, but Anderson can't authorize a rescue operation. Red won't abandon Hayes. He gets a formidable ally with the introduction of Sgt. Warran Crecy (Tyrese Gibson). The 761st soldiers and their tanks have been itching for a fight.
Related: 20 Best War Movies of All Time, Ranked
Come Out Fighting works on a personal level. Hayes, Red, and their devoted men have each other's backs above all. They're spit at and continually disrespected by White soldiers who consider them to be inferior. Prejudice stains their accomplishments with Hayes' false accusations. It's entirely believable that Red would disobey orders to abandon his dear friend. These scenes are a stark reminder of the repugnant treatment faced while fighting for America as second class citizens.
Flawed Action
Writer/director Steven Luke (The Last Son, War Pigs) reteams with Murray and Lundgren after submarine thriller Operation Seawolf. His efforts in the World War II genre are similarly flawed. The CGI visual effects aren't realistic. Serious tension can't be established if the fighter combat looks overly computerized. This is obviously a budget issue but plays into scope and expectations. Luke wants a grand scale. He uses willing suspension of disbelief as a crutch for flawed big action. That doesn't fly if the soaring open feels like a video game.
Come Out Fighting left me conflicted. Luke's depiction of valiant Black soldiers is appreciated. Their WW2 contributions have largely been forgotten and willfully ignored. The 761st deserves to have their story told. The film is unfortunately a lackluster vehicle.
Come Out Fighting is a production of Lionsgate, Redbox, Schuetzle Company Productions, and VMI Worldwide. It will have a limited theatrical and VOD release on May 19th from Screen Media Films.
You can view the original article HERE.