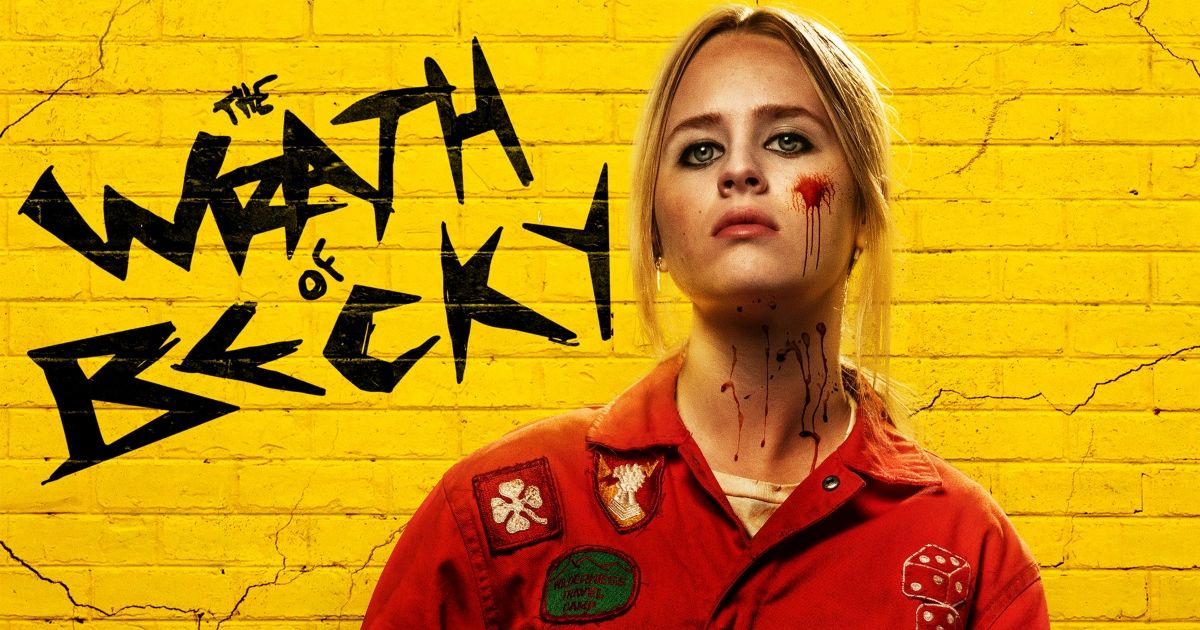 Becky was a surprising little hit back in 2020 (and would've probably been massive if COVID-19 didn't thwart its regular theatrical release). The film was a brisk, brutal, and bellicose thriller with a twisted sense of humor, pitting a teenage girl against a gang of neo-Nazis after they invade her house looking for a mysterious key her mother left her before dying.
The Wrath of Becky is essentially the exact same film, give or take. Becky is put in a horrible situation but has the upper hand; she takes out one Nazi after another in a wooded area around an isolated house; the villainous leader is intimidating and disturbing, but played by a famous comedian. There is a bit of development with Becky and the mysterious key, but for the most part, the sequel feels exactly the same — but better. It whittles down the structure of the first film into something leaner, hones the action sequences, and perfects the antagonist. The Wrath of Becky is unoriginal, but it's a blast.
MOVIEWEB VIDEO OF THE DAYSCROLL TO CONTINUE WITH CONTENT
Becky vs. The Nazis
Quiver Distribution
Lulu Wilson was surprisingly effective in the bloody Becky as a 13-year-old who was not only violently capable, but who almost enjoyed the gore to a psychotic degree. That sense of an unhinged protagonist (made all the more uncomfortable by it being a teenage girl) is strengthened in The Wrath of Becky. The sequel finds her living with her beloved dog and a kind old woman named Elena; it's not a bad life at all, but there's a feeling that Becky is either traumatized by the previous massacre, and perhaps actually misses murdering and yearns for bloodshed.
Becky's death wish is fulfilled when a gang of budding neo-Nazi jerks grab a bite to eat at the diner she waitresses in. They're rude, of course, and Becky fantasizes about murdering them. While she doesn't draw blood, she does intentionally spill hot coffee on one of them. The gang of scumbags takes a detour from their trip to the neo-Nazi headquarters and instead follows Becky home and breaks into her house at night. Things escalate, and before long, Becky is alone with nothing to lose.
Related: Exclusive: Seann William Scott Discusses His Neo-Nazi Villain in The Wrath of Becky
Becky hunts down the men and tracks them to a rustic cabin in the woods, the isolated headquarters of "The Noblemen," a fairly obvious take on the so-called Proud Boys, a real-life group of disgusting racists. Becky stumbles across their plans for a political assassination and gets tactical, luring the men out in an attempt at straight-up revenge. What ensues is surprisingly grisly, often hilariously so. After all, this is a sequel to the film where a teen girl ran a lawnmower over someone's face to their death, so the ante is already high.
Seann William Scott Gets Real
Quiver Distribution
While Wilson is excellent as Becky, a burgeoning psychopath we love to root for, it's the antagonists of the film that truly make it memorable. The vicious but moronic malcontents Becky first stumbles across are made up of a nice cross-section of utter awfulness. One of them is a hotheaded misogynist with muscles for brains (the Andrew Tate type), one is a weirdo who thinks he's funny but is just hateful and lame (the Steven Crowder type), and one is quiet and probably regretful that he joined the others, but is nonetheless complicit and thus damned (the Dave Rubin type).
The trio arrive at The Noblemen headquarters and meet Darryl, the leader of the neo-Nazi group. Played by a sublime Seann William Scott in one of the year's best performances, Darryl is polite to a discomforting extent, and chooses his words extremely carefully. He doesn't joke around and run his mouth like the others, nor does he spout hate rhetoric willy-nilly. He's almost like a redneck Nazi samurai. It's a fascinating character. He may be filled with malice and prejudice, but Darryl is usually the smartest person in the room; he's never been in the same room as Becky before, though.
Related: Exclusive Wrath of Becky Clip Has Seann William Scott on Villain Duty in the Thriller Sequel
Scott is perfect. It's honestly stunning; even when he's quiet and mannered, he's very intimidating. There are other antagonists in the film, with some surprising and fun performances, but Scott reigns over them. Filmmakers Matt Angel and Suzanne Coote obviously fell in love with Scott's performance, and the camera is enamored with him. His psychological sparring with Becky is wickedly fun.
Liberal Wish-Fulfillment in The Wrath of Becky
Quiver Distribution
The Wrath of Becky, at times, almost feels satirical. Some of the violence (and Becky's physical abilities) are so over-the-top that the film seems to exist in a kind of elevated state of comic craziness. From the credits on, the film is clearly more like a darkly funny comic book than the somewhat grittier first film.
This works better, actually; it essentially allows the audience to enjoy the film vicariously. It's less entertaining and much more ethically uncomfortable to be in the shoes of a murderer when a film is highly realistic (just watch Henry: Portrait of a Serial Killer). Thus, while it may seem a little twisted, The Wrath of Becky is a masterful piece of wish-fulfillment. The film truly develops antagonists you hate (unless you're a white nationalist, chauvinist, xenophobic fundamentalist), and then delights in hurting them.
As the alt-right becomes the traditional right and MAGA lunacy becomes the new normal, The Wrath of Becky seems more and more entertaining for anyone who actively hates prejudice and bigotry of any kind. For liberals and leftists, it's practically pornographic in its gleefully gory attack against the Proud Boy, Daily Wire, OAN, Fox News mentality. But what The Wrath of Becky does is much more than some didactic social commentary thriller like The Hunt, because The Wrath of Becky is downright fun. It opens up room for a third film, and depending on what the state of the world is like in a few years, we may very well need it.
From Quiver Distribution, The Wrath of Becky will be exclusively in theaters beginning May 26th.
You can view the original article HERE.