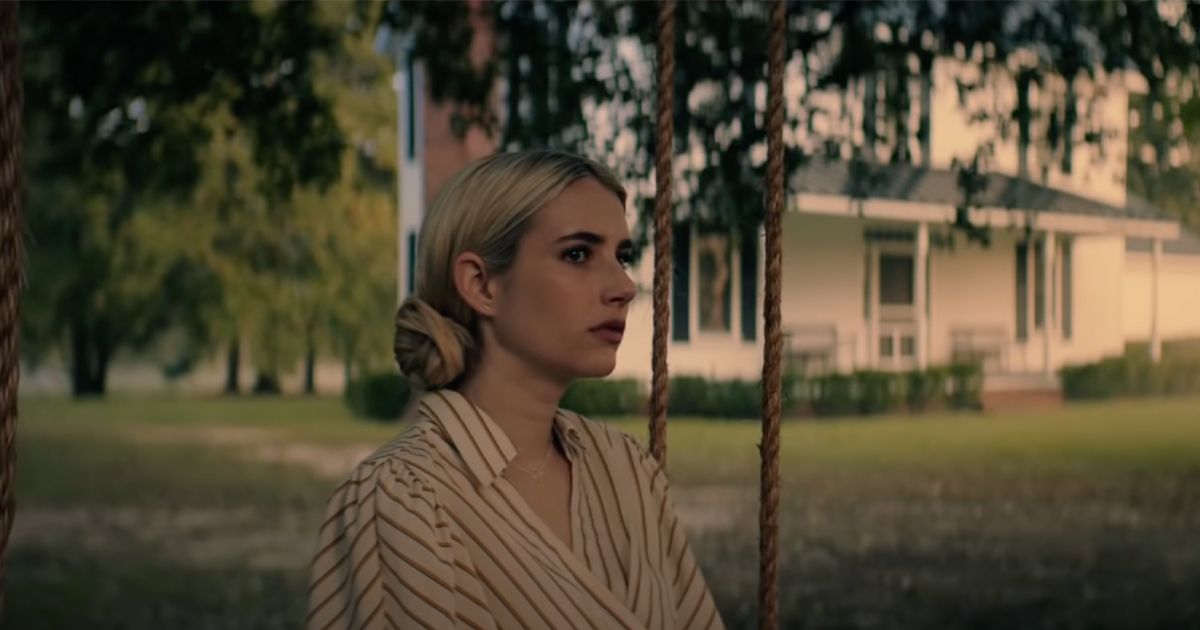 A young wife with a newborn baby faces postpartum depression and threatening spirits in a haunted house. Abandoned follows textbook instructions on how to craft a contrived horror film. It's achingly formulaic with a molasses drip delivery. The ponderous runtime wears patience thin with scant surprises. The single redeeming aspect is its frank portrayal of struggling motherhood. The protagonist's difficulties in bonding with her infant endangers a strained marriage. Abandoned might have worked as a relationship drama. The fright and suspense elements fall woefully short.
Abandoned opens with Sara (Emma Roberts) and Alex (John Gallagher Jr.) looking at a remote farmhouse. Their son Liam wails constantly as the realtor (Kate Arrington) talks up the drab and eerie property. Sara wonders why it has been on the market for so long. The realtor reluctantly gives them a police report. Horrific murders and a suicide had taken place forty years earlier. Alex is stunned when Sara discounts the tragic story. They decide to purchase and try a new life in the country.
MOVIEWEB VIDEO OF THE DAY
The move doesn't alleviate Sara's depression. She continues to feel inadequate and alienated from her baby. Sara becomes uneasy as she hears children's voices and sees ghostly figures in the hallways. Treasured belongings inexplicably move or disappear. A visit from a strange neighbor (Michael Shannon) exacerbates the situation. Sara needs to understand exactly what happened in the house. Alex fears for Liam's safety as Sara's mental state deteriorates. Everything is in her mind. She must be having a psychotic breakdown. Sara has to prove her sanity while protecting her child from malevolent spirits.
Related: Lightyear Review: Pixar's Better Version of Interstellar
Horror Tropes in Abandoned
The film could have been written by an algorithm designed for horror tropes. The newlyweds inexplicably move into a remote house with a murderous past. I laughed out loud when they completely ignore its bloody background. Alex works as a vet. He constantly leaves his disturbed wife and precious child alone at night. They fend for themselves in the creepy dark while he's away battling swine flu.
Abandoned broadcasts its attempted scares. Lights flicker, the music rises, and drumroll please, there's something wicked behind you. It's impossible to believe that a frightened mother would subjugate herself and baby to supernatural danger. I liken it to foolish teens, without an ounce of self-preservation, running blindly into the woods. Sara knows evil lurks behind the walls but sticks around to be terrorized. The characters don't behave rationally in obviously sinister circumstances.
Emma Roberts Sheds Light
Vertical Entertainment
Roberts gives light to a serious problem that many women face after childbirth. Sara refuses to take any medication. She needs to breastfeed Liam. It's the only way she feels a connection to him. Sara's bitterly disappointed by their lack of warmth. Having a child should have been a joyous occasion. Sara becomes even more despondent when Alex questions her fitness as a mother.
Abandoned crawls to a nonsensical finale. The filmmakers try to wrap the depression and horror storylines together in a neat bow. It's a lazy ending that fits the unimaginative script. Roberts lifts the film from total absurdity as a mother realistically battling postpartum depression.
Abandoned is a production of Before The Door Pictures and Three Point Capital. It will have a theatrical release on June 17th, followed by a VOD premiere on June 24th from Vertical Entertainment.
You can view the original article HERE.