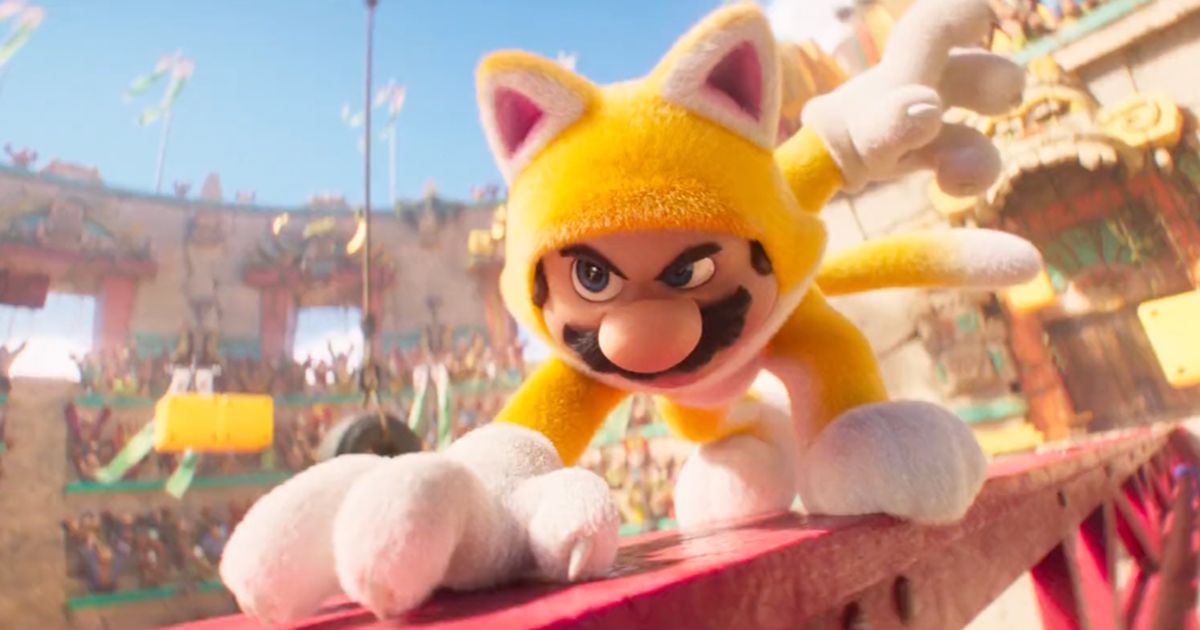 Super Mario Bros. Movie Trailer: A New Challenger Approaches With Cat Mario vs. Donkey Kong
"Woohoo! Meow!" Cat Mario is finally unveiled in the latest trailer for the Super Mario Bros. Movie.
Universal Pictures
"Woohoo! Meow!" Over the weekend, in a surprise, 30-second trailer for Nintendo and Illumination's The Super Mario Bros. Movie, Cat Mario entered the arena for the first time. The clip also featured the first time fans heard Seth Rogen's Donkey Kong voice.
Premiering during Sunday's NFC Championship game between the San Francisco 49ers and Philadelphia Eagles, the clip featured additional footage from a scene shown in the trailer that Nintendo released in November 2022. After Mario (Christ Pratt) dons his famous catsuit, which was first introduced in 2013's Super Mario 3D World, Rogen's take on Donkey Kong can be heard for the first time. In the clip, Rogen's Donkey Kong starts laughing and says, "You got the cat box! I'm sorry. Now you die."
MOVIEWEB VIDEO OF THE DAY
Watch the full 30-second clip below:
After Nintendo and Illumination released the second trailer for the film, Mario creator Shigeru Miyamoto said that Donkey Kong's model was redesigned for the first time since the character made his 3D debut in 1994's Donkey Kong Country. "We've also changed his design for the first time since he became a 3D Model in the original Donkey Kong Country game. For this movie, we seized the opportunity to give him a comical personality and design reminiscent of the original character," explained Miyamoto, according to The Gamer.
Directed by Aaron Horvath and Michael Jelenic, from a screenplay by Matthew Fogel (The LEGO Movie 2: The Second Part), the film stars Anya Taylor-Joy as Princess Peach, Charlie Day as Luigi, Jack Black as Bowser, Keegan-Michael Key as Toad, Fred Armisen as Cranky Kong, Kevin Michael Richardson as Kamek, and Sebastian Maniscalco as Spike, in addition to Pratt as Mario and Rogen as Donkey Kong. With Sunday's 30-second clip, Nintendo and Illumination have now given fans a chance to hear the entire ensemble cast of The Super Mario Bros. Movie.
Related: Will The Super Mario Bros. Movie Save Video Game Adaptations for Nintendo?
JAKKS Pacific Toy Line Inspired by The Super Mario Bros. Movie
Nintendo/JAKKS Pacific
It appears that promotion for The Super Mario Bros. Movie is stepping into high gear. Earlier this week, JAKKS Pacific announced a new toy line inspired by the highly anticipated film. From the toy maker, look forward to Super Mario-inspired posable figures, accessories, play sets, and plush in stores and online across North America, Asia-Pacific, Latin America, Europe, the Middle East, and Africa, beginning on Feb. 26, 2023.
The Super Mario Bros. Movie is set to arrive in theaters on Apr. 7, 2023.
You can view the original article HERE.