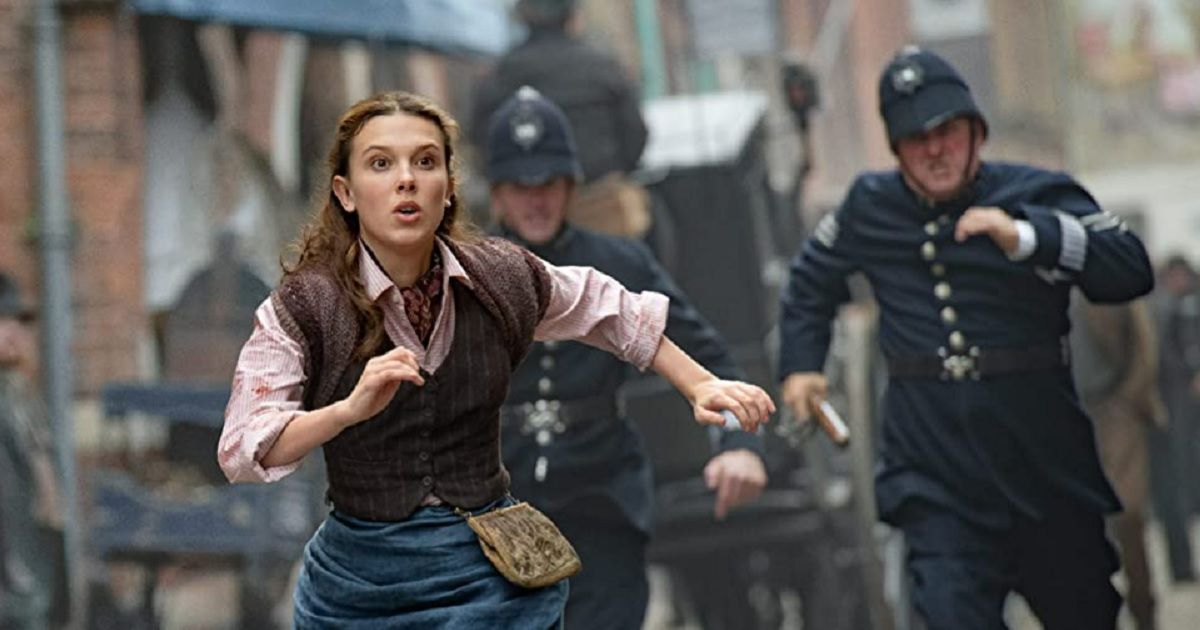 Millie Bobby Brown returns as a clever Victorian detective in a smashing sequel that surpasses the original. Enola Holmes 2 takes the mystery of a missing girl and spins a rousing adventure around pivotal historical events. The superb ensemble cast builds on their established relationships with surprising new additions joining a complex narrative. Enola faces serious threats while navigating a repressive society as an independent young woman. She learns that wit and courage aren't enough against seemingly insurmountable odds. Family, friends, and an aw-shucks sweet suitor prove to be valuable allies.
MOVIEWEB VIDEO OF THE DAY
The story begins with Enola (Brown) struggling to start her own detective agency. No one takes her seriously. She's too young, a woman, and couldn't possibly be qualified. She lives in the shadow of her brother, Sherlock (Henry Cavill), who every interested client really wants to hire. A disappointed Enola packs up her office but fatefully gets a remarkable visitor. Bessie (Serrana Su-Ling Bliss), an orphaned girl who works in a match factory, hasn't seen her "sister" in a week. Enola decides to take the case of the missing Sarah Chapman (Hannah Dodd).
Enola's stunned by Bessie's living conditions. Sarah took the young girl under her wing. They worked together with other impoverished women and children in the factory. Enola's even more appalled by their treatment. She suspects that the factory, and Mae (Abbie Hern), Sarah's friend, has something explosive to hide.
Meanwhile, Sherlock is perplexed by a truly baffling case. He's never seen a crime so meticulously executed. Enola remains his ward but refuses guidance. She'll never achieve prominence and respect depending on her famous brother. The game takes a deadly turn with Enola suspected of murder. The cruel Inspector Grail (David Thewlis) and his goon bobbies are hot on her trail. Thankfully, Enola has Sherlock, her mother (Helena Bonham Carter), Edith (Susan Wokoma), and a smitten Lord Tewkesbury (Louis Partridge) at her back.
Related: Nocebo Review: An Obvious Plot Derails Supernatural Thriller
Enola Holmes 2 is Delightfully Entertaining
Let's start with the charming and whimsical. Enola Holmes 2 is delightfully entertaining. Brown nails breaking the fourth wall to speak and react directly to the audience. Harry Bradbeer, the brilliant helmer of Fleabag and the first film, has this methodology perfected. Enola's asides, coupled with an excellent production design, gives a story tale feeling. Animated cut scenes mimic the Nancy Springer novels to recap important clues. This is a brilliant plot tool that adds a simple artistic element to blockbuster production values.
The cat and mouse games aren't always fun. Enola isn't an invincible heroine. She has to defend herself and gets hurt in the process. The women in the film are targets but not weak or damsels in distress. They fight to survive and make fools of those who underestimate them. Several bombshell twists had me applauding.
Screenwriter Jack Thorne (His Dark Materials, The Secret Garden) raises the stakes from the original. He matures his characters but doesn't lessen their vulnerabilities. This makes a deliberate narrative more striking with personal touches. Enola's feelings for Tewkesbury are beautifully developed. Their burgeoning romance will have hearts a flutter. It's surprisingly my favorite aspect of the film. Raise your expectations for a fantastic second chapter.
Enola Holmes 2 is a production of Legendary Entertainment, Netflix, and PCMA Productions. It is currently in limited theatrical release with a November 4th global streaming premiere on Netflix.
You can view the original article HERE.