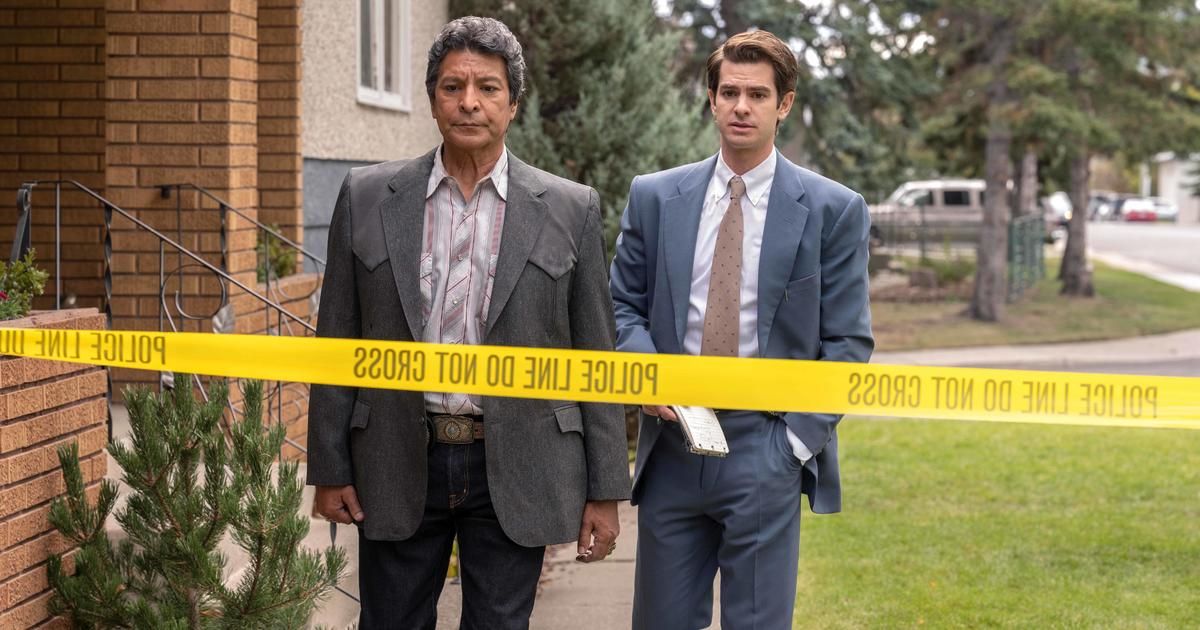 In 1984, Brenda Lafferty and her infant daughter were found dead in their home in a suburb of Salt Lake City, Utah. Lafferty was twenty-four years old at the time of her death and a devout Mormon, leading to shock at the cause of her death: religion. Her brothers-in-law gruesomely killed their former relative over what they called a divine revelation. They were members of the Church of Jesus Christ of Latter-Day Saints (LDS Church), but the Lafferty brothers were excommunicated due to their beliefs. This, a divorce one of the brothers had, and a supposed communication from God, saying to remove Brenda, led to the tragic events that would take the state by storm.
MOVIEWEB VIDEO OF THE DAY
When one thinks of Mormons, the image of polyamory often comes to mind. That is not what viewers are going to see at all in this show—it is barely even brought up. But in Salt Lake City, Utah, the population of those with Mormon faith is one of the largest in the country. That population may be shrinking for the first time in decades in the city, but Utah, the long-time spiritual home of the LDS Church, boasts one of the largest concentrated populations of Mormons in the world. While works of film, theater, and television like Big Love and The Book of Mormon have attempted to crack down on the stereotypes and the way Mormons are depicted in entertainment, they have largely stayed away from exploring the more nuanced aspects of the religion.
American author Jon Krakauer, best known for his nonfiction books Into the Wild and Into Thin Air, released Under the Banner of Heaven in 2003. This account wove together the history of the Church of Jesus Christ of Latter-Day Saints and the Utah v. Lafferty case in 1984. The television adaptation of the book focuses more on the Utah v. Lafferty case with a slight spin: it is told through the eyes of a local detective of the same faith. The historical context included in the original book is left to be examined in the character's actions: these and their interpretations of faith are rooted in an overarching narrative and belief system cultivated over decades.
Murders in the Suburbs of Salt Lake City
Hungry Jackal Productions
Under the Banner of Heaven's lead is Andrew Garfield, fresh off his renewed Spider-Man fame and a spectacular performance as Jonathan Larson in Lin-Manuel Miranda's Tick, Tick…Boom! for Netflix. It seems this will be Garfield's last acting role for a while, as hours before Under the Banner of Heaven was released just as he announced that he will be taking a hiatus from acting. He is joined in this cast by Daisy Edgar-Jones, seen in 2022's Fresh and the upcoming Where the Crawdads Sing, and Sam Worthington, among others. Directors for the series included David Mackenzie (Outlaw King), Courtney Hunt, Dustin Lance Black, and Isabel Sandoval (Lingua Franca).
The Hulu series opens with an idyllic look at suburban life, a peaceful American pastoral shattered by a single phone call. Garfield portrays Jeb Pyre, a local detective living with his daughters, wife, and elderly mother in the suburbs of Salt Lake City, Utah. His entire family is faithful, praying each night and before he goes to work, and the community they live in is majority Mormon. It seems unlikely that a tragedy could happen in such a place, but it does. Jeb is urgently called out of his home one day, as the chief is away, and is confronted with a crime scene, unlike anything he has ever seen before.
He is then paired up with a Native American (Gil Birmingham) detective that has a distrust towards Mormons. Bill Taba, the Native American detective, is probably like many viewers; he peers into this tight-knit community from an outsider's perspective and comes in with a bias against a largely white and exclusive community. What Pyre is unable to see because of his deep personal connections to the case slowly becomes exposed through their interactions and findings. At the same time, flashbacks help explain the critical context missing through the present day.
This is where Krakauer's original structure splits into thirds. Brenda, played here by Daisy Edgar-Jones, vibrantly comes to life in the flashback scenes. The Lafferty family appears and is introduced in abundance—there are quite a few members of this family to keep track of throughout the episodes. Brenda is inherently different from the family she has married into, and their evident clash within faith interpretation is a breeding ground for potential issues and mounting tension. Then this is juxtaposed between the historical background of the LSD Church and Pyre's family and work life.
Related: Best Movies to Watch on Hulu in May 2022
A Man Split By Faith, Crisis, and Duty
Hungry Jackal Productions
Garfield previously was seen playing into similar territory with the 2021 movie The Eyes of Tammy Faye, but this role surpasses his performance as Jim Bakker. In Under the Banner of Heaven, where he is Jeb Pyre, he brings a certain edge of naivety to the role, as the answer to the show's question—who did this?—can be rather straightforward at times. At its essence, the show is a true-crime drama, but it is also a character study. As Pyre is brought to his knees in front of a gruesome crime scene, an illusion of peace and tranquility in this religious community has been shattered. It is how he confronts this and copes with the damage, on top of the murder story, that makes this show particularly compelling.
But, perhaps, despite how deeply Garfield embodies Pyre, the inclusion of his character may hinder how the story is told. It seems unlikely that this far into his career Pyre would not have seen a murder like this, nor would he react in the way he did. His devotion ultimately becomes his downfall in the believability factor; thirty years after the events of the series, Salt Lake City has re-entered the top 100 list for most dangerous cities in America. In the 1980s, the number of murders in Utah shows, on average, a jump in murders from the previous decade (the 1970s). It seems likely there were murders of this caliber within the region, although they potentially were not as sensationalized as the Lafferty case.
Under the Banner of Heaven is a complex miniseries, as it has several layers to its story. On one hand, there is the true-crime aspect when it comes to the Lafferty murders and Pyre's need to solve them. There is the exploration of faith, how it is interpreted, and what it means to an individual's sense of morals and judgment. Fanaticism may indeed be a byproduct of religion, but the impact ripples across all communities negatively. Then there is the underlying history behind all of this: the LDS Church had a brief bloody past and origin story, and Mormons are followed by a string of violence, although they do not often incite the act itself.
Related: Best True Crime Movies, Ranked
A Complicated Depiction of Fanaticism
Hungry Jackal Productions
Religion is not to blame here, but this message may be lost in the exposition provided by the show. In six episodes, it may set out what it meant to accomplish in terms of world-building and story, but its facing may fail to captivate audiences and lose them in one of the many threads it tries to tie together. Under the Banner of Heaven has a clear vision and moves to execute it, no matter how uncomfortable it may be when it crosses the line between questioning and interrogating faith. It does not sensationalize a murder — it does not directly even show it—nor the aspects of Mormon culture that lead to stereotyping.
It helps that the show's creator, Dustin Lance Black, grew up in a Mormon household and was surrounded by the culture. But in six episodes, one can only go so far with the extensive research Krakauer conducted for his book. It is admirable in how the show is willing to show individuals who took the religion too far for means that are not justifiable, but this is also balanced out by showing the everyday people affected by this, like Pyre.
One begins to question their faith and thought process when exposed to something horrific, but, perhaps, that is what turns someone into a better person. Many learn about the world's horrors through tragedy, and they go on to inspire the next generation to be better than that. The execution may not be fully there with this show, but it evokes an important set of questions.
Under the Banner of Heaven is a limited series available to stream exclusively on Hulu. The first two episodes are available as of April 28, 2022, and the following episodes will be released one by one each week.
Doctor Strange in the Multiverse of Madness Rumored to Have 'Impressive Bodycount'
Read Next
About The Author
Ashley Hajimirsadeghi
(91 Articles Published)

Writer, author, and aspiring critic. Find me @ashleynassarine.
More
From Ashley Hajimirsadeghi
You can view the original article HERE.