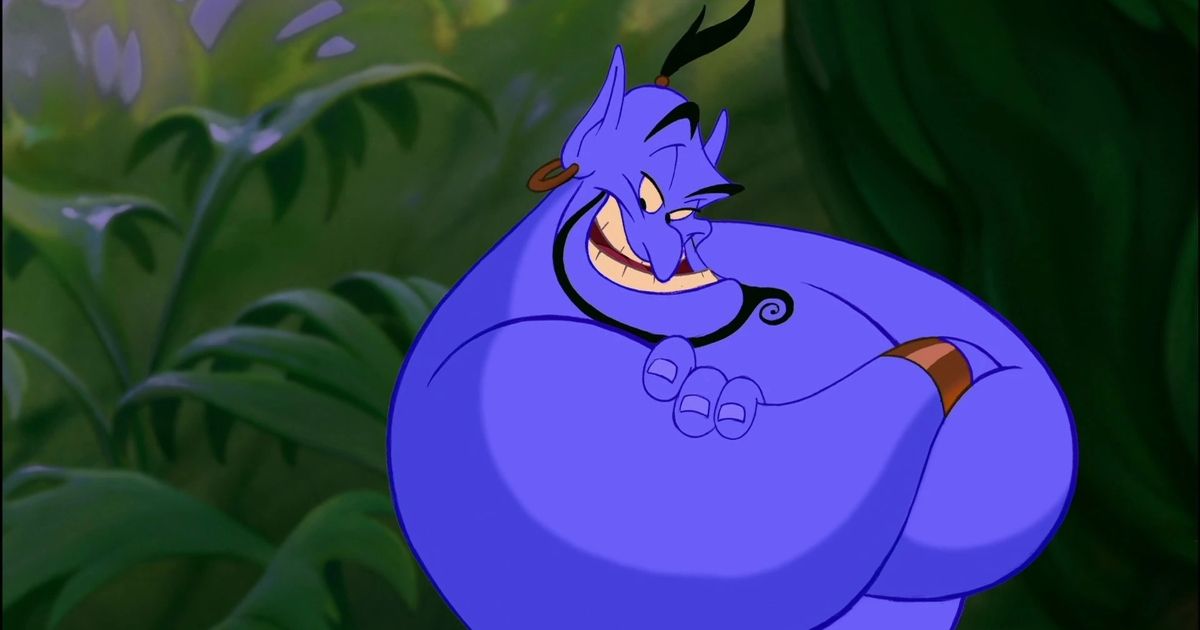 Robin Williams created many iconic characters including the Genie in Aladdin, a role that the film's director says has led to the movie's longevitity.
Disney
Despite having some cultural issues, Disney's animated version of Aladdin is still one of the most loved and most iconic movies of a generation. As the film hits its 30th anniversary, the film's screenplay writer and director John Musker has said that Robin Williams is without doubt the reason behind the popularity and longevity of Aladdin.
Released in 1992, Aladdin formed part of Disney's renaissance for their Animated Classics. The story of "street rat" Aladdin who discovers a magic lamp and the wish-granting genie that is trapped inside comes with all of the usual Disney peril and humor, as well as a blistering soundtrack of toe-tapping songs, many of which feature the vocals of Williams in full character mode. In an interview with Yahoo!, Musker discussed Williams' contribution to the film, and how it was "crucial" to its legacy. He said:
MOVIEWEB VIDEO OF THE DAY
"I think the idea of giving a heartfelt performance and even the idea of singing appealed to him. His sweetness and ability to reach into that part of his being was crucial to the film lasting. If it was just comedy, I don't think it would've endured but because he really got that feeling of his big heart, sweetness, his concern for Aladdin, their friendship and his investment in Aladdin's future across, it's one of the keys of the film's longevity."
Will Smith took on the role of the Genie in Disney's 2019 live-action version of Aladdin, and while he made the role his own, for many people there will forever be just one genie; Robin Williams.
Related: Robin Williams Fans Are Mourning His Death 8 Years Later: 'I'm Still Not Over It'
Robin Williams Is One Of The Greatest Comic Actors Of All Time
NBC
Anyone trying to follow Robin Williams in any role has not only a mountain to climb, but mountains on top of mountains. It is hard to find any weak spot in William's career, especially when it came to his comedy performances. Despite being given a script, there are endless stories of the actor tearing up the rule book on what he could and couldn't say, which could become a nightmare for directors and producers. However, the same thing has been a joy for audiences that have been treated to reels and reels of outtakes of Williams doing what he did best.
This is something that is true of his time working on Aladdin. It was revealed previously that the actor actually recorded so many additionally lines when in the booth that there would have been enough for more movies to have included his Genie. Just a year after the actor's death in 2014, it was revealed that a part of his will explicitly prevents the use of his name, likeness or voice for 25 years, which put paid to plans Disney had for a fourth Aladdin movie.
Whether Disney would have brought Williams into the live-action movie through CGI and previously recorded voice-overs if that clause had not been in place is unclear. While that would have been something that fans would have loved to see, knowing that Williams didn't want his work to be reused following his death is something that they also respect.
You can view the original article HERE.