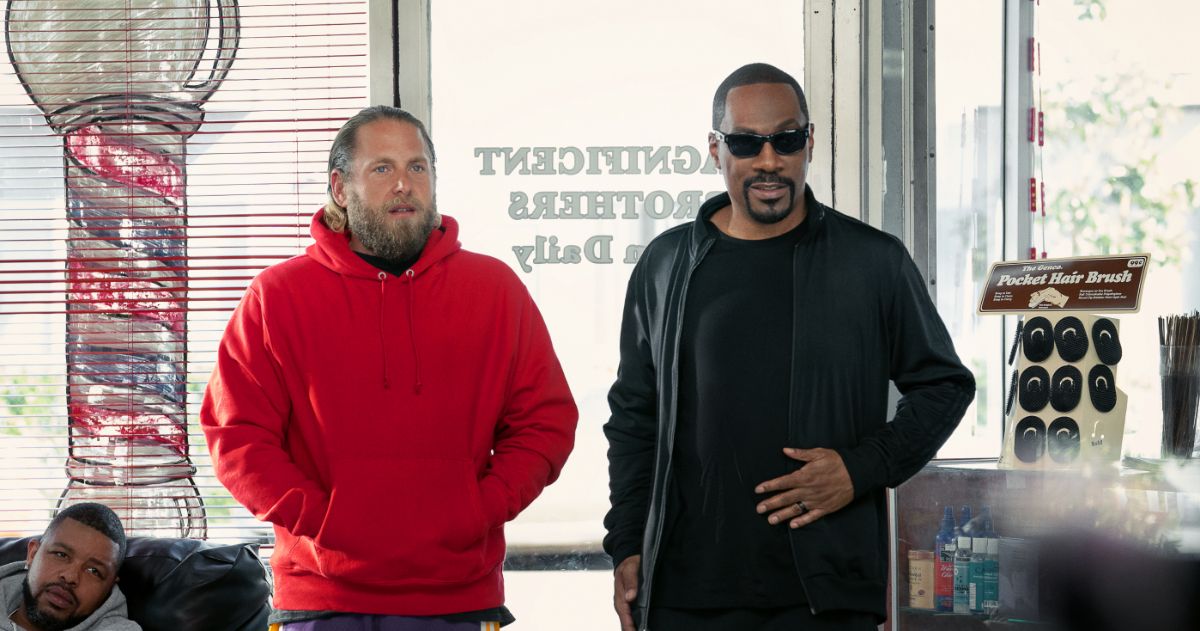 A white Jewish broker (Jonah Hill) and Black Muslim costume designer (Lauren London) fall in love, much to their parents consternation, in You People.
Netflix
You People trivializes love, religion, and race relations in its attempt at incisive humor. Director/co-writer Kenya Barris, a Hollywood stalwart known primarily for Black-ish and its spin-offs, pokes fun at extremes with a barrage of verbose banter. An all-star cast riffs incessantly like auditioning for improv night at a local comedy club. Some of the jabs land as funny, but the overall experience isn't comical, and there's no surprise to the outcome with an excessive runtime. It's the standard vapid plot of a boy meets girl romance — the father hates his guts, and he's forced to make good.
MOVIEWEB VIDEO OF THE DAY
35-year-old white Jewish money broker Ezra Cohen (Jonah Hill) yearns for a girlfriend. His parents, Shelley (Julia Louis-Dreyfus) and Arnold (David Duchovny), try to set him up with a nice girl from their synagogue. They force Ezra to go on major holidays and get upset when he forgets to wear a yarmulke. He hates his job and life, and his only real pleasure comes from hosting a podcast with his Black bestie Mo (Sam Jay).
Black Muslim Amira Mohammed (Lauren London) is a vivacious beauty who wants a real connection. Her parents, Akbar (Eddie Murphy) and Fatima (Nia Long), coach suitors they deem worthy to pursue her. She's tired of meeting pretenders who don't fit her high standards, though. A chance meeting with Ezra goes from adversarial to intriguing, and sparks ignite when they find everything they've been searching for in a partner.
Get to Know Your In-Laws
Netflix
Six months later, a smitten Ezra decides to propose marriage. Shelley and Arnold are overjoyed their son has finally found happiness, but don't quite know how to react around Amira. Akbar and Fatima are absolutely dismayed their daughter has fallen for a white guy. The meeting between their Jewish and Muslim families goes as horribly as expected. Ezra and Amira decide to get to know their prospective in-laws to facilitate peace before the nuptials.
Related: Best Movies About Awful In-Laws, Ranked
You People runs gleefully over every landmine. The opening scene of Ezra and Mo joking about a drug-using, quasi-gay Barack Obama sets the stage for what's to come. It's funny at times, but some people will likely find the biting repartee offensive. Hill, who co-wrote with Barris, has several Holocaust quips that land with a thud. The logic, one can only surmise, is that a Jewish actor can go there, and Hill collates that with the way that Black people use a certain derogatory slur. Slavery also comes up as a point of contention. The film takes a no holds barred approach with the nod and wink that everything will be all cuddles in the end.
Black Culture as the Unifier
Barris and Hill use Black culture as the unifier between the couple. Ezra listens to rap music, wears the latest kicks, and has trendy urban fashions. He obviously has more in common with Amira than his relatives. That's understood. But perhaps the film would have been vastly more effective if Ezra embraced his Jewish heritage. Then you'd have an 'opposites attract' story of radically different people finding happiness in each other. You People had a chance to portray societal and cultural divisions with sophistication. Its grasp of the lowest common denominator falls flat in nearly every instance.
You People is a production of Khalabo Ink Society, Strong Baby, and Misher Films. It is currently in limited theatrical release with a January 27th streaming debut on Netflix.
You can view the original article HERE.