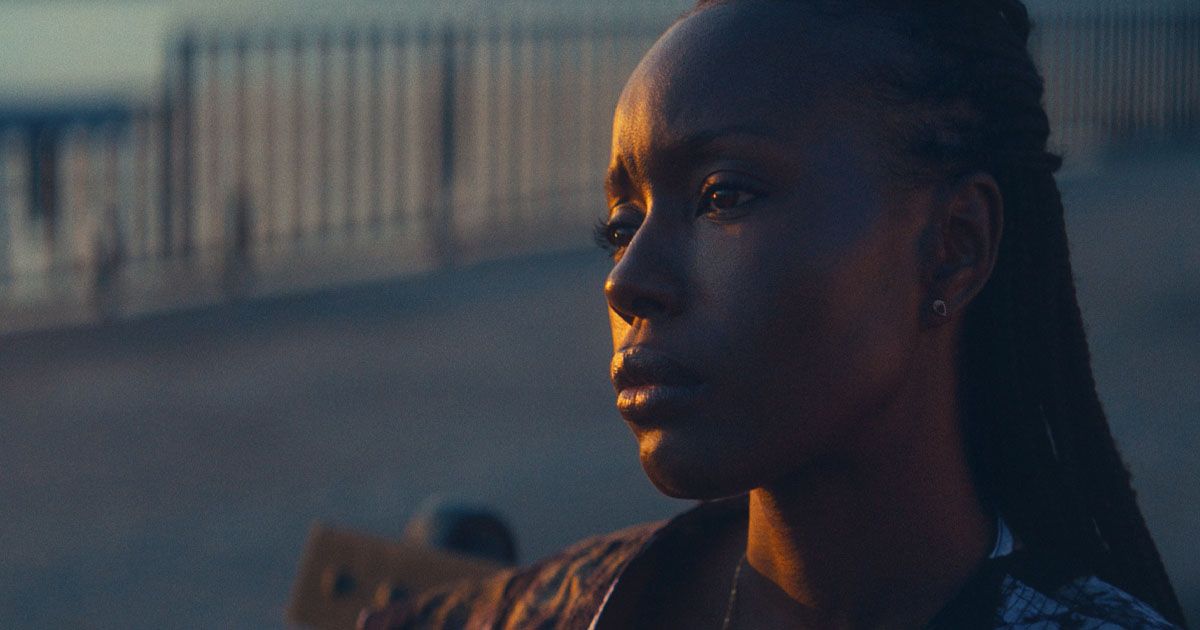 Writer-director Nikyatu Jusu's debut feature film, Nanny, is surely one to be remembered. The psychological thriller nabbed the U.S. grand jury award at the Sundance Film Festival earlier this year and continues to turn heads at film festivals around the country, most recently at Chicago International Film Festival.
Nanny is a deep, often mind-bending movie with an underlying throughline: a haunting, lingering ache of the soul from the film's protagonist, Aisha, an African woman determined to save enough money from her new nanny job, so she could bring her young son to America.
As Aisha, Anna Diop is an awe-inspiring screen presence. A Senegalese-American actor who's starred in Greenleaf and, more recently, the DC Universe/HBO Max series Titans, let's pray we see more of this dynamic performer. Meanwhile, Jusu (Suicide by Sunlight), is a Sierra Leonean-American filmmaker whose works illuminate the complexities of black female characters, particularly, displaced, immigrant women in the United States. Together, these two women are a powerful creative force. They bring to the screen a compelling, deeply layered character and a story with mystical undertones that audiences haven't experienced before.
MOVIEWEB VIDEO OF THE DAY
A Film With Depth and Nuance
Early in the film, we discover Aisha is beginning her new nanny job. We find Amy (a foreboding Michelle Monaghan) greeting Aisha in Amy's upscale New York City apartment. Nary a thing is out of place. Amy, one half of a prominent white couple in a strained marriage, is a control freak and a stickler for details. She insists Aisha adheres to proper food protocols for her daughter Rose (Rose Decker) while she heads back to work to, inevitably, endure another round of corporate ladder climbing. As for husband Adam (Morgan Spector)—he's away on business and from the get-go, there's an eerie sense that upon his return, the flavor in the air will further sour.
Aisha and Rose hit it off, more or less, and in this budding new relationship, we witness the huge capacity of Aisha's heart. She's a caregiver through and through. Later, when the script flashes back to moments of tender connection between Aisha and her son, Lamine (Jahleel Kamara), we begin to understand what's at stake and how much Aisha has had to endure coming to America, leaving Lamine behind temporarily with a close family member. Recurring FaceTime calls work to a degree, but Aisha desperately longs to be reunited with her son.
Placed into the mix is Malik (Sinqua Walls in a memorable turn), the doorman in Amy and Adam's building. There's an immediate connection between Aisha and Malik. It slowly grows then deepens as they spend more time together. In many ways, Malik becomes a rare link to the culture Aisha left behind and a grounding force when Aisha's sudden dreams and visions disrupt her sleep and waking life, making her question life and the fabric of reality.
About that… clearly, something is going on that Aisha doesn't understand. Upon Adam's return from a business trip, he can't really hide behind his cool, easygoing demeanor for long. And as Amy's neuroses worsen, so do Aisha's troubling visions. She seems to be losing herself.
Eventually, Aisha finds comfort and connection with Malik's grandmother Kathleen, played to winning ends by acting legend Leslie Uggams. Kathleen's deep spiritual intuition helps Aisha contemplate her unusual visions, which include figures of West African folklore—trickster Anansi and water spirit Mami Wata. But these reflective moments are often thwarted. Aisha begins to see spiders, Anansi's form. Then there's Mami Wata, whose rather bullish, pulling Aisha underwater, making her feel as if she's drowning. Kathleen seems to believe the two images of folklore are sending Aisha messages.
Are they? Or is Aisha simply losing her mind? This is what the director invites the audience to question.
Related: Exclusive: Anna Diop Says She Hopes Nanny Generates Deeper Empathy for Immigrant Workers
A Different Kind of Horror Film
Blumhouse
Halfway through Nanny, it's clear that Nikyatu Jusu is offering a different kind of horror story—that of the immigrant experience. We've seen immigrant stories before but very few are told effectively in ways that capture the depth of uncertainty and suffering of their subjects. Nanny does. Jusu doesn't toss aside our main character's humanity. She boldly leans into it, revealing all of Aisha's complexities—loss, grief, disorientation, and the confusion of living in a brand-new world while your heart and soul are still rooted back in the one you came from.
The director's use of aquatic imagery stands out throughout the film and should be noted. These moments come across as ethereal and hypnotic—perhaps weepy. Aisha is drowning in her own emotions but it's clear Jusu invites audiences to consider something else may be occurring, too—something from the Gods? The Heavens? Something "out there?" You'll have to dive in and see for yourself.
Regardless, Nanny is a trip to experience, and the rich imagery adds a rare layer of depth and nuance to Jusu's tale. Diop does, too, of course. The actor commands the screen. If Aisha is the beating heart of Nanny, Diop is the film's soul. Her performance is raw, visceral, deep, and hypnotic. You won't be able to take your eyes off her every glance, or movement. You'll hang onto her every word. And all of it was done with such rich dedication and intention.
During the film's final moments, Aisha once again revisits her great hope of reuniting with her son. In the end, it's the audience that walks away from the film hoping to be reunited with somebody like Aisha again.
Nanny hits theaters in December.
You can view the original article HERE.