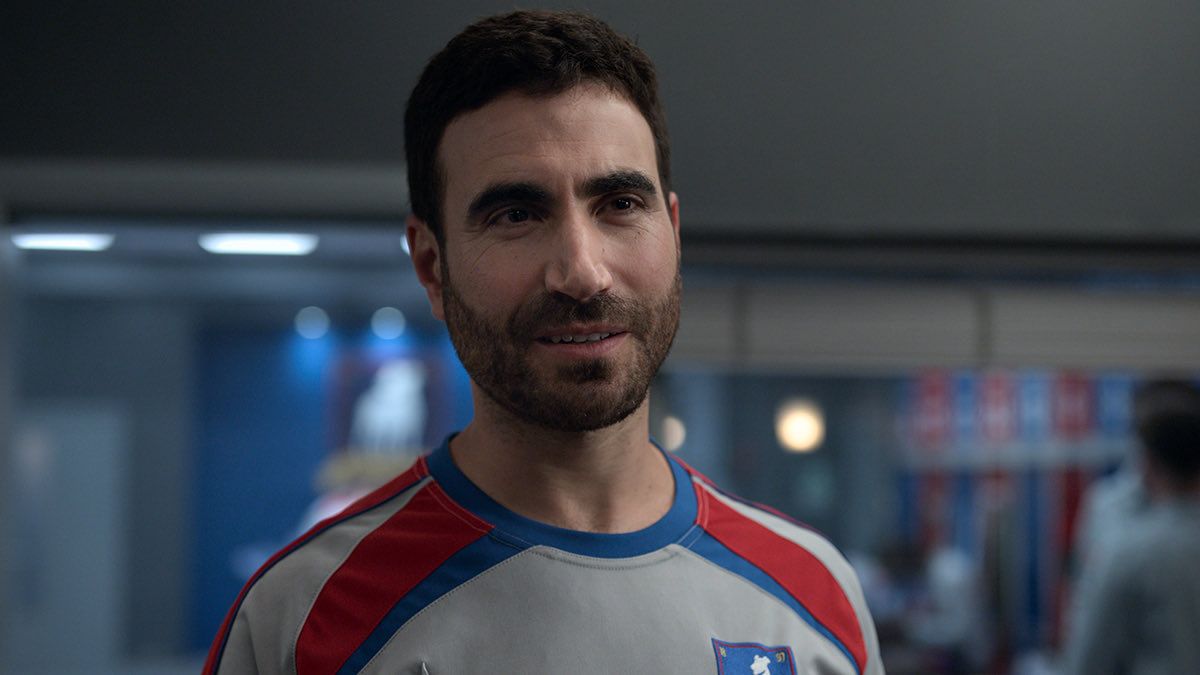 Ted Lasso's Roy Keen has made his grand entry into the expansive Marvel Cinematic Universe. The actor appeared in the post-credits sequence of Thor: Love and Thunder portraying Hercules. As Zeus (Russell Crowe) orders him to seek vengeance against Thor, we see Brett Goldstein rising in his golden armor to accept his father's wishes.
The highly secretive cameo brought in an appreciative response towards Goldstein and the potential it builds for the future of MCU's cosmic-space storylines. But, some fans believed that Goldstein might not be the right fit for the role as he didn't match the physical embodiment of the said demigod. In the film, Chris Hemsworth truly impressed the fans with his well-endowed physique, which should have been the same for Hercules, given they are both God figures.
MOVIEWEB VIDEO OF THE DAY
Brett Goldstein has finally spoken up about the reason for how he looked in part, which, on a personal note. In an interview with The Playlist, Goldstein revealed that he was brought on board Thor 4 at the very last moment. The schedule didn't give him much time stamp to work on the physical prowess that his role required.
When I spoke to Taika, I said, "You know I'm basically like a skinny comedian?" I said, "When is this filming?" It was like in two weeks, and I was like, "I mean, I'll do my best, but two weeks feels …" I said, "He doesn't have to be as big as Thor, does he?"
Goldstein further stated that he prepared hard for the next two weeks to look as fit as possible and did several hundred pushups a day to match the look.
And look, on the day, I mean, I'm doing 400 pushups that day. I was fit to explode. I did the best I could on that day, yeah.
He further joked that he is notching up his diet plan to fit the role. He said:
I'm going to eat 30 chickens a day from now on; it will be fine.
Brett Goldstein Had No Idea He Was Eyed for Hercules
Apple TV+
Brett Goldstein shared that he had no idea what role he was offered when he first sat for a meeting with Marvel. As it was a surprise for the audience and many production team members, it was also a surprise for Goldstein. Talking about Marvel's pitch to him, he said,
I was told that some Marvel people would like to have a Zoom with you, and I met with them, and it was just so surreal because…it was literally out of the blue one night, and I was very busy, and it was like, "Can you make time for a Zoom?" "Yes, sure." And they go on Zoom, and they just told me what you see in the film, which is they sort of opened with, "So Russell Crowe is Zeus," and I'm like, "Yeah, OK, go on." And blah, blah, blah. And then they turn around, and they reveal, "It's Hercules; it's you.
Talking about his response to hearing the word 'Hercules,' he responded:
I went, "What?" Just like, "Are you serious? Are you f**king with me? Is this a wind-up?" So yeah, it was as surprising to me as I think it has been to other people.
Brett Goldstein says that he has no idea where his cameo will further go in the Marvel Cinematic Universe. Still, he believes in Marvel and Taikia Waititi and their work, which made his experience worthwhile.
That was an experience that I haven't had for a long time, where I had no involvement in the behind-the-scenes of it. Look, you're in f**king good hands. They make really good shit. You know what I mean? And Taika Waititi's f**king brilliant, so it was like, "I'm in the best hands possible." But, it's amazing. Who knows if anything will come of it, who knows, but it was a fun thing to do and I'm pleased that people seem to have enjoyed it.
You can view the original article HERE.