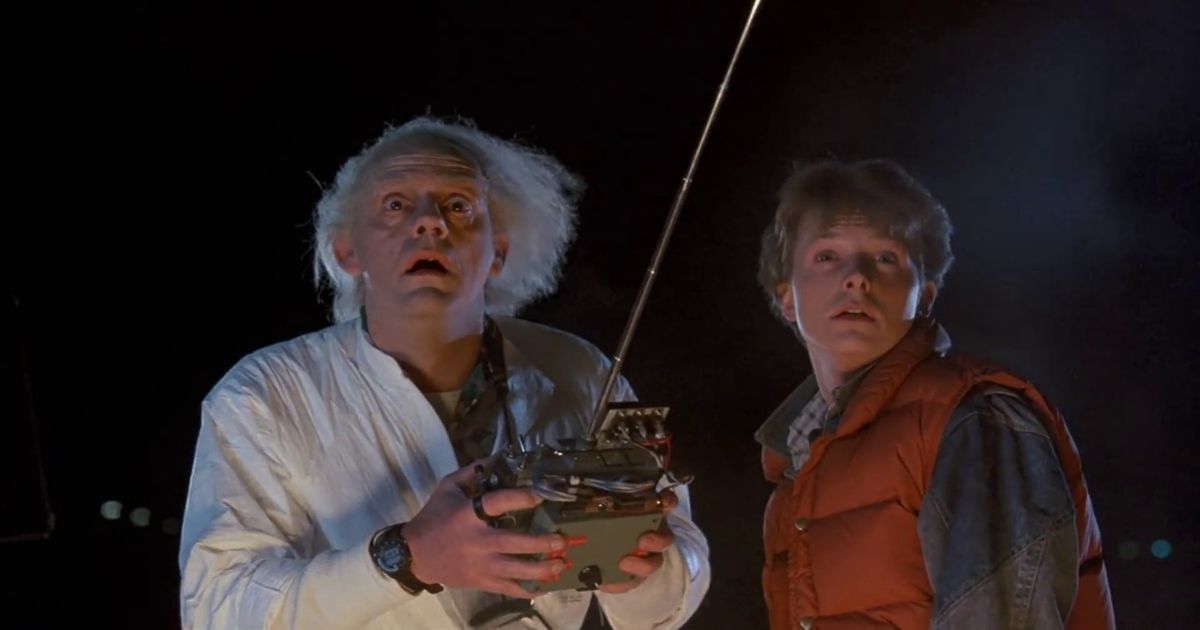 A cryptic tweet posted by Christopher Lloyd has many fans feeling that a major announcement is about to be made for the Back to the Future franchise.
Universal Studios
A cryptic tweet posted by actor Christopher Lloyd has ignited speculation on social media about a Back to the Future franchise revival. Famously, Lloyd co-starred as Emmett "Doc" Brown in the Back to the Future movie trilogy alongside Michael J. Fox as Marty McFly. While the franchise has expanded into other mediums, including video games and an animated series, Back to the Future was never given a fourth movie, nor has it been given the reboot treatment.
On Thursday, Lloyd posted a vague message on Twitter that's quickly fueling the rumors that something big is happening with the Back to the Future franchise. He only says that something "very special" is in the works, also curiously mentioning "the future," but what does it all mean? Perhaps keeping everyone guessing is the point until Lloyd comes back later with an explanation.
MOVIEWEB VIDEO OF THE DAY
"I can't say yet, but the future holds something very special for you…stay tuned!" the tweet reads.
Cue the fan speculation. It could be that referring to "the future" in his tweet was a mere coincidence intended to promote something entirely unrelated to Back to the Future, so it's hard to say exactly what Lloyd is teasing here. In any case, it's just enough to have the rumor mill churning that this could be Back to the Future 4, or perhaps another announcement related to the franchise. Some are even wishing they had access to a certain time-traveling DeLorean in order to sooner find out what it is that Lloyd is hinting at.
Related: Back to the Future Stars Michael J. Fox and Christopher Lloyd Reunite at NYCC
Will Back to the Future Get Rebooted?
Universal Pictures
Oddly enough, Lloyd's cryptic tweet comes days after Michael J. Fox toyed with the idea of rebooting Back to the Future. The retired Marty McFly actor recently spoke about the franchise in an interview with Entertainment Tonight. He suggested he's open to seeing the story get rebooted, going on to pitch a gender-swap concept as a way of making the new version feel different.
"I actually had this thought that if they did the movie again, they should do it with a girl as Marty," Fox said. "There's something about [the franchise] that connects with people on every level. I just feel like it will come around again."
This might be something that Fox wants to see, as well as Christopher Lloyd. However, the filmmakers have long been adamant that Back to the Future should be left alone as a trilogy. For now, fans will have to wait to see what Lloyd has to say next about his big surprise.
You can view the original article HERE.