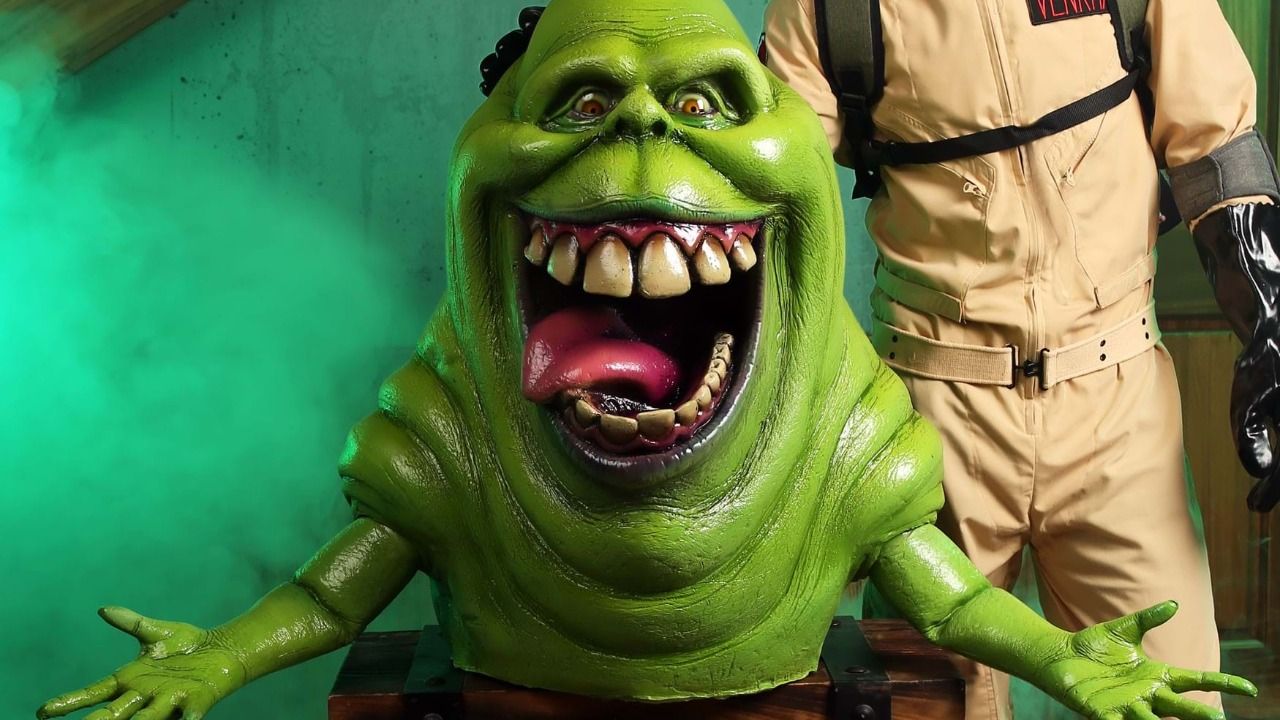 A life-size Slimer can be yours to own if you want to feel like you're ready to answer the call as a genuine Ghostbuster.
Who wouldn't want a life-size Slimer in their home? If you're a Ghostbusters fan with the space and $499.99 to spare, you can purchase your very own Slimer to go up on display at a spot of your choosing. While the green ghost is not a genuine spirit and won't actually be eating his way through all of the food in your home, the attention to detail will still make it feel like you're hanging out with the real Slimer, if even for a moment.
The life-size Slimer is being sold exclusively by HalloweenCostumes.com. Its official listing notes, "When you set this iconic Slimer Prop in your home, you might find that the spirit of Ghostbusters fun is everywhere. It's just perfect for setting the scene, putting together the perfect group photo… or even letting other ghosts know they better keep their spectral paws off your dinner!"
MOVIEWEB VIDEO OF THE DAY
"Bring the very best in Ghostbusters decor home when you deck out your den with this life-size Slimer Prop Replica from Ghostbusters," the listing adds. "This prestigious bit of movie memorabilia is bigger than life and designed to look just like the classic 'onion head ghost' seen on the set of the classic film. This Made By Us decoration features realistic painting that gives it a wet look and can sit flat on any surface or on a soft post thanks to its hollow structure. Standing at about three feet tall, this is one ghost that is sure to draw attention from your friends. Just make sure that they know this peaceful spirit will require no busting from anyone wearing one of our Ghostbusters costumes."
The website does sell plenty of Ghostbusters costumes if you're looking to complete the look. You can also pick up a Slimer costume, or be Gozer or the Stay Puft Marshmallow Man. We're past the Halloween holiday for this year, of course, but there's no reason why Ghostbusters fans still can't dress up year-round. Even if that comes with some funny looks when going out in public that way.
This prop is definitely for the longtime Ghostbusters fans, as Slimer is more synonymous with the original movies along with The Real Ghostbusters cartoon series. A similar ghost dubbed Muncher appears in the new movie, Ghostbusters: Afterlife, to play a similar role. For some fans, Slimer is irreplaceable, and there's no better way to keep that reminder front and center than by having a life-size replica of the hungry spirit in your house.
Ghostbusters: Afterlife does feature plenty of fan service to the original movie. The legacy sequel primarily follows a new cast of characters, essentially being passed the torch by the original team, but the stars from the original movie appear to reprise their roles. It was a pretty big hit with fans of the series, who responded much more positively than Paul Feig's controversial remake released in 2016. Ernie Hudson has theorized that setting the remake's story in a different universe from the original movies was what turned so many fans away. In any case, it seems likely that the movie series will continue, but fans will always have the originals.
Ghostbusters: Afterlife Sequel Already in Development? Ernie Hudson Has Heard Rumors
Ghostbusters star Ernie Hudson has revealed that a script is already being written for a sequel to Ghostbusters: Afterlife.
Read Next
About The Author
Jeremy Dick
(4571 Articles Published)

Jeremy Dick has been writing for MovieWeb and Horror Geek Life for years, is the self-proclaimed biggest fan of Bob Saget, and doesn't particularly like talking about himself in the third person.
You can view the original article HERE.