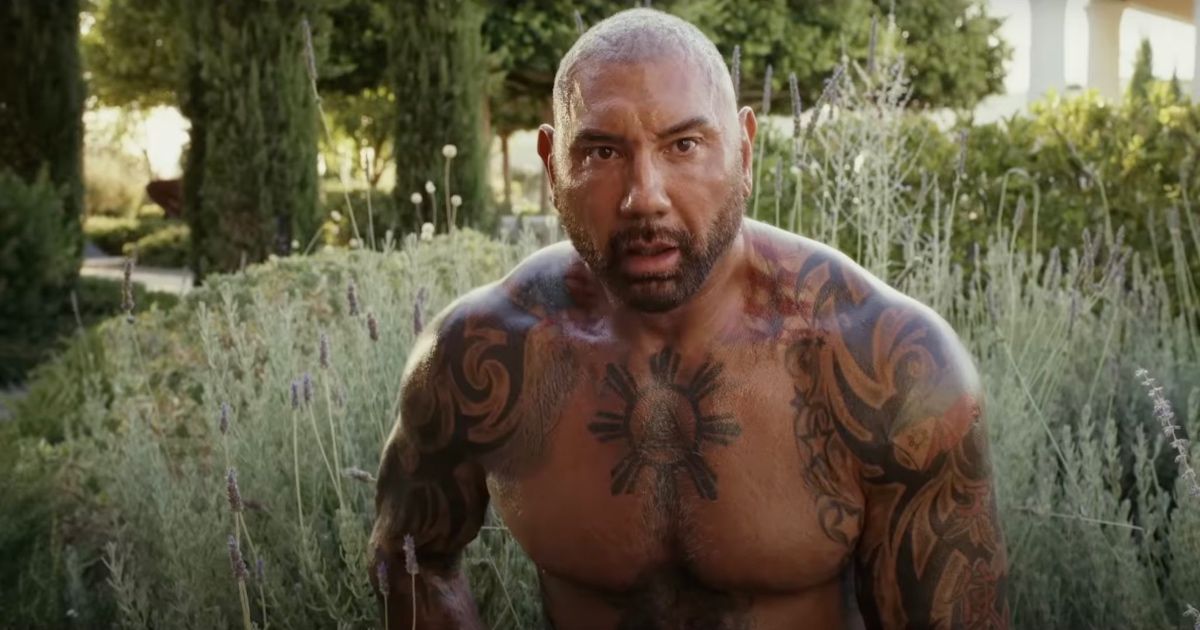 Bautista wonders why he hasn't gotten any rom-com offers, even asking himself, "Am I that unattractive?"
Netflix
Former pro wrestling champion Dave Bautista has risen to become one of Hollywood's most popular A-listers since his transition into acting from WWE. He's become a fan favorite in the superhero movie realm with his role in the Marvel Cinematic Universe as Drax the Destroyer. He's easily proven himself as a formidable action star by headlining movies like Army of the Dead. The actor has also shown more of a softer side to him with his family-friendly role in the action-comedy My Spy, and M. Night Shyamalan has been singing the praises of Bautista's performance in his new psychological horror film Knock at the Cabin.
Clearly, Bautista has been killing it with the different kinds of roles that have come his way. But when we look at his body of work, one particular genre that's totally absent would be romantic comedies, aka rom-coms. That's not because Bautista has been turning down offers to appear in them. As the Guardians of the Galaxy actor tells Page Six, he'd be up for finding love as one of the stars of a rom-com, but the problem is that nobody's asking, leading Bautista to question if he's not attractive enough for romance movies.
MOVIEWEB VIDEO OF THE DAY
From the interview:
"I know I'm not your typical rom-com lead. I'm a little rough around the edges. But I always, you know, I look in the mirror and I say, I ask myself, 'Am I that unattractive? Is there something that unappealing about me that excludes me from these parts?' I don't know. It's just never come my way. I've never had an offer to do a rom-com. I still have high hopes. I'll just keep searching."
Related: Dave Bautista Wants to Play Lex Luthor in the DCU
Dave Bautista Has Been Drawing Great Praise in Other Genres
Universal Pictures
Now that it's been put out there that Bautista has starring in a rom-com on his wish list, offers will start heading his way. For now, the actor has been drawing great praise from others in Hollywood, with Glass Onion helmer Rian Johnson declaring Bautista to be the best wrestler-turned-actor that there is. M. Night Shyamalan has also promised that Bautista will have one of the year's best performances in a film.
"Right guy. Right role. Right moment in his life," Shyamalan told ComicBook.com. "He just did what you hope all actors will do for you, which is he just was completely vulnerable, completely put himself in my hands, and said 'I trust you.' And because of that, I felt. so much need to bring out the beauty in who he is as a human being. Just a lovely moment."
Knock at the Cabin premieres in theaters on Feb. 3, 2023.
You can view the original article HERE.