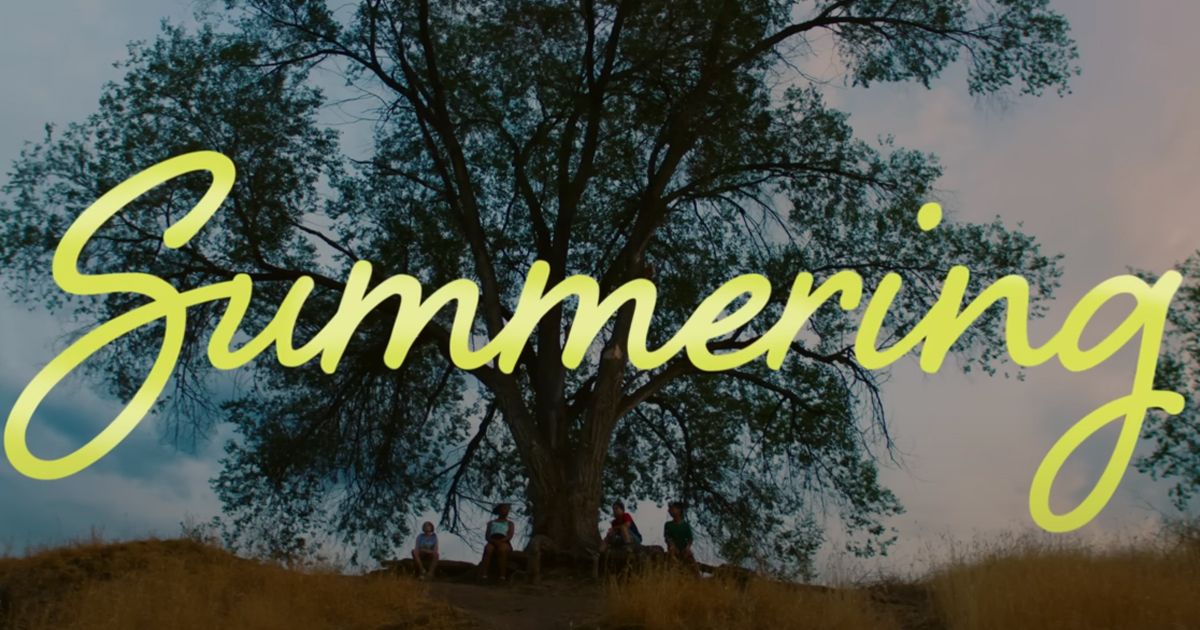 Summering tells a melancholic coming-of-age story in the vein of Stand by Me. The film follows four eleven-year-old girls on a tragic mystery during the week before the start of middle school. Their fears of growing up and apart are told along with concerned mothers who want the best for their daughters. The girl power narrative has good intentions but fails to be substantive. The primary arc leads nowhere after befuddling developments. It's meant to reinforce their bonds without a defined conclusion. I like poetic endings, but this one feels staged and unrealistic.
Set in a sleepy Utah suburb, four besties hike through the nearby woods to a special place. Their "Terabithia" tree is adorned with knick-knacks and mementos that signify their friendship. Lola (Sanai Victoria) believes in ghosts and all things spiritual. Dina (Madalen Mills) is the practical thinker who understands computers and science. Mari (Eden Grace Redfield) has a deeply religious, Catholic mother (Megan Mullally); who's sending her to parochial school. The pig-tailed Daisy (Lia Barnett) acts the most reserved. Her father abandoned their family. Leaving her police officer mother, Laura (Lake Bell), distant and remote.
MOVIEWEB VIDEO OF THE DAY
The girls are shocked to find the dead body of a man in a suit. Mari wants to immediately call 911. Dina, a big fan of forensic and crime drama television, thinks they should investigate further. The searched man yields scant clues. It's near a bridge so may be a suicide. The girls move the body to avoid it being discovered. They lie to their mothers and engineer several days of unsupervised freedom. As they wander their town digging up clues to the dead man's identity, their mothers begin to suspect that the girls are up to something.
Related: Rogue Agent Review: The Incredible True Story of a Diabolical Conman
Summering Raises Eyebrows
Summering raised my eyebrows from the start. I found it unbelievable that young girls would lift a smelly, rotting corpse. It's clearly depicted as decomposing with flies buzzing around. The classic Stand by Me had the characters searching for a missing boy. Here we have the body first and a need for the girls to find out who he was. Children are inquisitive. Their actions, like going to a bar to ask questions, seem forced. Daisy, the main protagonist, does something extremely alarming when they gather supplies for their mission. Thankfully, this doesn't have serious consequences. Including it in the film was not wise. I sincerely hope children don't watch and emulate her dangerous behavior.
There is an underlying sweetness to the innocence of youth. The girls understand that big changes are ahead in life. They're not boy crazy, social media, or materialism driven. A comfort exists between them that provides stability. They realize and cherish its value. This is especially important to Daisy. She doesn't know why her father left or her mother's reason for not discussing it. Divorce and neglect are very real issues that damage children. Summering's best scenes have Daisy's friends helping her and Laura cope. I wish the film had spent more time on this theme than a bizarre scavenger hunt.
Director/co-writer James Ponsoldt (The Spectacular Now, The Circle) has good pieces but fails to artfully put them all together. I can appreciate an actress-driven story of adolescence and female relationships. The dead body and the girls' reactions were poorly handled. It detracts from the warmth and meaning of their interpersonal dynamics. Summering has a good heart. I really wanted to recommend this film, but there are too many issues.
Summering is a production of 3311, 1978 Films, A Bigger Boat, and City Boy Hands. It will be released theatrically on August 12th from Bleecker Street.
You can view the original article HERE.