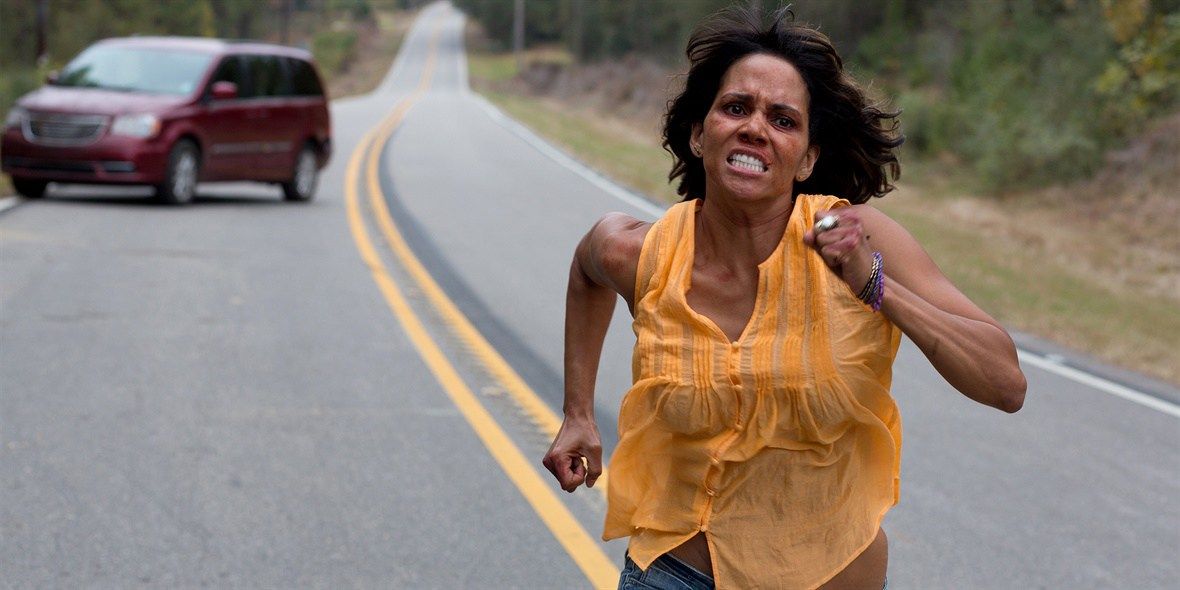 Halle Berry is set to headline the thriller film Mother Land from director Alexandre Aja (Crawl, The Hills Have Eyes). Lionsgate will launch sales for Mother Land at the upcoming Cannes Film Market. The film is described as a timely and high-concept thriller with a supernatural twist. The screenplay of Mother Land is written by Kevin Coughlin & Ryan Grassby (Mean Dreams).
The plot synopsis for the film (via Deadline) reads:
"Mother Land will chart the story of a mother and her twin sons who have been tormented by an evil spirit for years. When one of the boys questions whether the evil is real, the family's sacred bond is broken, and it becomes a fight for survival."
Mother Land has been in the making for a couple of years now, and Mark Romanek (Never Let Me Go) was previously attached as director. However, French filmmaker Alexandre Aja will now be taking over the reins from Romanek. Aja is best known for the horror films High Tension, Piranha 3D, Crawl, The Hills Have Eyes (2006), and Netflix's Oxygen. While he has been teasing the sequel to his 2019 alligator horror film Crawl, it appears Aja will be busy with Mother Land for some time.
MOVIEWEB VIDEO OF THE DAY
There is currently no word on the film's release date, but it will go on floors next year. Shawn Levy, Dan Cohen, and Dan Levine will be producing Mother Land for 21 Laps Entertainment, the studio behind the Night at the Museum series and Netflix's Stranger Things. Aja will also produce, while Halle Berry will serve as an executive producer.
Lionsgate has called Mother Land an "elevated thriller," which seems to be a spin on the elevated horror genre made famous by Jordan Peele (Get Out) and Robert Eggers (The Witch). Lionsgate Production President Erin Westerman released a statement, saying:
"We're so thrilled to be working again with Halle and Alex. Halle is a force on screen – she's the perfect person to convey the psychological terror of this mother trying to protect her family. And who better than Alex to ratchet up the tension. Powerhouse producers 21 Laps are going to deliver an elevated thriller that will keep audiences on the edge of their seat."
While Mother Land appears to be a generic ghost story on the surface, the synopsis raises the possibility of something much more sinister. Let's see what timely twists and turns the film offers. Another reason to get excited is Halle Berry's return to horror after 2003's Gothika.
Related: Halle Berry Says Her Academy Award Win Sadly Didn't Open the Door for Other Black Actresses
Halle Berry Has Turned Her Attention Towards Filmmaking
Netflix
After a successful Hollywood career spanning decades, Academy Award-winning actress Halle Berry is venturing into filmmaking. She made her directorial debut and starred in Netflix's mixed martial arts drama, Bruised. While the film received mixed reviews from the critics, Berry's direction was praised, and the film was a hit with the audience.
She was last seen in the box-office disaster Moonfall and will star in another sci-fi feature, The Mothership. The film is part of Berry's overall deal with Netflix and is confirmed to come out this year.b Fans also loved her in John Wick: Chapter 3 – Parabellum, alongside Keanu Reeves. Unfortunately, we won't be seeing Berry and her dogs maul bad guys in John Wick 4. However, she has teased the possibility of starring in a spinoff based on the character.
As for Berry's filmmaking future, she hasn't signed on to direct any films yet, but after the success of Bruised, it's only a matter of time before we see her get behind the camera again.
Moonfall Trailer: Halle Berry Saves Earth in Roland Emmerich's Disaster Epic
Read Next
About The Author
Mudit Chhikara
(265 Articles Published)

Mudit Chhikara is a news writer at MovieWeb. He holds a bachelor's degree in electronics, but being a lifelong cinephile, Mudit decided to write about movies for a living.
You can view the original article HERE.