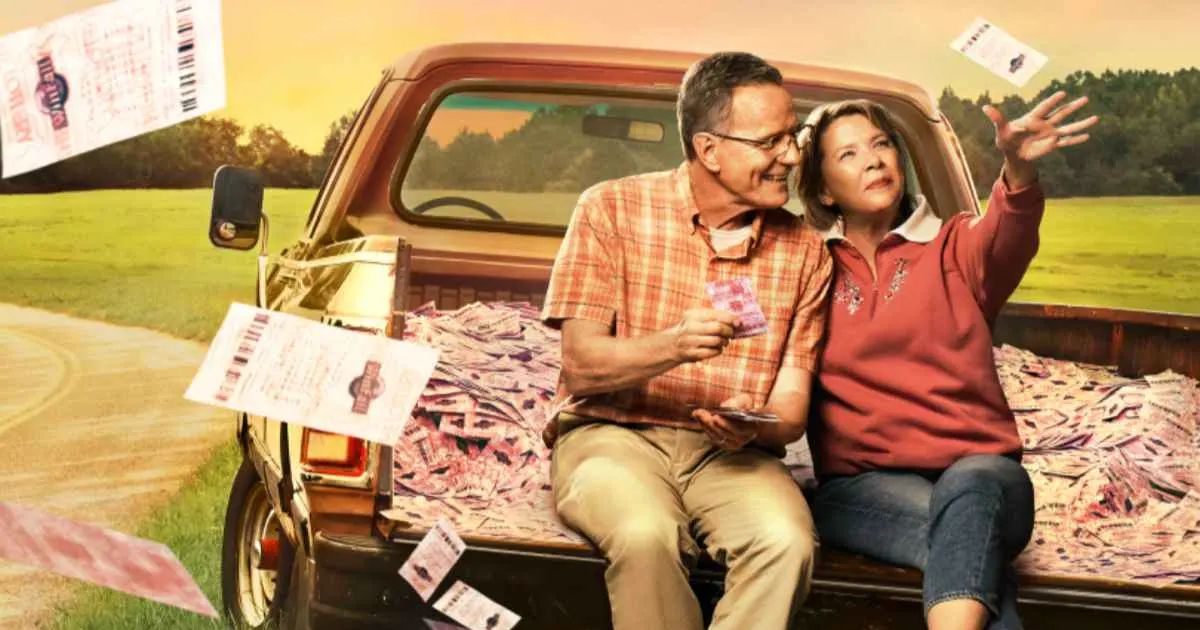 It's kind of odd that almost every movie about gambling is actually pretty good, if not great. Owning Mahoney, Hard Eight, Croupier, Maverick, Casino, California Split, The Card Counter, The Cooler, Atlantic City, Mississippi Grind, The Cincinatti Kid, The Sting, The Hustler, The Color of Money, and Rounders, maybe the best poker movie of them all, are actually great pictures, the lot of them. Even those films tangentially related to gambling, such as Rain Main, Lock Stock and Two Smoking Barrels, and House of Cards, garner excellence as if by proximity to the subject.
Unfortunately, Jerry and Marge Go Large might be the exception to the rule. The Paramount+ original movie certainly has its charms and will likely win over anyone who doesn't mind a little cheese with their sap, but its aesthetic sometimes feels like a Lifetime Original Movie. Looking at director David Frankel is an easy gauge for one to tell if Jerry and Marge Go Large is their cup of tea — if someone loved his films Marley & Me, Hope Springs, and One Chance, then they'll likely enjoy this.
MOVIEWEB VIDEO OF THE DAY
David Frankel Brings Jerry and Marge Go Large to Paramount
Paramount+
Frankel has a way of bringing in incredible actors and having them read subpar dialogue in the most convincing way possible. He's worked with Meryl Streep (twice), Owen Wilson, Will Smith, James Corden, Jennifer Aniston, and numerous other massive stars, and somehow always gets good performances even from the lamest material. He mostly does the same with Jerry and Marge Go Large, which features Bryan Cranston and Annette Bening as an elderly couple staring down the gray-haired barrel of retirement with a bit of existential ennui. Rainn Wilson, Larry Wilmore, Anna Camp, and the great Michael McKean all show up as well and do their best with what ultimately amounts to a sickly sweet hour and a half.
Jerry and Marge Go Large is based on an excellent and lengthy article written by Jason Fagone for The Huffington Post, which recounts the wild true story of a pair of sexagenarians who took the (mostly Massachusetts) lottery system for $27 million over the course of nine years thanks to some good math. Jerry discovered a flaw in the system for the Cash WinFall games, where the odds favor the buyer the more money is spent. Soon, Jerry and Marge are pooling together their town's money and growing it exponentially.
Related: Best Gambling and Lottery Movies
Their story sometimes feels like the sort of true-crime series and movies based on magazines and newspaper articles that keep popping up all over the place these days, except nothing Gerald and Marge Selbee did was actually criminal. In fact, they saved their small town by doing it.
Jerry and Marge Go Large is Different, But Not Good
Paramount+
That's what makes Jerry and Marge Go Large different from a lot of these other stories, and super-saccharine as a result — it's a feel-good twist on the type of brilliant scheming seen in docuseries like McMillions. Nobody goes to jail, nobody's life is ruined, and a happy, folksy town is saved. It's all very nice, and it's refreshing to see good things happening to people.
However, this complete absence of stakes, major conflict, and any real consequences makes Jerry and Marge Go Large completely lacking in suspense or drama (give or take an obnoxious Harvard dweeb with no personality other than 'spoiled rich kid,' who also tries to game the lottery). This all leaves the viewer stuffed on good cheer but without any substance. It's the equivalent of binge-eating two pounds of chocolate, a feature-length film made up of empty calories.
The Focus on Jerry and Marge is Small
Paramount+
Brad Copeland's script does try to avoid this by instead going much smaller and focusing on the relationship between Jerry and Marge, using the lottery scheme as a backdrop to rekindle the romance in the old married couple. Through this lucrative gaming of the system, the Selbees find a new lease on life. As Jerry says in the original article, "You gotta realize, I was 68 years old. So it just — it gave me a sense of purpose."
Soon, Jerry and Marge are dancing romantically in a gas station, Bruce Springsteen's Glory Days is blaring to a montage of the happy couple winning money, and the two are strengthening their bonds with their grown children and learning more about their town. It's all very sentimental, filled with cheesy one-liners and smothered with sappy musical cues that never end.
Related: Must-See Bryan Cranston Movies and Shows That Aren't Breaking Bad
Of course, this might be the exact type of movie some people want to see. Since conflict generally guides every type of film, Jerry and Marge Go Large could be the antidote some viewers are looking for in a world already filled with enough conflict. It also tells a story about a corrupt system and a group of small-town 'little guys' and 'average Joes' who beat that system and actually have their happy ending. In a world of massive income inequality, growing class consciousness, and near-unanimous hatred of politicians and corporations, there's probably some vicarious satisfaction in simply seeing the aforementioned 'little guy' win for a change.
Bryan Cranston and Annette Bening Are Jerry and Marge
Paramount+
Cranston and Bening do about as well as they can with the material. Bening's character is ridiculously underwritten, in an almost offensive way; we know practically nothing about Marge, and she simply exists as a narrative device here, when in fact Marge Selbee seems like an incredibly charming and endearing person (based on the article and interviews). Bening injects some energy and fire into the proceedings, but the script does not do her justice whatsoever.
Cranston seems to combine his fun 'loser-dad' routine in Malcolm in the Middle with the 'smarter than he looks' scheming of his Breaking Bad character. His face is always wonderfully expressive, and he does a good job portraying Jerry's weariness (but never outright bitterness) at having lived nearly seven decades without being recognized as an extremely clever, wonderfully kind, and exceptional person. He gives off a lot of 'aw shucks,' small town charm here, even if his dialogue is often clunky and dull by no fault of his own.
Paramount+
Rainn Wilson essentially plays Rainn Wilson, which he's exceptional at doing. Wilmore is an incredible political comedian and brilliant thinker, but he's arguably a terrible actor. Jake Monaco's musical score is really unfortunate – Monaco is very talented and great for providing non-stop, light music for kids movies such as A Cinderella Story: If the Shoe Fits, and he can provide some of the best sentimental schmaltz for movies that need it (Think Like a Dog, A Cinderella Story: Christmas Wish), but his airy, sappy score actually makes Jerry and Marge Go Large worse.
But again, this all might be what some (less cynical) people want. One person's sappy cheese might be another's exquisite fondue, and what's grotesquely sweet for one reviewer might be a perfect palette cleanser for another. Jerry and Marge Go Large is now streaming on Paramount+.
You can view the original article HERE.