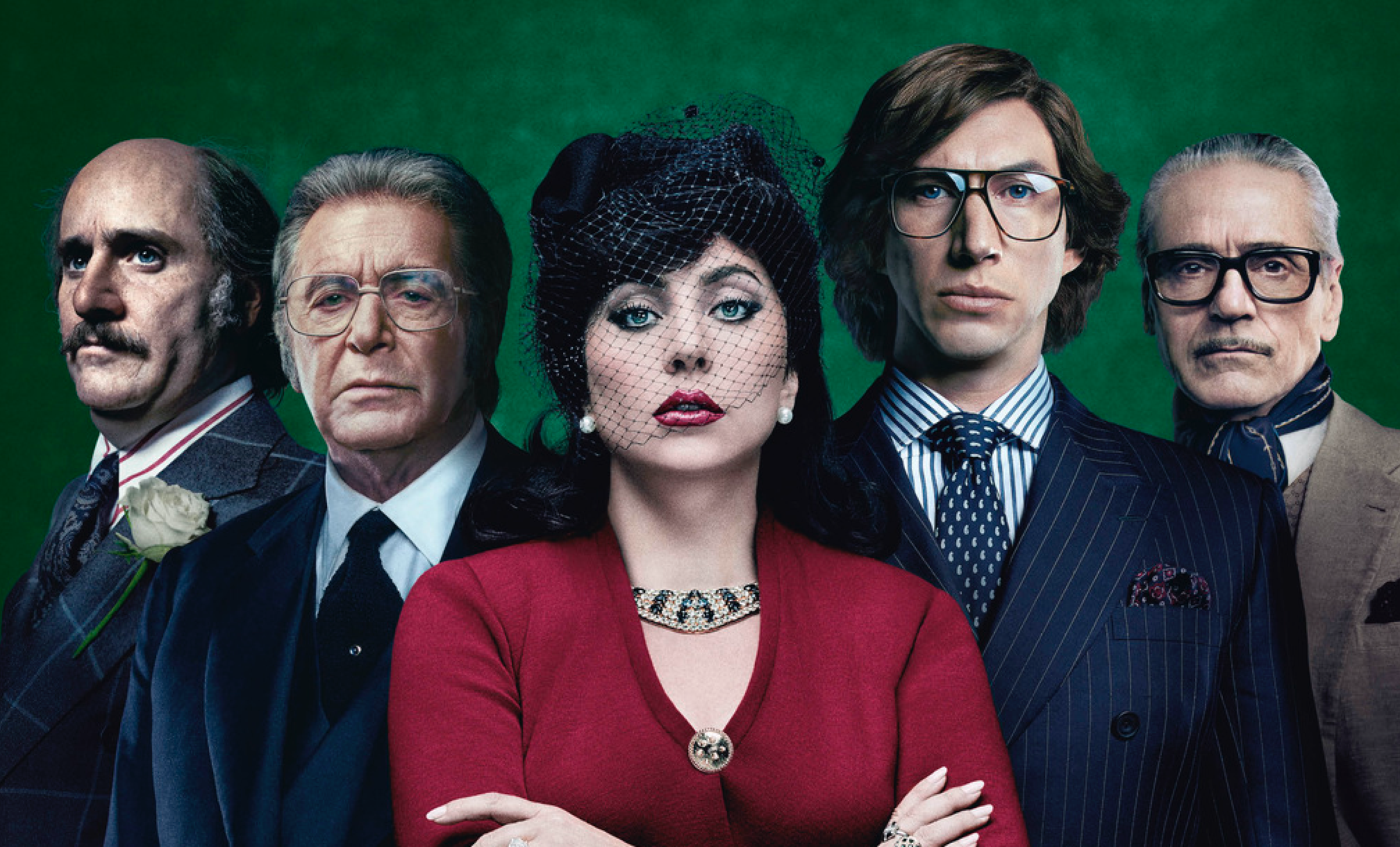 Patrizia Reggiana (Lady Gaga) marries Maurizio Gucci (Adam Driver) and creates conflict in the iconic fashion brand.
Director Ridley Scott and an all-star ensemble stumble badly in an atrocious adaptation of a sensational fashion industry scandal. Based on the book by Sara Gay Forden, House of Gucci is an awful, stereotype driven caricature of Italians. The accents, depictions, and bloviating behavior of the cast borders on laughable with one exception. Oscar winner Jared Leto, unrecognizable in a fat suit and make-up, hams it up to an objectionable point. He's aiming for humor, but hits on offensive bullseye.
In 1970 Milan, Patrizia Reggiani (Lady Gaga), the daughter of a wealthy trucking magnate and wannabe socialite, has a fateful encounter at a chic party. She accidentally meets Maurizio Gucci (Adam Driver), a reserved law school student who shunned his famous fashion surname. The son of actor Rodolfo Gucci (Jeremy Irons), and nephew to Gucci CEO Aldo Gucci (Al Pacino), Maurizio despised the elitism of the Gucci brand. Patrizia saw an opportunity and lustily pounced. She marries into the family over the objections of Maurizio's father.
MOVIEWEB VIDEO OF THE DAY
Years later in New York City, Patrizia asserts herself into the Gucci family business. She thinks Aldo and his bumbling son, Paolo (Jared Leto), have no clue how to keep the brand pertinent in the modern 80s. Patrizia pushes her husband into a power struggle. Maurizio's gambit works, but he becomes wary of his wife's machinations. Patrizia did not come this far to be marginalized at her moment of victory.
House of Gucci plays out like a tawdry soap opera. It boggles the mind to see such a venerated cast perform so poorly. Lady Gaga looks like a conniving housewife from a Sopranos knockoff. She pours on the melodrama under a lather of lip gloss. Bouncing from twirling fingers seductress to tearily obsessive like a ping pong ball. Jared Leto takes the overacting mantle from Al Pacino. His turn as Paolo devolves into an Italian clown show. I can't fathom that the real Patrizia or Paolo were this goofy. Ridley Scott needed to rein in the characterizations.
House of Gucci has pacing issues. The script has a textbook feel with no surprises whatsoever. Most audiences will be aware of the real life scandal. Ridley Scott (Gladiator, The Martian) had to overcome that burden with a compelling narrative. He puts the onus on an esteemed cast, who then go overboard by lack of direction. The result is a glitter bomb that makes everyone look foolish and mars the source material.
Ridley Scott is a legendary filmmaker. He's a trusted commodity nine times out of ten. House of Gucci proves they can't all be winners. He strikes out badly here. The Jared Leto performance is going to be controversial. Some Italians will be offended. He's ghastly and completely over the top for no logical reason. That's a damn shame because Leto is an exceptional actor. House of Gucci is a production of MGM, Bron Creative, and Scott Free. It will premiere November 24th exclusively in theaters from United Artists Releasing.
Kirsten Dunst Opens Up on 'Very Extreme' Pay Gap for Spider-Man Movies
Kirsten Dunst also shared a story about a Spider-Man producer pressuring her to have her teeth altered, a request she adamantly refused.
Read Next
About The Author
Julian Roman
(1189 Articles Published)

Film critic, raconteur, praying for dolphins to grow thumbs and do better.
You can view the original article HERE.