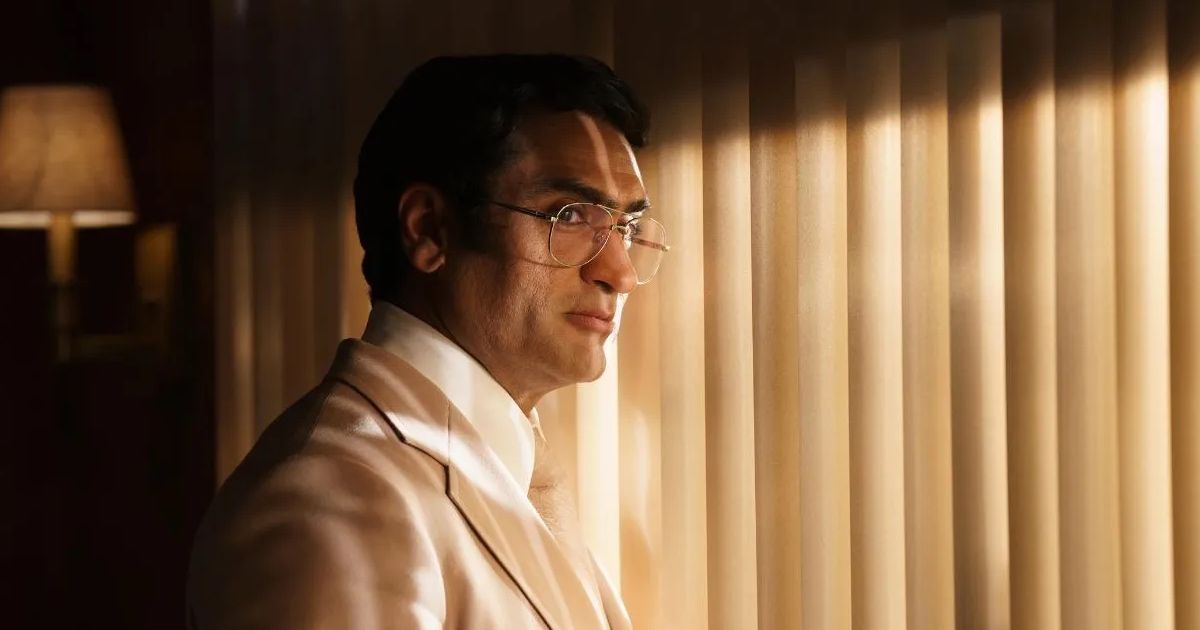 In the late 1970s, an Indian immigrant named Somen Banerjee opened up a nightclub that would be the first of its kind. Located in Los Angeles, he initially tried to turn it into a club for backgammon, but when that failed, he sought out advice on what to do next. What ended up happening was a nightclub catering towards pleasure and eroticism, hosting female mud wrestling and exotic dancing catered towards women. Then, in 1979, he established a male stripper dance troupe, one of the first in the United States, which still exists today. A mix of theatrics and entertainment, Banerjee ended up letting his ambitions consume him, landing the entrepreneur in jail for the murder of his business partner. Hulu's newest miniseries, Welcome to Chippendales, recalls Banerjee's story.
MOVIEWEB VIDEO OF THE DAY
During the past two years, streaming services have skewered their content towards true crime stories about people in recent years who have swindled the system. Netflix had Inventing Anna, while Hulu's The Dropout renewed a sense of fascination with the doomed Theranos founder Elizabeth Holmes. In the beginning, this felt fresh compared to the content audiences were consuming before, but now after the release of shows like Pam & Tommy, Under the Banner of Heaven, and Dopesick, it has begun to feel formulaic. Hulu has returned to this format with Welcome to Chippendales, which tells a classic immigrant story of trying to make it in the United States.
Eternals' Kumail Nanjiani stars in Welcome to Chippendales as Somen "Steve" Banerjee, the founder of Chippendales, which still exists today. Murray Bartlett, who is slated to star in the upcoming television adaptation of The Last of Us, appears as Steve's business partner, Nick de Noia. Actress Annaleigh Ashford assumes the powerful role of Irene, proving to be one of the standouts in this remarkable cast throughout her performance. Finally, Daniel Stevens (Downton Abbey, Beauty and the Beast) and Juliette Lewis (Yellowjackets) round out the rest of the cast. Slated for eight episodes and released in November 2022, Welcome to Chippendales has high expectations attached, especially considering the ever-increasing popularity of the genre.
Creating a Business Empire
Hulu
At first, Welcome to Chippendales unfolds like an eighties fever dream with slightly erotic elements, but quickly dissolves into the hard facts. The series' beginning introduces Somen Banerjee, who, like many South Asian immigrants coming to the United States during this time, owns a gas station and is mocked by his customers for his accent. This is not an easy life, especially as one rowdy duo dumps their beer on him one day and knows over a keychain stand that only contains the name "Steve." As Somen leans to clean up the mess they caused, seemingly defeated by the circumstances of the life he has begun to live, a realization crosses his mind: he will become Steve. He already has the business savvy skills to succeed in this country: his boss praises him for how he has so many repeat customers after implementing a loyalty card and offers him a promotion to general manager. In a passionate rant about how Somen managed to save 90% of his income by sacrificing his life in favor of work, he quits and says that since he came to America seven years ago, his life and goals have changed. He is a new man and he is going to start his own backgammon club, which Los Angeles does not have already. The new club is going to be named Destiny II, launching Somen into a completely new chapter of his life.
However, things do not go as planned, and in the first couple of months of the club opening not much happens. With a fictional flair to how reality folded out, Welcome to Chippendales marks another new moment with the arrival of Paul Snider, who ends up promising Somen that he will help change the club's fate. They land on women mud wrestling at the center of the club in bikinis, which brings in the business, but not the kind they are looking for: celebrities, people of prestige. After landing in a strip club for women, the golden idea strikes them: spinning the club's concept more towards stripteases while drawing in a female demographic.
Related: Why Inventing Anna May Be the True Crime Series of the Year
That is just the business side of Welcome to Chippendales. The show does an excellent job of showing how desperate Somen is to create a successful business and become someone who drives expensive cars and collects designer watches. Chippendales is a company still around today and shifted its practices during the COVID-19 pandemic to try and help communities exercise during the lockdown. Nowadays, Banerjee's absence is particularly striking, but the show makes it clear why he is no longer involved–for someone who surrounded himself with figures like Snider, his fall from grace later in the series is unsurprising.
But as the show delves deeper into Somen's obsession with becoming someone greater and bigger than he actually is, it enters true crime territory. The cushy life and promotion he gave up in search of being alive are sacrificed for murder, greed, and what many consider to be sin. He pays the price for his actions, completing the transformation from Somen, the Indian immigrant who wanted to be someone, to Steve, a fallen angel that has been made an example of in a jail cell.
Resorting to Tropes and Archetypes
Hulu
Welcome to Chippendales is the classic story of an immigrant reaching out and achieving the American Dream, albeit in an unorthodox manner. Somen is just a guy who decides he is going to quit his stable job, one where he is even offered a promotion, buys a nice suit from a store, and catches up on his reading in the form of a business journal. He opens a club despite everyone around him thinking he is joking, and while the business does fail in the end, it inspires him, even more, to keep going and chase after his dreams. By the end, Banerjee's story might end in tragedy, perhaps offering a cautionary tale about ruthlessly chasing after the American Dream, but he made it. He did what he set out to do, and if he made any mistakes, it is because he got caught–that's the art of business he never learned from the books.
Granted, there is quite a bit of corny dialogue scattered throughout the show, especially in the first episode. This establishes a rhythm and scenario that initially seems quite familiar, but no matter how hard the show tries to recreate the era it is set in with the soundtrack, costumes, and sets, there is a layer to it that feels empty. There is a lot to learn from Banerjee's story and the history of a company still existing today, and the show has quite a bit of content to work with from the source material. However, it feels rushed, with certain plot points being glossed over in favor of the dramatic elements. Because of this, it sets the characters up for archetype descriptions and actions.
Related: Kumail Nanjiani Stars as Villainous Chippendales Founder Steve Banerjee in New Hulu Show
We know about Steve, the man who created this empire, but who was he before he came to the United States? Why does he have no one around him? There are so many questions that could be asked about the protagonist, but also the other characters. A vast majority of the characters are not fleshed out beside the current moment and reactions they are constrained inside of, making them feel flat and one-dimensional. If the narrative spent more time fleshing out Somen's background, making his fall from grace even more devastating, then the show would have resonated more. There is also little suspense to keep the episodes moving from one to the next, as the foreshadowing makes what will happen next a bit obvious, especially if one is familiar with these kinds of shows.
The show does have its merits. Its cast does a fantastic interpretation of their roles, even if the storylines and pacing do not do them justice. Kumail Nanjiani, who has shown a lot of talent in Eternals and The Big Sick, does an excellent performance as Somen, who is kind of awkward and lacks the social savvy skills needed to get this business to all-new heights, which is what later fuels his jealousy. All in all, Welcome to Chippendales offers a lot of potential in its premise, but fails to live up to the expectations placed on it.
The first​​ two episodes of Welcome to Chippendales are available to stream on Hulu as of November 22, 2022. The remaining episodes will be released weekly.
You can view the original article HERE.