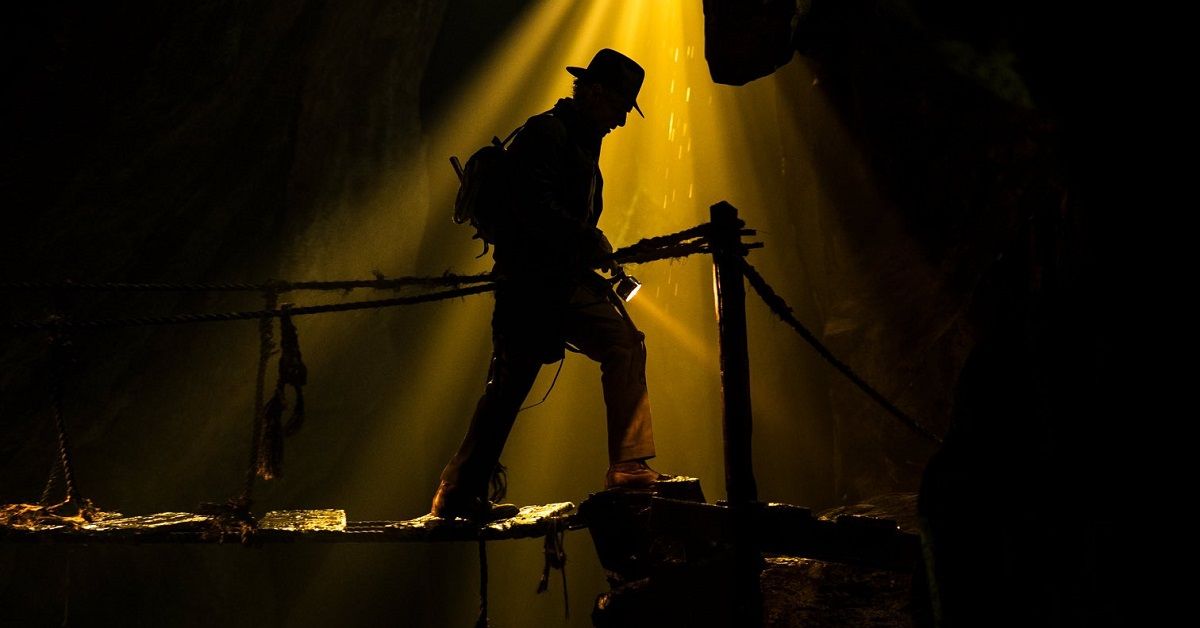 Harrison Ford might be hanging up the whip after Indiana Jones 5, but the franchise could still be further explored in a spinoff series.
Lucasfilm
The adventures may not be ending just yet. Variety reports that there are tentative plans at Disney+ to develop an Indiana Jones series following the release of Indiana Jones 5, the final installment of the movie series to feature Harrison Ford as the titular adventurer. According to the new report, Disney and Lucasfilm execs have been fielding pitches from writers in their search for the right story for the potential series.
Because no writer has yet signed on, it remains unclear if the series would be developed as a reimagining of Indiana Jones or a spinoff following different characters in the same universe. A prequel with a younger actor in the role of Indy is another possibility, but nothing will be known about the plot until a pitch is accepted for the series. Recasting iconic characters rarely seem to go over very well with the fans, so introducing a new Indiana Jones doesn't seem to be the most likely plan.
MOVIEWEB VIDEO OF THE DAY
In any case, the plans for the series are not set in stone at this time, as they're reportedly part of an overall strategy to keep the Indiana Jones franchise alive. Of course, Ford has been synonymous with Indiana Jones since Raiders of the Lost Ark, and this might mean that it will take some time before a solid plan is put in place to expand the franchise. It's also noted that Lucasfilm and Disney are open to exploring new movies in the series as well, perhaps in conjunction with the planned series. But while fans can still hold out hope for a special appearance from Ford, don't expect to see him starring in Indy-based projects after Indiana Jones 5.
"Indiana Jones movies are about mystery and adventure but they're also about heart. I'm really, really happy that we have a really human story to tell as well as a movie that will kick your ass," Ford said at D23, teasing the sequel. "I'm delighted to be here again for maybe … No, not maybe. This is it! I will not fall down for you again. But thank you so much."
Related: 9 Movies to Watch If You Love Indiana Jones
A Short Round Series Is a Possibility
If the Indiana Jones series must follow a new protagonist, there may be many fans who'd love to see Short Round take the lead. Played by former child star Ke Huy Quan in Indiana Jones and the Temple of Doom, Short Round has not been seen in the franchise since. Meanwhile, Quan has returned to acting and has drawn a lot of praise from fans, especially with his recent role in Everything Everywhere All at Once. Upon his acting return, one fan asked in a Reddit AMA if Quan would be up for returning as Short Round in a new Indiana Jones movie, and he confirmed he "absolutely" would.
"I didn't pursue acting when I was kid. I happened to be at the right place and at the right time when [Steven] Spielberg and [George] Lucas was looking for an Asian kid to be Indy's sidekick," Quan also said of how he lucked into the role as a kid. "And I just fell in love with it because it's one of the best professions in the world. Feeling very blessed and grateful to be able to do this again after 2 decades absence."
Indiana Jones 5 will be released in movie theaters on June 30, 2023.
You can view the original article HERE.