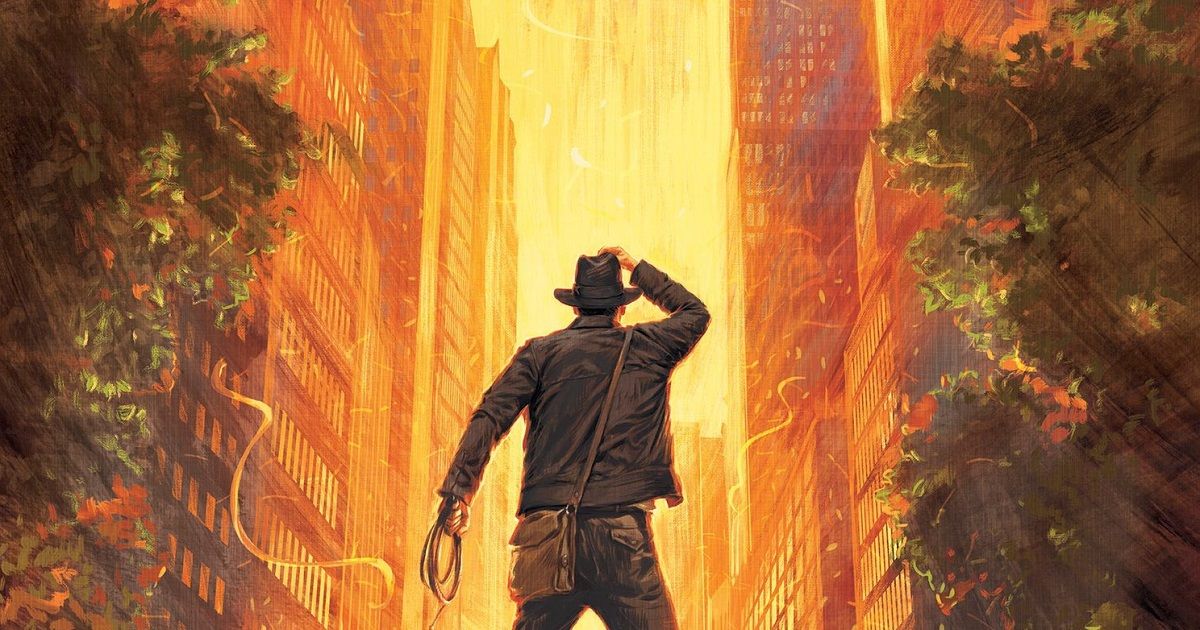 We finally have some official details regarding the direction of the highly anticipated Indiana Jones 5, with the latest issue of Empire Magazine revealing that the intrepid archeologist will visit "1960s-era New York City." While this may not seem like much, it does reveal a setting for the sequel, as well as confirming the long-rumored time period.
These details have been released alongside a new look at Harrison Ford as Indy, as well as the character looking up at the New York City skylight in "an image inspired by the film and illustrated exclusively for Empire by Sam Hadley."
Plot details for Indiana Jones 5 are being kept under wraps for now (no doubt stored in a big wooden box in a giant warehouse), but ongoing rumors have claimed that the sequel will take the franchise into outer space. While Indy himself may not be blasting into the stratosphere, reports have claimed that the sequel will reunite Indiana with his old enemies, the Nazis, through their involvement in the 60s Space Race. Further weight has been added to these rumors now that the era has been confirmed.
MOVIEWEB VIDEO OF THE DAY
Directed by James Mangold, with a script co-written by Mangold, Jez Butterworth, and John-Henry Butterworth, Indiana Jones 5 stars Phoebe Waller-Bridge as Helena, the goddaughter of Indiana Jones; John Rhys-Davies as Sallah, Indiana Jones' best friend; and Mads Mikkelsen, who is rumored to be playing a Nazi scientist enlisted into NASA by the United States government to work on the space agency's moon landing initiative.
The rest of the cast includes Thomas Kretschmann, Boyd Holbrook, Shaunette Renée Wilson, Antonio Banderas, Toby Jones, and Olivier Richters.
Related: Indiana Jones 5 Director Reveals When Official Trailer Will Be Released
Indiana Jones 5 Will be Harrison Ford's Final Outing as the Iconic Adventurer
One thing we do know for sure about Indiana Jones 5 is that it will be 80-year-old actor Harrison Ford's final time sporting the famous fedora.
"Thank you for making these films such an incredible experience for all of us. I'm very proud to say this one is fantastic," Ford said at the latest Disney's D23 Expo. "And [new franchise star Phoebe Waller-Bridge] is one of the reasons. Indiana Jones movies are about mystery and adventure, but they're also about heart. I'm really, really happy that we have a really human story to tell as well as a movie that will kick your a**. I'm delighted to be here again for maybe … No, not maybe. This is it! I will not fall down for you again. But thank you so much."
With Ford due to retire from the role, further rumors have claimed that Indiana Jones 5 will set up Phoebe Waller-Bridge's character to take over the franchise. "Insiders claim Kathleen Kennedy, the Hollywood producer behind the franchise, is keen to make 'big, bold' changes — with few bigger than switching the lead character to a woman," reports have said, with one source adding, "It would be a huge statement, and a great role for Phoebe."
Indiana Jones 5 is scheduled for release on June 30, 2023, following several delays.
You can view the original article HERE.