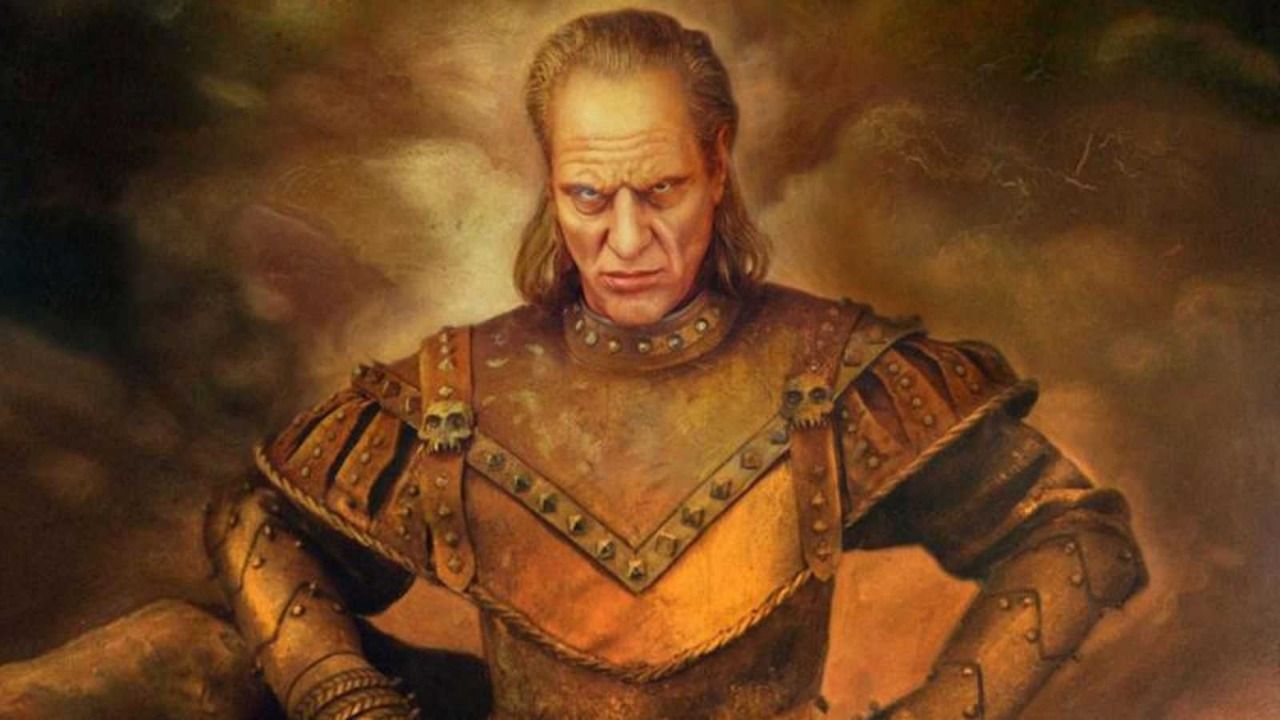 Jason Reitman has been on a press tour rivaling The Neverending Story for the last several months starting well before the release of the highly anticipated Ghostbusters: Afterlife and even after its release, it shows no signs of letting up. He has been asked everything from what it was like to work with his father to his thoughts on Garbage Pail Kids and everything in between. Recently, however, in an interview with Christopher Marc from The Playlist, Reitman was asked about his plans for future sequels, including if Vigo the Carpathian, from Ghostbusters II, might be in the cards for a return.
"There is a lot of time and opportunity for Vigo the Carpathian to make his return. Look, are you saying that's the only painting of Vigo the Carpathian? Maybe, he's riding a horse in another one, maybe, impaling someone in another one."
If you're unfamiliar with the sequel to the first film, Vigo was portrayed by the late Wilhelm von Homburg. Jason Reitman even showed up as an extra in the movie as 'Brownstone Boy #2' but I digress. Back to Vigo. He was born in 1505 A.D. and died in 1610 A.D. The late, great Harold Ramis fills us in on this detail in the sequel before Venkman humorously quips that the villain really hung in there.
MOVIEWEB VIDEO OF THE DAY
So how did Vigo die to become part of the spirit realm? Great question. If your first thought was that someone who was 105 years old died of natural causes, you'd obviously be wrong, and really wrong. He was poisoned, stabbed, shot, hung, stretched, disemboweled, drawn, and quartered. So clearly, a man of the people he ruled. He also earned the nicknames Vigo the Despised, Vigo the Torturer, Vigo the Unholy, and of course everyone's favorite, Vigo the Butch. We go on to learn that there was a prophecy right before his head died: Death is but a door, time is but a window, I'll be back. The villain is dispatched in Ghostbusters II but a prophecy like that almost begs for a round two, and the fans may get it.
Reitman was also asked who he might get to direct the sequel. He said, "I would love to see Ghostbusters movies from all my favorite filmmakers." He stopped short of naming anyone in particular saying, "I could but I don't want to jinx it because I actually do believe in this idea." When asked if this included Diablo Cody, Reitman's longtime and Oscar-winning collaborator, he answered, "If you don't think I haven't had this conversation with her, then you don't know our relationship well enough. Yeah, we have spoken about Ghostbusters. I'd love to see a Diablo Cody Ghostbusters movie. She's one of the best storytellers alive, we've made four movies together and I'd love to make a fifth."
The filmmaker did not give a lot to go on, and most questions here were in fact answered open-ended. There does however sound like deep conversations and thoughts have taken place about the Afterlife sequel. Two post-credit scenes, one of which most certainly was intended to set up a sequel, did give us some things to chew on and ponder so we weren't left with nothing on our plate. You might say we were left with just enough to keep our imaginations running wild.
So what do we know? We (WARNING: SPOILERS AHEAD) know Ernie Hudson's Winston Zeddemore was set up as the Bruce Wayne/ Tony Stark type role for the financial backing of the team and even a possible mentor. We also know the containment unit was blinking rather ominously, shades of the first Ghostbusters before it blew up when it sent all previously caught entities into New York. We definitely have some time before any sequel drops, but it is fun to speculate on what could be next especially for die hard fans of the franchise.
Ghostbusters: Afterlife is in theaters now. This news comes to us from The Playlist.
Henry Cavill Wraps Filming on Enola Holmes 2
Henry Cavill has put a bow on his return as Sherlock in the upcoming Netflix sequel Enola Holmes 2.
Read Next
About The Author
Gary Lockard
(25 Articles Published)

Gary has an extensive informational background in sports radio, where he also wrote sports stories before transitioning to entertainment with MovieWeb.
You can view the original article HERE.