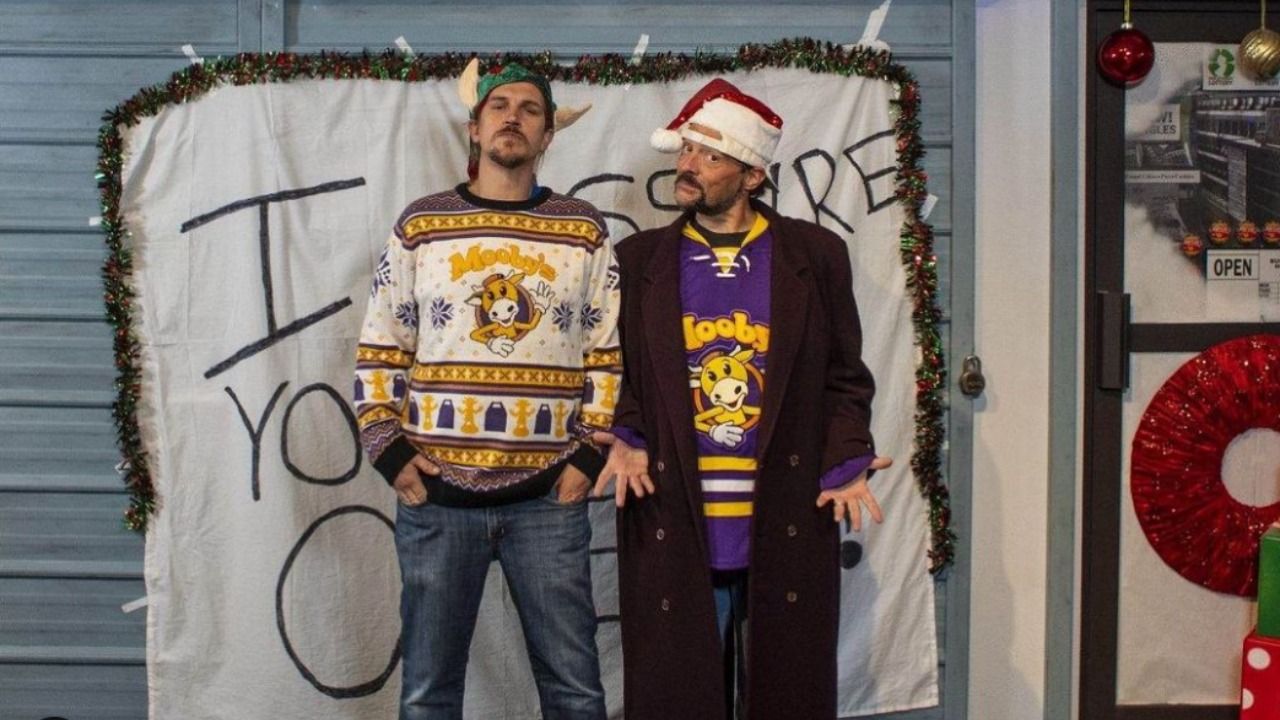 Clerks III may be still over half a year away, but Kevin Smith and Jason Mewes have brought out their characters early for a Christmas message.
While fans of Jay and Silent Bob are awaiting the return of the pair in Clerks III, actors Jason Mewes and Kevin Smith have given an early Christmas present to their following with an Instagram post wishing all of their fans a very Merry Christmas from the View Askewniverse. The characters were originally created for the movie Clerks back in 1994, and proved so popular that they appeared in other movies including Mallrats, Dogma and their own movie, Jay and Silent Bob Strike Back, as well as appearing in Clerks II and the upcoming Clerks III. With the movie in the can and heading to screens sometime next year, Mewes and Smith obviously couldn't pass up an opportunity to bring the duo out early for the festive season.
MOVIEWEB VIDEO OF THE DAY
Standing in Mooby's ugly sweater and Mooby's hockey jersey, which coincidentally are now available to purchase from Geeky Jerseys, the pair appear outside the fake shop front of Quick Stop Groceries. The character of Mooby featured on the apparel is a recurring Moose character from Smith's films, and we are going to make a pretty bold prediction that he will be seen again in some form in the upcoming Clerks III, having played a hefty role in the previous installment when the characters of Randal and Dante found themselves working at Mooby's fast food restaurant. As a character created to satirize consumerism, there could not be a more ironic thing than selling clothing and making money off the back of the character's image.
While there is currently no set date for the release of Clerks III, but in a recent interview with Screen Rant, Smith revealed the slightly tighter window of mid-2022 for the film's arrival, while a first trailer should drop sometime in the spring. He said:
"It's looking like mid 2022, if I had to predict trailer, I would predict March or April. Where we are right now, we're figuring out music, we have a budget for music [at a certain level] and right now [above that] music. So it's about making choices where you're like, 'Okay, I can tell the story without this, but I can't tell the story without this.' Thankfully, I'm an indie filmmaker and have been used to pivoting or modifying expectations for years, so it's never a problem where I'm like, 'If that's what it costs, we can't play with them and stuff.' So we're doing that right now. When they do the trailer, I imagine — and if they didn't do this, I'd be shocked — they'll feature the moments in the movie where Dante and Randal essentially shoot Clerks, but they're shooting a movie called The Inconvenience. But it looks an awful lot like a movie we're all familiar with, right down to the black and white."
While it is still quite a wait for fans of the director and the Clerks franchise, at least having a rough idea of when to expect the movie gives them an exact time to focus on rather than just being left with the dreaded "sometime next year" to contend with.
Batman: The Animated Series Is Getting an Audio Series Continuation
The audio series brings back Kevin Conroy as Batman and picks up right from where the cartoon show left off.
Read Next
About The Author
Anthony Lund
(1243 Articles Published)

Anthony Lund is an author, songwriter and puppeteer from a small village in the U.K. with an avid love of all genres of TV and film. As well as keeping up with the lastest entertainment news and writing about it for MovieWeb, he works as a video editor, voice over artist and production designer. A child of the 80s, he is the owner of almost 2000 books, more toys than his children, three Warner Bros. Store Gremlins and a production used Howard The Duck movie script.
You can view the original article HERE.