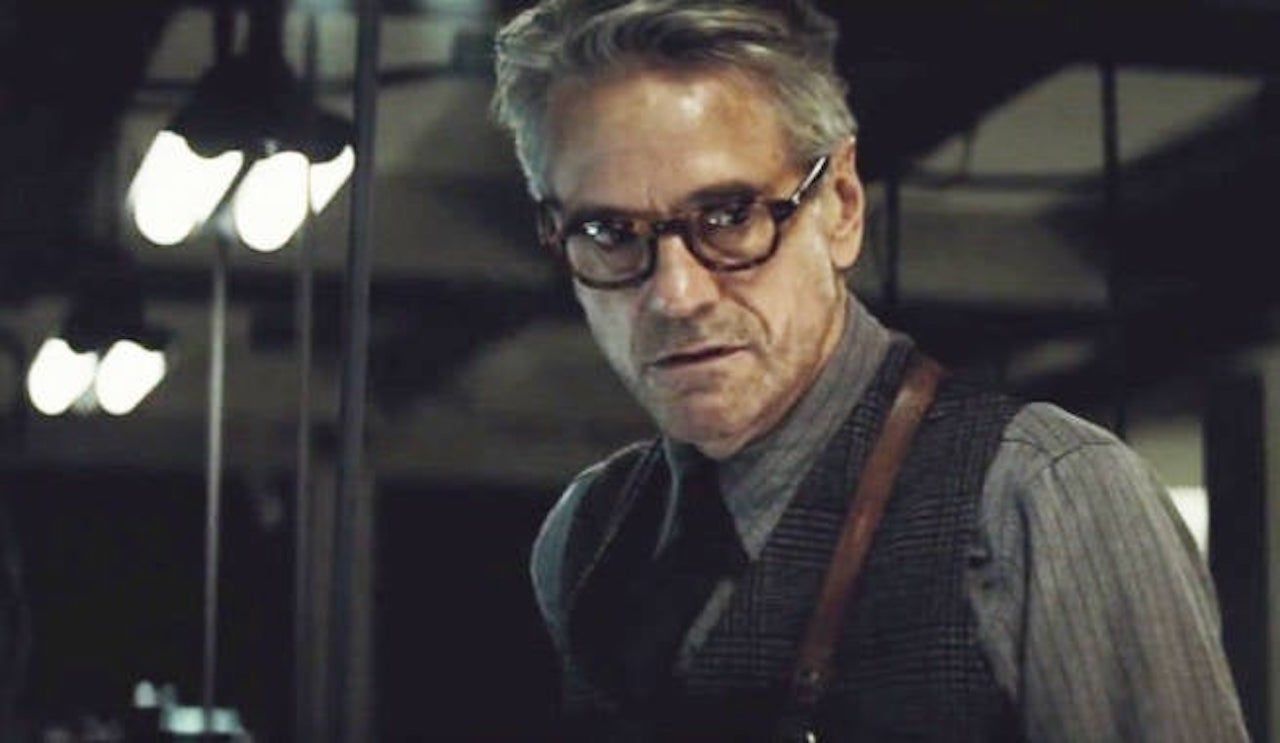 In a new interview, film icon Jeremy Irons shared his unimpressed thoughts on 2017's Justice League, and confessed he has not yet seen The Snyder Cut.
Legendary actor Jeremy Irons certainly wasn't hiding his true feelings for Joss Whedon's Justice League when the subject came up in a new interview with Variety, which was primarily to discuss his new movie Munich: The Edge of War. As is par for the course when it comes to any actor that has appeared in a Marvel or DC movie, the subject of his foray into the world of comic book movies came up when he was asked if he had seen the Zack Snyder version of Justice League yet, to which the actor responded with a frank honesty about his feelings for the original 2017 version of the superhero mashup.
MOVIEWEB VIDEO OF THE DAY
Irons played Alfred Pennyworth for a second time in Justice League, reprising his role as Bruce Wayne's confidant and butler which he first played in Batman v Superman: Dawn of Justice. While the actor, as with any star of a current movie, did not say anything derogatory about movie on its release, it is clearer now that he doesn't really care for it at all and although he did confess that he has not yet seen Zack Snyder's far from perfect cut of the movie, he does plan on watching it at some point.
"Strangely, I think I have it and I haven't seen it," Irons mused when asked if he had watched The Snyder Cut. "I shall have to hunt it out and see if I have it somewhere online or on a DVD. I remember talking to Zack [Snyder] before he did it and being very interested to see what he came up with. It couldn't have been worse." Pressed as to whether he meant it couldn't be worse than the original movie, he added, "I don't think it could have been, could it?" When the interviewer said they thought Whedon's version was dreadful, Irons simply concluded, "Well, so did I."
Justice League Was Given A Shot At Redemption With The Snyder Cut.
Warner Bros.
Just like Jeremy Irons, many people had issues with the 2017 release of Justice League, even before many stories of Joss Whedon's on-set attitude became well-known and actors such as Ben Affleck publicly called the filming of the movie the worst time they ever had on a film set. With Warner Bros. and DC wanting to play catch up with Marvel's Cinematic Universe, which by 2017 was only two years away from the biggest comic book movie ever put on the big screen in Avengers: Endgame, Justice League attempted to bring together DC's iconic heroes too quickly and ultimately failed mainly due to unfortunate events pulling Zack Snyder out of the original shoot and the film being taken over and gutted by Whedon.
While we may not discover what Irons thinks about Snyder's much expanded version of the movie, but his lack of love for the original version is not surprising as over the last few years everyone from cast and crew to audiences and critics have torn into the film, and with Gal Gadot, Ray Fisher and most recently Affleck describing Whedon's unprofessional behavior on set, it isn't likely that the movie's reputation is ever going to get any better.
Jeremy Irons Talks Alfred's Role in Justice League & The Batman
Jeremy Irons hints that his Alfred Pennyworth character will be much more present in The Batman than he will be in Justice League.
Read Next
About The Author
Anthony Lund
(1463 Articles Published)

Anthony Lund is an author, songwriter and puppeteer from a small village in the U.K. with an avid love of all genres of TV and film. As well as keeping up with the lastest entertainment news and writing about it for MovieWeb, he works as a video editor, voice over artist and production designer. A child of the 80s, he is the owner of almost 2000 books, more toys than his children, three Warner Bros. Store Gremlins and a production used Howard The Duck movie script.
You can view the original article HERE.