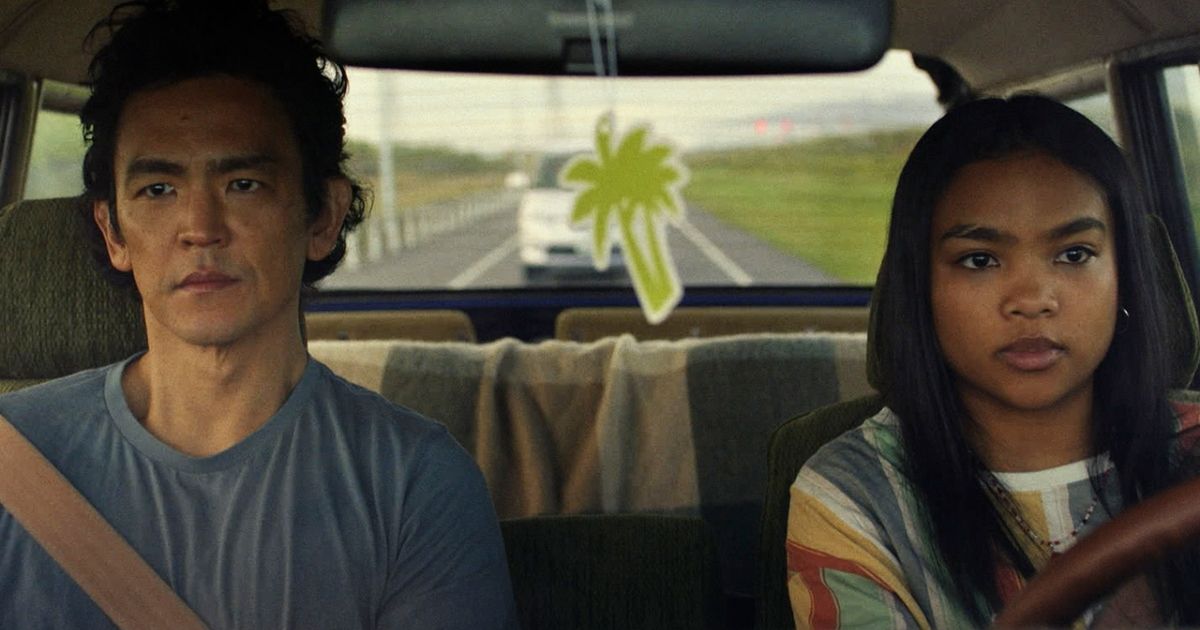 From the very beginning, director Hannah Marks' newest feature Don't Make Me Go promises a wild road trip movie. Between the opening shots of a nudist beach area — where everyone naturally bares all — and Wally's (Mia Isaac) exclamation of "You took me to a nude beach?!" as her father Max (John Cho) hastily, and hilariously, tries to cover her eyes to, a moment later, Wally's ominous voiceover, "You're not gonna like the way this story ends," it's immediately clear that Don't Make Me Go is going to be, in true road trip fashion, unforgettable, memorable, and transformative. For the most part, the film delivers on this promise.
MOVIEWEB VIDEO OF THE DAY
Written by Vera Herbert, whose words in This is Us have earned her Emmy and WGA Award nominations, Don't Make Me Go made its premiere at Tribeca Festival last month. It tells the story of Max Park, a terminally-ill, single father who decides against telling his daughter Wally Park about his diagnosis. Instead, he suggests — or, more correctly, bribes with the promise of driving lessons — that she tag along on a cross-country road trip from California to New Orleans, where his college reunion is being held. There, unbeknownst to Wally, Max's goal to reunite with his ex-wife, and Wally's mother, Nicole, with hopes that she will take Wally in after his inevitable death. As with any road movie, of course, things don't entirely go as planned. As a result, tensions rise and threaten to push the father-daughter relationship to the brink.
John Cho and Mia Isaac Are Perfectly Cast
In the best of Cho's movies, the actor continually proves himself a versatile talent with an emotional accessibility that makes it borderline criminal that Hollywood hasn't allowed him to be the leading man that he is. Cho absolutely shines in Don't Make Me Go, taking the not entirely unfamiliar character of a person trading their wild and precarious life — he was once an aspiring musician — for one of quiet stability when a newborn enters the picture.
Max comes across as a strict where Wally is concerned: no parties, no boys, planning for college even though Wally still has half of high school to finish. Though it may seem unfair, we see, through his secret relationship with Annie (played with a cool vulnerability by Kaya Scodelario), that Max's intentions are pure. Nicole walked out on him and Wally when Wally was just a baby, so his need for structure and safety is understandable.
Meanwhile, there's Isaac who, making her feature film debut with Don't Make Me Go, turns in a phenomenal performance as Wally, successfully bringing angst and heart without spilling over into a caricature of an American teen. Cho and Isaac's chemistry is evident from the moment they're first on-screen. In fact, in an interview with The Hollywood Reporter, Cho credits Isaac, saying that she "brought in that relationship. She presented it to me in the audition. […] They had both gone through the same trauma, and that had brought them closer. That was a relationship that she presented to me, and I really picked up on it and responded to it, and we just built on that."
Presenting to us a father-daughter relationship that is rough around the edges at times, pure but not without its flaws, and warm even though they might not always understand each other — this is where Marks' direction is at its best. The way she frames Max and Isaac, and allows us to linger in each moment and settle in the unsettling, essentially invites us into the Park household. She hooks us into Don't Make Me Go's universal theme of love and family. Speaking to Game Rant, Marks says, "I was really excited about the father-daughter story. There's a ton out there, especially about single fathers. I thought it was an opportunity to tell something unique, that is also universal. Everyone can relate to a parental relationship."
Related: Best Movies About Parenthood, Ranked
A Destination That Cheapens the Journey
Amazon Studios
With all the enriching character development that happens throughout Don't Make Me Go, it's somewhat of a disappointment the way the film ends. Not that the movie's plot twist is necessarily uncalled-for — Herbert's script does leave a trail of clues, including Wally's voiceover warning at the beginning — but it's a destination that nonetheless cheapens the journey. Through Max and Wally's familial squabbles, from the superficial bouts over Wally's desire to travel the world to the more serious issues of secrecy, there's a sense that this road trip deepened the father-daughter relationship. For the first time, it seems, Max and Wally finally see each other. Even though Max's prognosis gives him about a year with his daughter, once everything is out in the open between them, there's a feeling of a promise to live that year with each other to the fullest.
Between Wally finally choosing herself over her inattentive and insensitive crush (played by Otis Dhanji) and Max's willingness to relax and have fun (an arc that culminates in one of the greatest karaoke scenes of late), Don't Make Me Go effectively positions itself as a coming of age movie for both father and daughter. For angsty adolescent Wally, this is a more natural narrative than it is for middle-aged Max, which is perhaps why Marks' heartwarming story works until the final act. There's the idea that it's never too late to discover — or, in Max's case, re-discover — who you are. It's a shame that Don't Make Me Go takes a sharp turn into what feels like drama for the sake of drama.
Overall, Don't Make Me Go works as a road movie that is emblematic of the inherent twists and turns of life — but you have to let it. Indeed, the movie's ability to stick the landing hinges on the viewer's acceptance that things do end, people do die, and there's sometimes no turning back on the road of life. This is a tall ask and ultimately where Marks' film treads tricky territory: generally speaking, viewers go to the movies to escape life, not necessarily confront or be reminded of the mortality of it.
You can view the original article HERE.