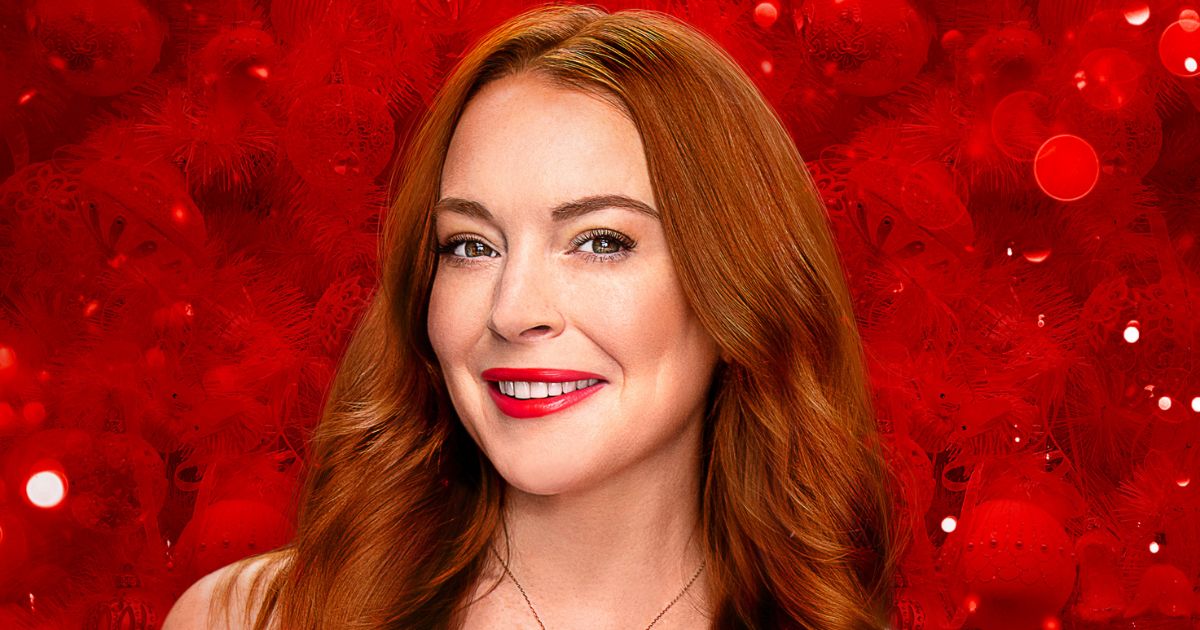 Lohan's new film, Netflix's Falling for Christmas, includes a nod to Mean Girls.
Netflix
It's hard not to think about the cult classic film Mean Girls when talking about Lindsay Lohan. The actress will appear in her first starring role when Falling for Christmas premieres November 10 and a recent trailer has reignited Mean Girls talk. In the promotional clip, Lohan sings a cover of Jingle Bell Rock, the same song from Mean Girl's famous dance scene. In an interview with Extra, Lohan was asked if she'd like to see a Mean Girls reboot or remake. She answered:
"I've been saying yes forever, so I feel like a broken record. The thing is, it's so tough [because] 'Mean Girls' is so good the way it is. It's like, 'Do you really wanna mess with that?' But you never know."
While Lohan has not been completely off the radar (with roles in Among the Shadows and Sick Note), Falling For Christmas is her first starring role since 2013's The Canyons. The actress, who recently entered into a two-picture partnership with Netflix also spoke about why she chose this particular film for her first major role in close to a decade:
MOVIEWEB VIDEO OF THE DAY
"This was one of the first scripts I got that I really loved and it made sense… It was a perfect match."
In the film, Lohan portrays Sierra Belmont, a recently engaged heiress who suffers from amnesia following a skiing accident. Co-star Chord Overstreet portrays Jake, a lodge owner who helps Lohan's character through her recovery. As any rom-com viewer can guess, the two start to develop feelings for each other. Falling for Christmas also stars George Young, Jack Wagner, and Olivia Perez.
Lindsay Lohan Says She's Learned the Importance of Career Breaks
Lindsay Lohan and Future Projects
As part of her partnership with the streamer, Lohan will also star in next year's Irish Wish. Reminiscent of Freaky Friday, which starred Lohan and Jamie Lee Curtis, Lohan portrays Maddie, a woman who finds herself in her best friend's body. Along with Mean Girls, Freaky Friday is another film that viewers (and the film's stars) would like to see revisited. During an appearance on The View, Curtis said she had already reached out to Disney about making a sequel:
"I've already written to Disney, my friends at Disney. I'm in their new Haunted Mansion movie. Let me be the grandma! Let me be the old grandma who switches places. So then Lindsay gets to be the sexy grandma, who is still happy with Mark Harmon in all the ways you would be happy with Mark Harmon."
You can view the original article HERE.