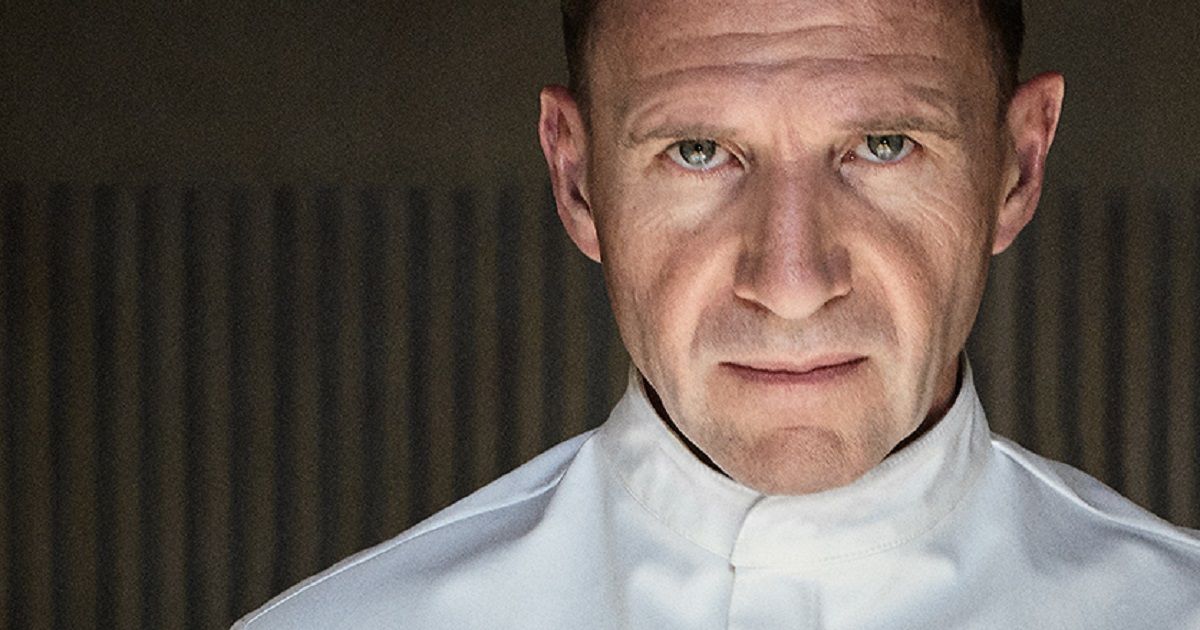 Succession director and executive producer Mark Mylod skewers wealthy elitists in a deliciously funny black comedy. The Menu serves up sweet revenge on a cinematic platter. The beck and call working class that caters to foolish affluent whims should be first in line to see this film. The Menu's premise has a gaggle of rich and arrogant jerks boating to a private island for an ultra-exclusive gathering. They've paid a tidy sum to be wined and dined by a celebrated chef. What awaits is a severe comeuppance with Michelin stars.
Prim foodie Tyler (Nicholas Hoult) escorts the beautiful Margot (Anya Taylor-Joy) to a docked luxury yacht. They're followed by a well-dressed, jeweled contingent of society's finest. Margot turns away when recognized by an older man. The movie star (John Leguizamo) asks his assistant (Aimee Carrero) where's the paparazzi. He's chuffed to be recognized by the loud finance bros (Arturo Castro, Rob Yang). Famed food critic Lillian Bloom (Janet McTeer) and her editor (Paul Adelstein) banter in high speak. There's a minor snag when the fierce-looking maître d, Elsa (Hong Chau), doesn't see Margot's name on the list.
MOVIEWEB VIDEO OF THE DAY
The yacht whisks them away to the remote Hawthorne. They are given a brief tour before being seated by the staff. Tyler can't conceal his excitement. They're about to experience molecular gastronomy from an undisputed master. A loud clap instructs all the waiters and cooks to stand at rigid attention. Chef Julian Slowik (Ralph Fiennes) enters the dining room with a commanding presence.
Julian promises his carefully selected guests a once in a lifetime culinary event. The menu has been specifically crafted for their distinguished palates. His eyes shoot like laser beams towards Margot. What is she doing here? Margot is stunned and offended to be singled out. Tyler ignores her embarrassment. He continues to gush in awe. A bizarre first course signals their memorable meal has sinister intent.
Related: Poker Face Review: Russell Crowe Deals a Slippery Hand
Margot is the Odd Woman Out
The diners are pompous and despicable. Margot is obviously the odd woman out. Her appearance at Hawthorne wasn't expected. This complicates Julian's meticulous plan but doesn't derail his objective. Eating at Hawthorne is clearly out of the common man's reach. But class distinction isn't solely defined by the zeroes in your offshore accounts. How you treat the food and service speaks volumes to character. Living things died to provide nourishment. That sacrifice, especially in such a privileged setting, must be honored. Julian spent his entire life working diligently to achieve greatness. He reaches the pinnacle of success with a cold realization. Cooking for people with no respect for anything but themselves was a tremendous disappointment.
Mylod (Entourage, Shameless) excels at satirizing obnoxious behavior. Hoult's Tyler knows every gadget and ingredient that goes into an exceptional dish. But he doesn't have any real notion of the laborious effort and creativity needed to make food extraordinary. His interest is an intellectual exercise to prove superiority. This is a trait the guests unabashedly share. They're used to getting what they want, whenever they want it, and at the expense of others; whose sacrifices mean nothing.
Related: The Wonder Review: A Haunting Exploration of Oppressive Faith
Searchlight Pictures
The film suffers from a degree of predictability. There are no surprises once the violence kicks in. That said, Mylod isn't aiming for big reveals. He's making a social, economic, and philosophical point about classism. Four star dining is the perfect stage to highlight such differences. The Menu has similar themes to Ruben Östlund's award-winning Triangle of Sadness. It's a bit more subtle but has equally razor-sharp laughs. Schadenfreude with a side order of fatality had me in stitches here. I would order from this menu again.
The Menu is a production of Hyperobject Industries, Alienworx Productions, and Gary Sanchez Productions. It will be released theatrically on November 18th by Searchlight Pictures.
You can view the original article HERE.