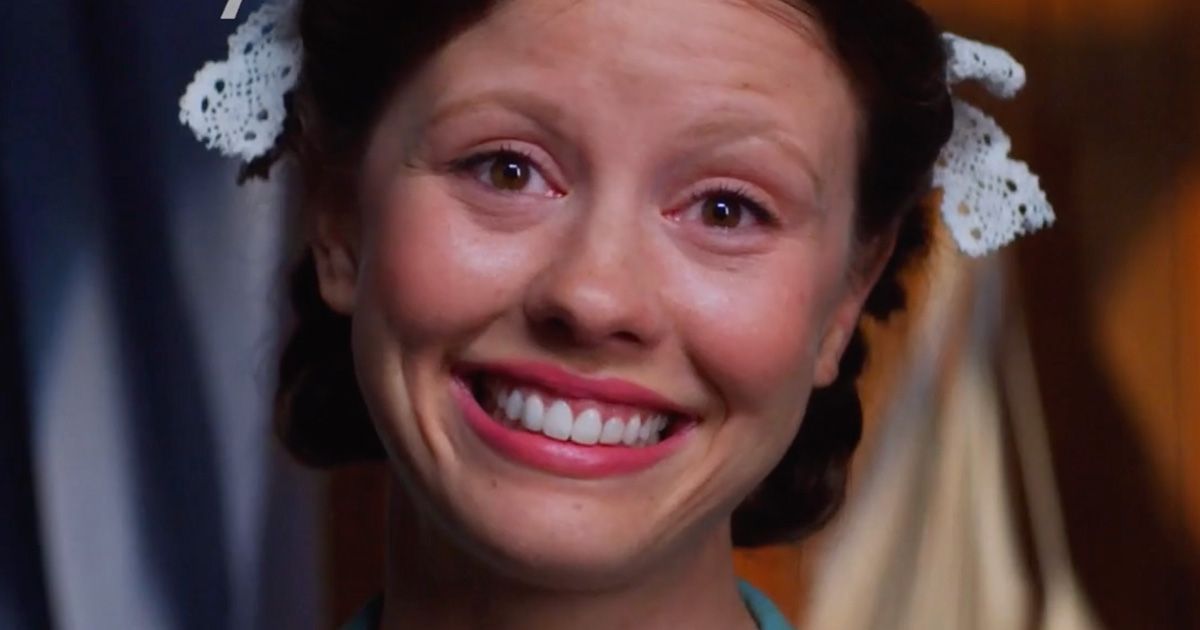 The annual Fangoria Chainsaw Awards were held on Sunday evening, and a big win was earned by Mia Goth. For her role in Pearl, the Ti West-directed prequel to the popular slasher movie X, Goth won the award for Best Lead Performance. It's a big win for Goth, who has quickly emerged as a fan favorite in the horror genre, having garnered great acclaim with her performances in both of those films, among others.
Goth overcame several other deserving nominees, making the win that much more impressive. The other nominees included Anna Dip for Nanny; Isabelle Fuhrman for Orphan: First Kill; Rebecca Hall for Resurrection; Daniel Kaluuya for Nope; Amber Midthunder for Prey; Maika Monroe for Watcher; Keke Palmer for Nope; Josh Ruben for A Wounded Fawn; and Taylor Russell for Bones and All.
MOVIEWEB VIDEO OF THE DAYSCROLL TO CONTINUE WITH CONTENT
Goth was also up for a writing nomination alongside West, as the two co-wrote Pearl. C. Robert Cargill and Scott Derrickson won that one for The Black Phone. Other nominees included Zach Cregger for Barbarian; Jordan Peele for Nope; and Seth Reiss and Will Tracy for The Menu.
As for the other big acting award, the Best Supporting Performance award, that golden chainsaw went to Madeleine McGraw for The Black Phone. She overcame her own co-star Ethan Hawke, as well as Jamie Clayton for Hellraiser; Justin Long for Barbarian; Jenna Ortega for Scream; Mark Rylance for Bones and All; Rachel Sennott for Bodies Bodies Bodies; Brittany Snow for X; Kristen Stewart for Crimes of the Future; and Steven Yeun for Nope.
West was also up for Best Director for X. Jordan Peele won the award for Nope. The other nominees there were Zach Cregger for Barbarian; David Cronenberg for Crimes of the Future; and Chloe Okuno for Watcher. X and Pearl were both also up for Best Wide Release Movie, which went to The Black Phone, with other nominees there including Barbarian and Nope.
Related: Fangoria Unveils Full List of Nominees for 2023 Chainsaw Awards
Mia Goth Will Return in the X and Pearl Sequel MaXXXine
A24
West and Goth are not finished yet with telling the story that began with X and Pearl. Production has started on a third installment of the trilogy which has been titled MaXXXine. It picks up after the events of X with Goth's Maxine moving out to Hollywood in the 1980s, hoping to find a new path in life by way of a show business career. A first look at Goth alongside co-star Halsey has been revealed, seen in the image above.
Goth won't be surprised about Goth's award win at the Fangoria Chainsaw Awards. He previously heaped heavy praise onto her performance, noting how she more than deserved to be nominated for an Oscar. But with Goth still on the rise in Hollywood, where she'll literally be in her next movie, perhaps it's just a matter of time before the acclaimed performer manages to get an Academy Award nomination as well.
MaXXXine does not yet have a release date. For more about the Fangoria Chainsaw Awards, you can visit the official website.
You can view the original article HERE.