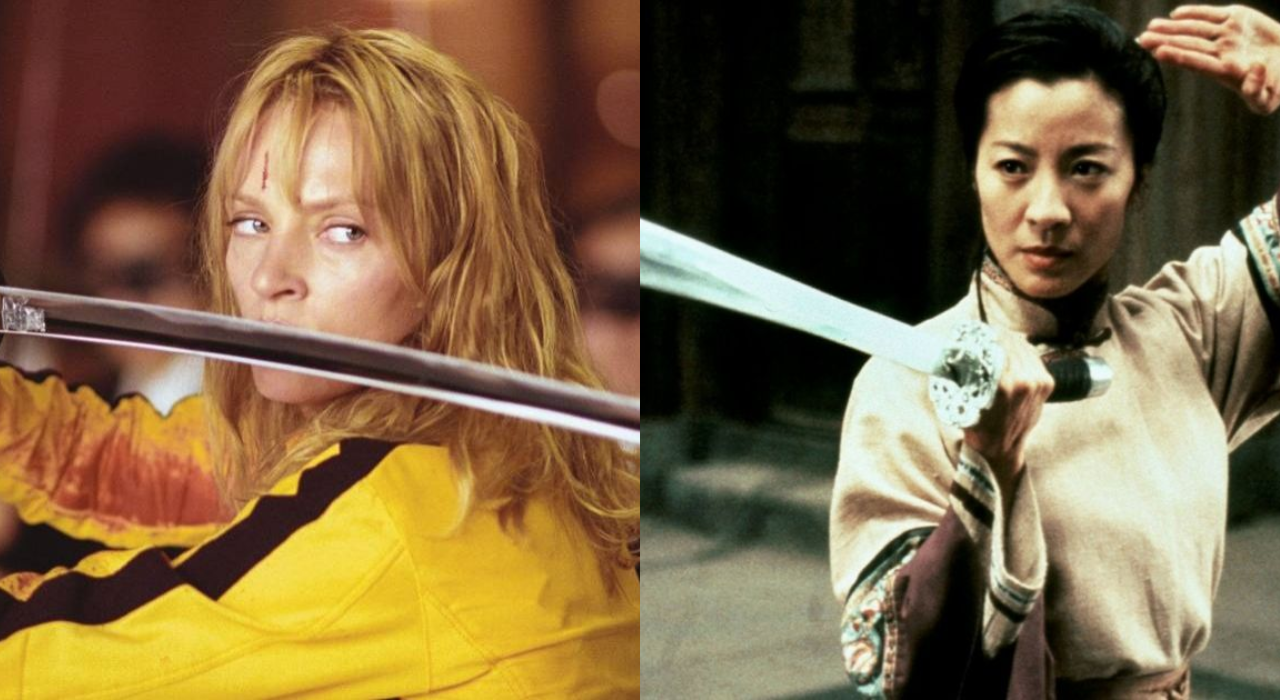 Michelle Yeoh could have faced off against Uma Thurman in the Kill Bill series, but director Quentin Tarantino had other ideas. Tarantino is a huge fan of Yeoh and even helped her get through a low phase in the '90s. Yeoh was contemplating retirement after getting injured on the set of 1996's The Stunt Woman when she first met Tarantino, who was in Hong Kong to screen Pulp Fiction.
Sitting on a pillow beside her feet, Tarantino recalled all his favorite action sequences involving Yeoh, and his infectious passion was enough to snap Yeoh out of her existential crisis. "I must say, Quentin, he's persistent. He is who he is today because he's full of passion and love, so he wore me down," Yeoh told Town & Country magazine recently. "Suddenly we became animated. So then I thought, Maybe I'm not ready to give up on this."
MOVIEWEB VIDEO OF THE DAY
But why wasn't Michelle Yeoh in Kill Bill, Tarantino's acclaimed martial-arts action thriller, when she would have been a great fit for the type of movie Tarantino was going for? Apparently, he didn't think Uma Thurman besting Yeoh would play out well with the audience.
"I asked Quentin the same question," Yeoh says. "He's very smart. He said, 'Who would believe that Uma Thurman could kick your ass?'" Yeoh didn't reveal which character she could have potentially portrayed in Kill Bill, but we can assume it likely would have been that of O-Ren Ishii, aka Cottonmouth, played by Lucy Liu.
While it would have been great to have Yeoh in Kill Bill, it was likely for the best, because Liu literally slayed in the role, and the Crouching Tiger, Hidden Dragon star has no regrets either. "I go forward, because life is about moving forward. Failures make us stronger, and they make us understand the path."
Hopefully, Michelle Yeoh and Quentin Tarantino will collaborate in the future, though the chances of it happening in a Kill Bill sequel are bleak. Tarantino is set to retire after his next film, which will be his 10th, but it's been more than three years since his last directorial effort, Once Upon a Time in Hollywood, and there is still no word on his farewell movie.
Related: Best Michelle Yeoh Movies, Ranked
Michelle Yeoh Has Several Blockbuster Projects Lined Up For The Future
A24
Michelle Yeoh has been having a remarkable year so far. She won critical acclaim for A24's indie action-comedy, Everything Everywhere All at Once, and was recently awarded an honorary Doctorate of Fine Arts by the American Film Institute.
Everything Everywhere All at Once is a leading awards contender this year and could win Yeoh her first Oscar. However, even if it doesn't, Yeoh remains one of the most celebrated actors of the generation, and her Hollywood resurgence is just beginning. Yeoh will is set to appear in James Cameron's Avatar: The Way of Water and has hinted that she could return in future sequels as well.
Yeoh is also headline Netflix's The Witcher prequel series Blood Origin, expected to premiere later this year. She is currently filming Disney's American Born Chinese series, reuniting with Shang-Chi and the Legend of the Ten Rings filmmaker Destin Daniel Cretton and has been tapped to star in the Russo Brothers' next high-profile film, The Electric State. As for her immediate projects, Yeoh will appear in Paul Feig's fantasy film The School for Good and Evil, premiering on Netflix on October 21.
You can view the original article HERE.